American Airlines to stop flying to India, sacks 150 workers
American Airline's 15-hour flight service from Chicago's O'Hare International Airport to New Delhi will end on 28 February. Instead, it will offer flights to India through its partner airlines.
New York: Close on the heels of its parent company AMR Corp., filing for bankruptcy in November, troubled American Airlines said it would end direct flights to India. The airline's 15-hour flight service from Chicago's O'Hare International Airport to New Delhi will end on 28 February. Instead, American Airlines will offer flights to India through its partner airlines.
American Airlines daily New Delhi-Chicago O'Hare service was launched in November 2005 after the US and India signed an Open Skies Agreement.
The financially troubled carrier headquartered in Fort Worth stated that the Chicago O'Hare-New Delhi service is being cancelled due to the "historical financial performance of the route and its future outlook given the global economic climate and high oil prices." The airline also announced on Monday that it planned to lay off 150 workers in the company.
"This is in response to declining demand on certain routes and the high price of fuel," said American Airline spokeswoman Mary Frances Fagan, adding that the changes were planned long before AMR Corp. filed for bankruptcy.
With the termination of the daily Chicago O'Hare-New Delhi service, the number of carriers operating direct service between the US and India will shrink to just two - Air India and United Continental Airlines.
American Airlines deployed 1,771 weekly one-way seats on Delhi-Chicago O'Hare while Air India, soon to be the sole operator on the route, offers 2,394 weekly seats, according to Innovata.
CAPA, which provides advisory services to the airlines industry, said American Airlines withdrawal underscored the yield pressures facing direct US-India operators from carriers with hubs in Europe and the Middle East.
"The poor financial performance on the route, American's longest at 7,484 miles, relates to the impact on yields of competitive pricing as American was able to consistently report high load factors on the route over the past 12 months," said CAPA.
"There has been a trend against non-stop US-India services. Jet Airways now routes its US-India flight via Brussels (it ended a brief service to San Francisco via Shanghai)," added CAPA while pointing out that Delta Airlines also tried serving Mumbai three times - first from New York JFK, then Atlanta, then back to New York JFK - before withdrawing in 2009.
Air India is also bleeding on the Chicago-New Delhi route (although all of its international routes are loss-making) with a loss of $62.9 million on the operations in 2009-10. The recent Comptroller and Auditor-General's report, noted that the India-US route "was the single biggest factor adversely affecting Air India's operations", accounting for 41 percent of total losses.
American Airlines' parent company was the last of the major legacy airline companies in the US to file for bankruptcy in the turbulent years since the terrorist attacks of September 11, 2001. Analysts say its reluctance to do so earlier left it less nimble than many of its competitors that renegotiated labour contracts and debts in the bankruptcy process over the last decade. While American Airlines logged a loss of $162 million for the three months ended 30 September, its main rival United Continental Airlines reported a profit of $773 million for the same period.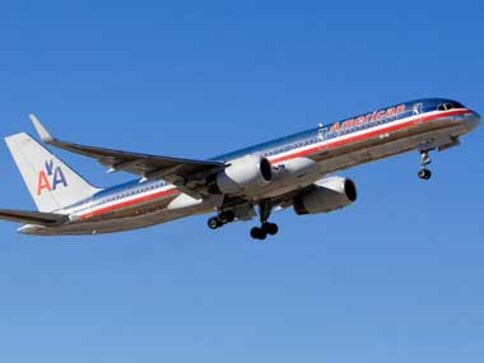 World
An American Airlines jet has been evacuated after it made an emergency landing at Tulsa International Airport following a report of fumes in the cockpit.
World
Police in the Netherlands have arrested a 14-year-old girl on suspicion of threatening American Airlines in a tweet.
Fwire
The Finnish national airlines wants to make its India presence significant through the planned tie-up.