Ambani, Tata, whoever: Why we know nothing about succession
If the late Dhirubhai Ambani had known what his sons would be up to after his death, he may have done more succession planning. But it's not as if the Tatas and other business families or even professionally-managed companies such as L&T have done much better with succession.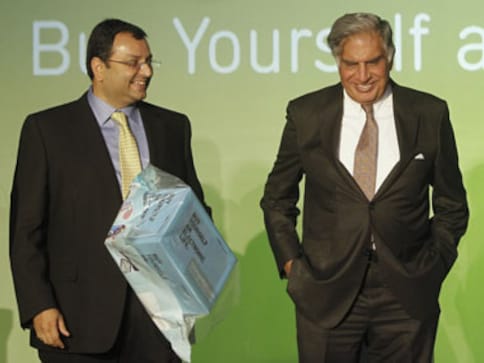 By Parthasarathi Swami
How do you measure success in growing leaders? We are talking about professional companies here. Family-run businesses don't breed leaders; they have only followers. A follower may at times serve as some sort of regent. But let the inheritors learn the ropes and he is out faster than an honest man in Parliament.
Ask Devinder Singh Brar, the executive who played a major role in building Ranbaxy. He was shown the door as soon at the grandsons of founder Bhai Mohan Singh -- Malvinder and Shivinder -- felt they could run the show. (They didn't run it; they sold the company to Dai-ichi Sankyo of Japan. But that is another story.)
To get back to the original question, there is an easy, though counter-intuitive answer: look at the leaders a company has contributed to industry at large. Which are the schools for CEOs? You shouldn't confuse this with a company like McKinsey, which Forbes has described as a CEO launch pad. (It likes to call itself a leadership factory.) McKinsey in India is more like a Ma Foi Randstad, or a Manpower or an Adecco, which offer CEOs on rent. Besides, do you really want a CEO from McKinsey?
In 2012 alone, one McKinsey alumni has been convicted of insider trading, another has been given two years probation and forced to cough up $2.26 million, and a third has resigned as CEO of a company in mobile space after financial irregularities were unearthed. And if you go a few years back there was this gentleman convicted of multiple federal felony charges. One of McKinsey's "Values" is to "Tell the truth as we see it". Nothing more need be said.
We (in Business India) wrote a story on Schools for CEOs way back in the mid-nineties. It was really all about one company -- Hindustan Lever (now Hindustan Unilever Ltd - HUL, an abbreviation we are using even while referring to the earlier company). There were more than 100 CEOs and director-level alumni of HUL in the Indian corporate world. We did a similar story in 2009 - different magazine, different writer, different conclusions. But HUL was still on top with its alumni diaspora. This time the estimate was that there were more than 1,000 former Leverites in board-level positions across India. (This was not counting the Hindustan leavers.)
In 2009, there were other companies qualifying as CEO factories. Citibank had always been there. But a decade ago, most finance companies were small, the foreign brigade had not yet invaded the country and the Citi diaspora had limited scope to spread. Now they had sprouted in all sorts of places -- dealmakers and rainmakers and one or two in deep waters.
Joining HUL and Citi in 2009, were Tata Consultancy Services (TCS), Wipro and ICICI Bank. The two IT companies stray a bit from the traditional pattern. Most of the people who leave go to set up their own ventures. IT doesn't need much capital or computer skills; it needs clients. On the other hand, you can't just walk out of a bank one day and set up another. HUL also has not seen too many leaving to become entrepreneurs, but the top echelons of the corporate world are studded with its alumni.
How do you plan for succession when there is such a lot of mobility? In many places it was designed that way. At HUL, it was customary to have three people in the running for the top job. When one was finally selected, the other two quit.
As part of the Unilever network, HUL had alternatives for the losers. They could go to head some other country. But the tag of loser doesn't go away easily. Most preferred to go as boss of a different company and prove themselves.
The trouble with HUL was that the culture spread down the line. It is hard losing two potential CEOs, but the system is geared to that. But when every senior-level promotion is accompanied by resignations, you can end up bleeding too much talent. There was a time when the brass at HUL used to proudly talk about their diaspora. When other multinationals entered in the wake of liberalisation, they were no longer so proud. Sure, the company was a talent factory. But did it make sense to be a school for CEOs while you paid all the tuition fees yourself? You had to lock the stable doors. At one time there was even an informal agreement between HUL and Pepsi not to poach from each other. It helped that PM Sinha, President of Pepsi Cola International for South Asia, was a former HUL board member.
Professional companies are supposed to plan for succession. But there are too many examples of last-minute fire-fighting to accept that as a universal truth. CEOs don't seem to grow old today. They merrily extend their retirement age to their dotage. The board of directors - always a rubber stamp - goes along. And this will continue to happen as long as the CEOs choose and pay the board members. Technically, the shareholders are supposed to do this. But annual general meetings (AGMs) are another farce.
How do you get out of this dead end? If you wait for the CEO to die in the saddle, that would really be a dead end; but the company might die first. Here are some suggestions that won't work.
* Let the non-executive board members come from an external pool. It is, of course, next to impossible to set up this pool of competent, independent directors. But we are talking utopian ideas here. Companies will fight this tooth and nail. Their argument: how do we know the quality of these anonymous people? This will be an insidious way of introducing government controls. A board member may turn out to be the brother of our fiercest competitor. But board meetings in an era of Rajat Gupta are hardly confidential. And what value have high-priced experts on corporate governance added to boards anyway? Some have been forced to disgorge the money they made as sitting fees and consultancy charges. And many of them are much-venerated dons at foreign B-schools.
* Fix a ceiling not on the CEO's age but the number of years he can spend in the chair. Companies should have new CEOs every seven years. You need some excitement to get the corporate adrenalin flowing. In an earlier era, people became CEOs of professional companies when they were well past 50. Thus, they automatically had only a few years to serve. Today, people think they can carry on till 75 or more. You can't expect CEOs to recognise senility even when they are blabbering half the time. You don't have the same IQ at 70 that you had at 20; you don't have the same EQ. Why, then, should you have the same HQ?
The retired CEOs don't have to ride off into the sunset. They can become members of the pool of independent directors.
* Always get in a CEO from outside. It strengthens the DNA. Okapi stretched their necks to eat leaves at higher places during droughts. The shorter okapi starved; the rest became giraffes. If you want a company to stand tall, you can either wait millennia for nature to take its course, or send a giraffe among the corporate cows. Some people will get it in the neck. That's good.
This article has flirted with some ideas on CEO succession in professional companies. When it comes to family-run businesses, there is only one solution - divorce management from ownership. Too often have sons destroyed a wonderful legacy. They coast along for some time because of the systems and people in place. They begin to feel they can do no wrong. Down that road lies disaster, though it make take a generation to discover it. And there are always others to blame - the environment, regulation, competition, multinationals and even Big Brother.
Take a look at the top 10 business groups in India in 1964. The list (courtesy the Monopolies Inquiry Commission 1965-66) is: Tata, Birla, Martin Burn, Thapar, Bangur, Sahu Jain, Shriram, Bird Heilgers, JK Singhania and Sarabhai. Martin Burn, which once promoted Indian Iron and Steel Co - IISCO, lives on as a small construction company. IISCO was nationalised in 1972. The Thapars have regrouped as Avantha. The Bangurs have fissioned and are, in fact, still fighting. The Shrirams have split. Bird Heilgers was hit by fraud. The government nationalised part of it (Bird & Co) in 1980. And the Sarabhais have become a long-running joke on Star One - Sarabhai vs Sarabhai. Three decades later, only the Tatas and the Birlas remained in the top 10.
The best solution for business families is to give the inheritors money to start off on their own. Let them go play ducks and drakes with that. If they succeed: great. If they fail, they can become part of history without having damaged the business empire that gave them the luxury of opportunity.
Business families are also getting daughters into the loop today. Women know better how to lead without riding roughshod over everybody. They know when to take a break and let others run the show. Gradually convert corporate India into a matriarchal society. The men can go out and explore a new world (entrepreneurial projects) while the women mind the house fires (the existing businesses).
The trouble won't lie with the women. It's the men in business families who are so wimpish these days. They send roses to apologise for having missed a meeting. The young of the power set believe in flower power. They drink Papa Dhoble (Daiquiri and grapefruit) not rum. They go high on Bacardi Breezers. Take a look three decades later. Some of the biggest business houses won't be around.
If you haven't been born to be CEO, are there any short cuts? Look at three high-profile CEO selection processes in recent times.
In March 2012, the board of Larsen & Toubro decided to promote Krishnamurthi Venkataramanan, a director and President of the hydrocarbon business, as CEO. The board meeting was to find a successor for Chairman AM Naik. But he stayed on, shedding the CEO tag but continuing as Executive Chairman. Naik and Venkataramanan were part of the board, of course.
At Infosys, the nominations committee was given the difficult job of finding a replacement for Chairman NR Narayana Murthy. The committee consisted of Cornell University professor of law Jeffrey S Lehman; HDFC Standard Life CEO and Managing Director Deepak M Satwalekar; and ICICI Bank non-executive Chairman KV Kamath. After due deliberation, Kamath left the room and he was selected.
At the Tata Group, the selection panel to find a replacement for Chairman Ratan Tata included Tata Sons directors RK Krishna Kumar and Cyrus Mistry, Tata veteran NS Soonawala, group legal advisor Shirin Barucha and independent member Lord Kumar Bhattacharya of the Warwick Manufacturing Group of the UK. Mistry left the room and he was selected.
The pattern seems clear: if you want to become CEO, join the selection panel. Then take a comfort break.
(Excerpted with permission from the Boar in Boots, by Parthasarathi Swami. Published by FortyTwo Bookz Galaxy, Price Rs 495, 303 pages, Paperback)
Fwire
India's second-biggest mobile carrier by subscribers, Reliance Communications, reported a 86 percent drop in its fourth quarter profit, its seventh straight quarter of profit fall.
Business
I personally, and the entire Reliance family, are truly overwhelmed and deeply humbled, said Kokilaben Ambani
Politics
The ADAG chairman made the statement only because he wanted to exploit the natural resources of Madhya Pradesh for his business interests, Singh alleged.