Alibaba's Jack Ma says can't meet promise to create 1 million U.S. jobs - Xinhua
(Reuters) - Alibaba Chairman Jack Ma said the company can no longer meet its promise to create 1 million jobs in the United States due to U.S.-China trade tensions, Chinese news agency Xinhua reported on Wednesday. Ma had met U.S. President Donald Trump two years ago and laid out the Chinese e-commerce giant's plan to bring one million small U.S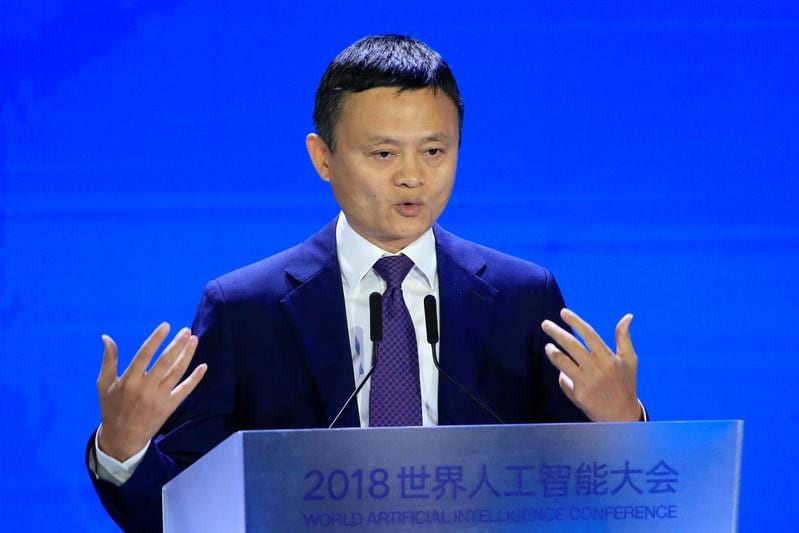 (Reuters) - Alibaba Chairman Jack Ma said the company can no longer meet its promise to create 1 million jobs in the United States due to U.S.-China trade tensions, Chinese news agency Xinhua reported on Wednesday.
Ma had met U.S. President Donald Trump two years ago and laid out the Chinese e-commerce giant's plan to bring one million small U.S. businesses onto its platform to sell to Chinese consumers over the next five years.
"This commitment is based on friendly China-US cooperation and the rational and objective premise of bilateral trade," Ma told Xinhua. "The current situation has already destroyed the original premise. There is no way to deliver the promise."
Ma said on Tuesday that trade tensions between the United States and China could last for two decades and would be "a mess" for all parties involved.
He had also said trade tensions would likely impact Chinese and foreign companies immediately and negatively, while predicting that Chinese businesses may move production to other countries in the medium-term to get around tariffs.
Trump on Monday imposed 10 percent tariffs on about $200 billion worth of imports from China, and threatened duties on about $267 billion more if China retaliated against the U.S. action.
China responded a day later with tariffs on about $60 billion worth of U.S. goods as previously planned, but reduced the level of tariffs that it will collect on the products.
Ma, the charismatic co-founder of Alibaba, announced last week that he would step down in one year to concentrate on philanthropy and education, passing on the reins to trusted lieutenant Daniel Zhang.
(Reporting by Sonam Rai in Bengaluru and Jane Lanhee Lee in San Francisco; Editing by Anil D'Silva)
This story has not been edited by Firstpost staff and is generated by auto-feed.
India
The Pulitzer prize winner, who was in Kandahar covering operations against Taliban, was killed when he was riding along with the Afghan Special Forces
India
Siddiqui had also covered the 2020 Delhi riots, COVID-19 pandemic, Nepal earthquake in 2015 and the protests in Hong Kong
India
Danish's photographs were not just documentation, but the work of someone who went down to eye-level, as they say in photographic parlance.