Alcoa shares fall as tariffs, energy costs weigh on forecast
By Sanjana Shivdas (Reuters) - Shares of Alcoa Corp fell 11.8 percent on Thursday a day after the aluminum producer lowered its 2018 forecast for adjusted earnings before interest, tax, depreciation and amortization (EBITDA) citing recent U.S. trade tariffs. Alcoa which was also hit by rising oil and gas prices in the quarter, said it expects a negative monthly impact between $12 million and $14 million as long as the tariffs on imported aluminum are in place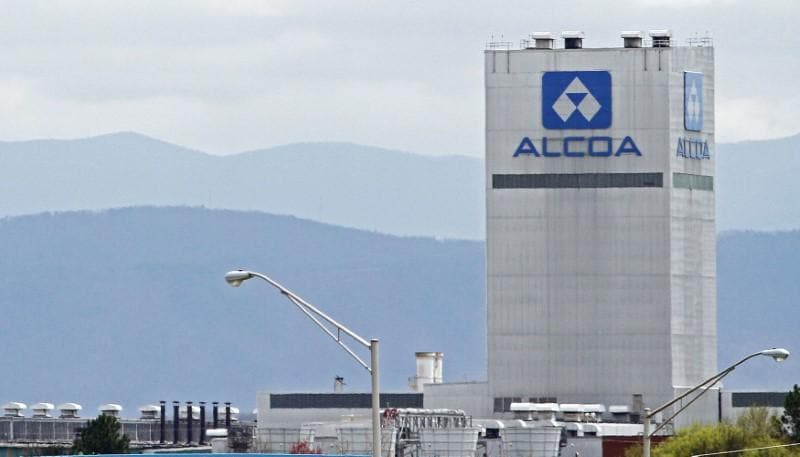 By Sanjana Shivdas
(Reuters) - Shares of Alcoa Corp fell 11.8 percent on Thursday a day after the aluminum producer lowered its 2018 forecast for adjusted earnings before interest, tax, depreciation and amortization (EBITDA) citing recent U.S. trade tariffs.
Alcoa which was also hit by rising oil and gas prices in the quarter, said it expects a negative monthly impact between $12 million and $14 million as long as the tariffs on imported aluminum are in place.
Credit Suisse analyst Curt Woodworth said in a note that it was surprising Alcoa has not filed an exclusion request as it is currently seeing annualized headwinds of $150 million and imports about 600,000 tons of aluminum from Canada.
Alcoa, the largest aluminum producer in the United States, has also been hurt by falling prices.
Aluminum prices fell to $2,001 on Thursday, lowest since April 6, on worries about demand from the trade tussle between the U.S. and China, which accounts for around half of global industrial metals consumption.
The company however beat profit and revenue expectations on Wednesday, but said tariffs led to $15 million in costs in the reported quarter.
Alcoa's total costs and expenses rose about 21 percent to $3.17 billion during the quarter.
Up to Wednesday's close, Alcoa shares have fallen 10.9 percent year-to-date, with rival Century Aluminum Co down 24 percent during the same period.
(Reporting by Sanjana Shivdas in Bengaluru; Editing by Shounak Dasgupta)
This story has not been edited by Firstpost staff and is generated by auto-feed.
Find latest and upcoming tech gadgets online on Tech2 Gadgets. Get technology news, gadgets reviews & ratings. Popular gadgets including laptop, tablet and mobile specifications, features, prices, comparison.
World
KHARTOUM (Reuters) - An International Criminal Court delegation is to visit Sudan to discuss the cases of ousted president Omar al-Bashir and other former officials, the government said on Saturday. The delegation, led by prosecutor Fatou Bensouda, will discuss "cooperation" with Sudan over the wanted men, the government said in a statement.
World
HONG KONG (Reuters) - A Hong Kong protester dubbed "Grandma Wong" said on Saturday that Chinese authorities kept her in custody for a month and a half across the border in Shenzhen, where she allegedly suffered mental abuse, and then prevented from coming back for over a year. Grey-haired and bespectacled Alexandra Wong, 64, had been a familiar face at anti-government protests in Hong Kong last year, often waving a large British flag, but she disappeared from the streets around August last year
World
WARSAW (Reuters) - Polish prosecutors said on Saturday they had brought fraud charges against a prominent lawyer and former deputy prime minister who is a vocal critic of the government, and prohibited him from leaving Poland or practising law. Prosecutors also denied mistreating Roman Giertych, who fainted during his detention on Thursday and is currently defending billionaire bank owner Leszek Czarnecki, a thorn in the government's side who is suspected of cheating clients of his Idea Bank.