Airlines set to lose $157 billion amid worsening slump: IATA
By Laurence Frost PARIS (Reuters) - Airlines are on course to lose a total $157 billion this year and next, their main global body warned on Tuesday, further downgrading its industry outlook in response to a second wave of coronavirus infections and shutdowns afflicting major markets. The International Air Transport Association (IATA), which in June had forecast $100 billion in losses for the two-year period, said it now projects a $118.5 billion deficit this year alone, and a further $38.7 billion for 2021. The bleak outlook underscores challenges still facing the sector despite upbeat news on development of COVID-19 vaccines, whose global deployment will continue throughout next year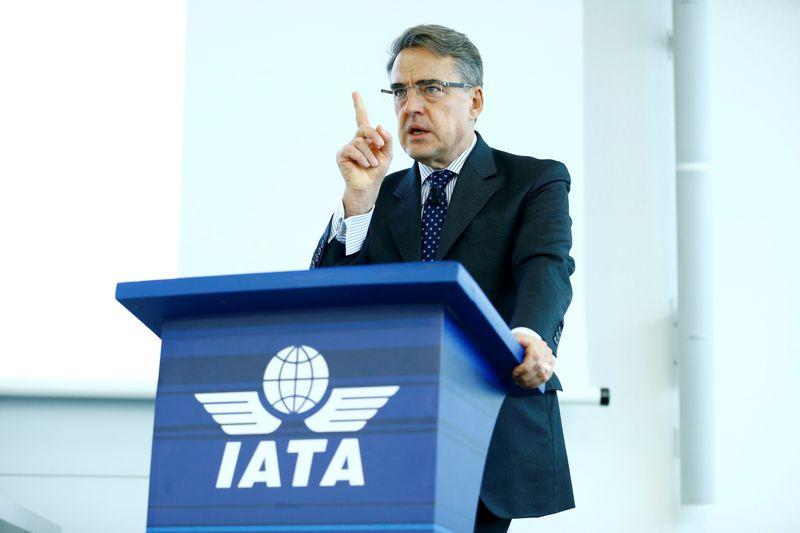 By Laurence Frost
PARIS (Reuters) - Airlines are on course to lose a total $157 billion this year and next, their main global body warned on Tuesday, further downgrading its industry outlook in response to a second wave of coronavirus
infections and shutdowns afflicting major markets.
The International Air Transport Association (IATA), which in June had forecast $100 billion in losses for the two-year period, said it now projects a $118.5 billion deficit this year alone, and a further $38.7 billion for 2021.
The bleak outlook underscores challenges still facing the sector despite upbeat news on development of COVID-19
vaccines, whose global deployment will continue throughout next year.
"The positive impact it will have on the economy and air traffic will not happen massively before mid-2021," IATA Director General Alexandre de Juniac told Reuters.
Passenger numbers are expected to drop to 1.8 billion this year from 4.5 billion in 2019, IATA estimates, and will recover only partially to 2.8 billion next year. Passenger revenue for 2020 is expected to have plunged 69% to $191 billion.
"That's by far the biggest shock the industry has experienced in the post-World War Two years," IATA Chief Economist Brian Pearce said.
The forecasts assume significant re-opening of borders by the middle of next year, helped by some combination of COVID-19
testing and vaccine deployment.
IATA reiterated its call for governments to replace travel-stifling quarantine regimes with widespread testing programmes.
"We are seeing states progressively coming to listen to us," de Juniac said, citing testing initiatives underway in France, Germany, Italy, Britain, the United States and Singapore.
While some governments and airlines such as Australia's Qantas say passengers are likely to require vaccination for long-haul travel, the approach is unlikely to work everywhere, de Juniac said.
"It would prevent people who are refusing (the vaccine) from travelling," the IATA chief said. "Systematic testing is even more critical to reopen borders than the vaccine."
Air cargo, a rare bright spot for the industry as the grounding of flights pushes freight prices higher, will likely see global revenue rise 15% to $117.7 billion this year despite an 11.6% decline in volume to 54.2 million tonnes, IATA said.
Some $173 billion in government aid has left recipients with debts that threaten to hobble future investment, it warned, and more bankruptcies are likely. Norwegian Air became the latest casualty on Nov. 18, when it filed for bankruptcy protection in Ireland.
The average airline now has enough liquidity to survive another 8.5 months, while some have just weeks, Pearce said. "I think we will get consolidation through some airline failures."
(Reporting by Laurence Frost; Additional reporting by Johnny Cotton; Editing by Mark Potter and David Evans)
This story has not been edited by Firstpost staff and is generated by auto-feed.
Find latest and upcoming tech gadgets online on Tech2 Gadgets. Get technology news, gadgets reviews & ratings. Popular gadgets including laptop, tablet and mobile specifications, features, prices, comparison.
Business
By Aditya Kalra NEW DELHI (Reuters) - India's tobacco industry will object to a proposal to ban smoking zones in hotels and prohibit advertising at cigarette kiosks as the government steps up anti-smoking efforts, two executives said on Wednesday. India has over the years introduced tobacco controls and launched campaigns to deter its use, but enforcement of the law has been a challenge.
World
HONG KONG (Reuters) - Over 50 pro-democratic activists in Hong Kong were arrested on Wednesday for breaking the city's contentious national security law, local media reported, in the biggest crackdown yet against the democratic opposition under the new law. The arrests in the Asian financial hub included well known democratic figures and former lawmakers James To, Lam Cheuk Ting and Lester Shum, according to the Democratic Party's Facebook page and public broadcaster RTHK. Police did not immediately respond to requests for comment.
World
BRASILIA (Reuters) - Brazil's syringe manufacturers said on Tuesday they will supply 30 million syringes and needles for the country's COVID-19 vaccination program after the government said it would requisition surplus supplies. Executives of the three main manufacturers met with President Jair Bolsonaro at the Health Ministry and it was agreed that each would supply 10 million syringes to cover the initial stages of the vaccination plan.