Airline fares to go up with cancellation of IndiGo, GoAir flights, say travel companies
Expect a fare rise as an immediate offshoot of the cancelled flights and grounded aircraft of IndiGo and GoAir, say industry experts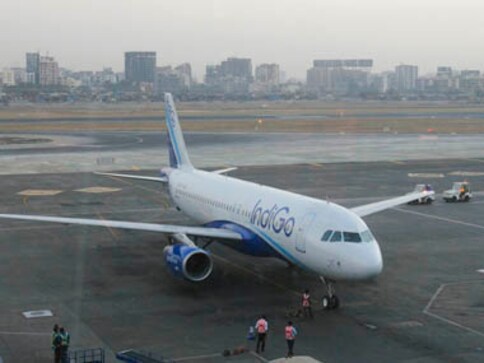 You could expect airfares to rise further, all thanks to the fact that aviation regulator DGCA has ordered IndiGo and GoAir to ground aircraft powered by defective engines, said industry experts. Airlines are likely to cash-in on the demand for flights, they added.
The DGCA's decision to ground the Airbus A320neo aircraft operated by IndiGo and GoAir, and the consequent cancellation of flights, has resulted in a fairly significant impact on airfares, particularly for immediate travel on some key routes, said Sharat Dhall, COO (B2C) of Yatra.com, an online travel portal. "During the initial days, we saw fares as high as Rs 15,000 for a one-way ticket to Delhi. The maximum amount of cancellations [were] on key routes such as the Delhi-Mumbai, Delhi-Chennai and Delhi-Hyderabad. With current load factors at over 90 percent, this reduction in capacity is likely to have a five to 10 percent impact on fares on key routes in the short to medium-term. In order to cause minimum inconvenience to passengers, airlines are giving them an option to choose another flight at no additional cost, and are providing a full refund on any cancellations," Dhall added.
Airfares have already gone up some 10-15 percent post the cancellation of flights by the two low-cost carriers, said John Nair, Head, Business Travel, Cox & Kings. Sectors that have witnessed a price hike are the metro routes like Delhi-Mumbai, Delhi-Bangalore and Delhi-Chennai, as these were long-routes where the Airbus A320neos were deployed, because they are fuel-efficient jets. If the situation is rectified by the end of the month, fares will normalise, Nair added.
Around one lakh passengers have been impacted by the grounding of 18 IndiGo and three GoAir aircraft, due to faulty Pratt & Whitney (P&W) engines. IndiGo has announced the cancellation of 488 flights for the 15 March to 31 March period, while rivl GoAir has cancelled 138 flights for the 15 March to 24 March period, according to the airlines' websites, bringing the total number of cancellations to 626 flights. However, passengers flying both airlines do have the option to either seek a full refund or board alternative flights with the carriers.
To contain the panic situation among passengers, IndiGo, in a statement released on Friday, assured passengers that operations will normalise soon. The no-frills carrier said that between 96 percent and 98 percent of its flights are operating as usual. "On any given day we cancel less than 4 percent of our flights. We are also actively engaged with our engine and aircraft manufacturers to find a long-term solution at the earliest. We would like to assure our passengers that the operations will be normalised soon." IndiGo is working to accommodate all affected passengers on alternate flights on its network, the statement added.
GoAir said that with three aircraft grounded, affected passengers could be accommodated on 29 other aircraft, if they choose to fly. The Wadia group-promoted GoAir hasn't been impacted as the airline 'tweaked' its operations so that passengers can board alternate flights, a spokesperson told Firspost. The faulty P&W engines should be rectified by the end of June, the GoAir spokesperson said, and the aircraft will be pressed into service post the DGCA's approval.
Meanwhile, state-run Air India (AI) said it could accommodate passengers, if need be, under an interline agreement, but only after IndiGo and GoAir place a request. Both IndiGo and GoAir spokespersons declined comment, when asked if they would seek the assistance of other airlines.
The balance sheets of the affected airlines will not be impacted, said an analyst, as American engine-maker P&W will compensate both carriers. Earlier, InterGlobe Aviation-run IndiGo reported a massive spike in its September-quarter net profit, at Rs 551.5 crore, boosted by a one-time payment towards engine issues, delayed aircraft deliveries and higher margins, PTI reported. "Profitability was favourably impacted by better revenue management and credit received from manufacturers related to aircraft grounding and delivery delays," the airline said in an exchange filing without disclosing the quantum of payments received from P&W and from Airbus, for delayed deliveries of A320neos.
India
The new process will initially implemented in three cities – Bengaluru, Mumbai and Delhi. The airline plans to expand to all cities gradually
India
In a major protocol breach at Delhi airport, a car belonging to Go First airline stopped under an IndiGo aircraft on Tuesday, narrowly avoiding collision with the plane's nose wheel.
India
An IndiGo flight from Assam's Jorhat to Kolkata was cancelled on Thursday after the aircraft skidded off the runway during take-off and a pair of its wheels got stuck in the muddy outfield.