Airbus extends lead over Boeing with 415 jet sales in October
PARIS (Reuters) - Airbus had 415 airplane orders in October, including its largest ever from a single airline, extending a wide lead over Boeing, which has been hit by the grounding of its 737 MAX. The European planemaker also announced on Thursday deals including 12 orders for its A330neo passenger jet from an unidentified buyer. The Airbus deals, including a record order for 300 aircraft from India's IndiGo announced last week, brought the January-October total to 718 aircraft or a net 542 after cancellations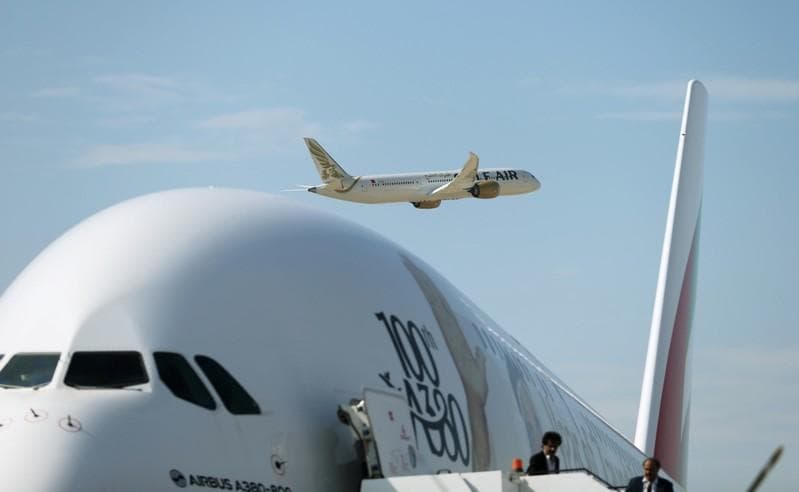 PARIS (Reuters) - Airbus had 415 airplane orders in October, including its largest ever from a single airline, extending a wide lead over Boeing, which has been hit by the grounding of its 737 MAX.
The European planemaker also announced on Thursday deals including 12 orders for its A330neo passenger jet from an unidentified buyer.
The Airbus deals, including a record order for 300 aircraft from India's IndiGo announced last week, brought the January-October total to 718 aircraft or a net 542 after cancellations.
Boeing has reported 170 orders through end-September, the latest period for which data is available, or a net total of 54 after cancellations.
After an accounting adjustment representing jets ordered in previous years but now thought unlikely to be delivered, Boeing's net total sank to a negative 84 airplanes.
Airbus, which last week cut its annual delivery target by 2-3% to 860 aircraft, said it had delivered 648 aircraft in the first 10 months of 2019.
(Reporting by Tim Hepher; Editing by Alexander Smith)
This story has not been edited by Firstpost staff and is generated by auto-feed.
Find latest and upcoming tech gadgets online on Tech2 Gadgets. Get technology news, gadgets reviews & ratings. Popular gadgets including laptop, tablet and mobile specifications, features, prices, comparison.
World
ANKARA (Reuters) - Turkey's daily death toll from the coronavirus hit a record high of 141 on Friday, according to data from the Health Ministry, as the country braced for nationwide measures amid a surge in cases in recent weeks. The data showed 5,103 new COVID-19 patients were recorded in the country, while the overall death toll rose to 12,084. Since July, Ankara has only reported symptomatic COVID-19 patients, a move critics say hides the true scale of the outbreak.
World
TBILISI (Reuters) - A gunman has released unharmed all nine hostages he had taken at a microfinance organisation in the Georgian capital Tbilisi on Friday, police said. According to preliminary information, the gunman was not demanding a ransom but had some social demands, including lower prices for medicines
World
By Matthias Williams KYIV (Reuters) - Thousands of people silently raised their arms in the air, held flowers aloft and broke into chants outside a church in Minsk on Friday at the funeral of a Belarusian protester. The death of 31-year-old Roman Bondarenko has become a flashpoint in months-long mass protests against President Alexander Lukashenko. Witnesses said Bondarenko was detained after a scuffle with people in plain clothes who came to a playground to remove red-and-white ribbons representing the protest movement