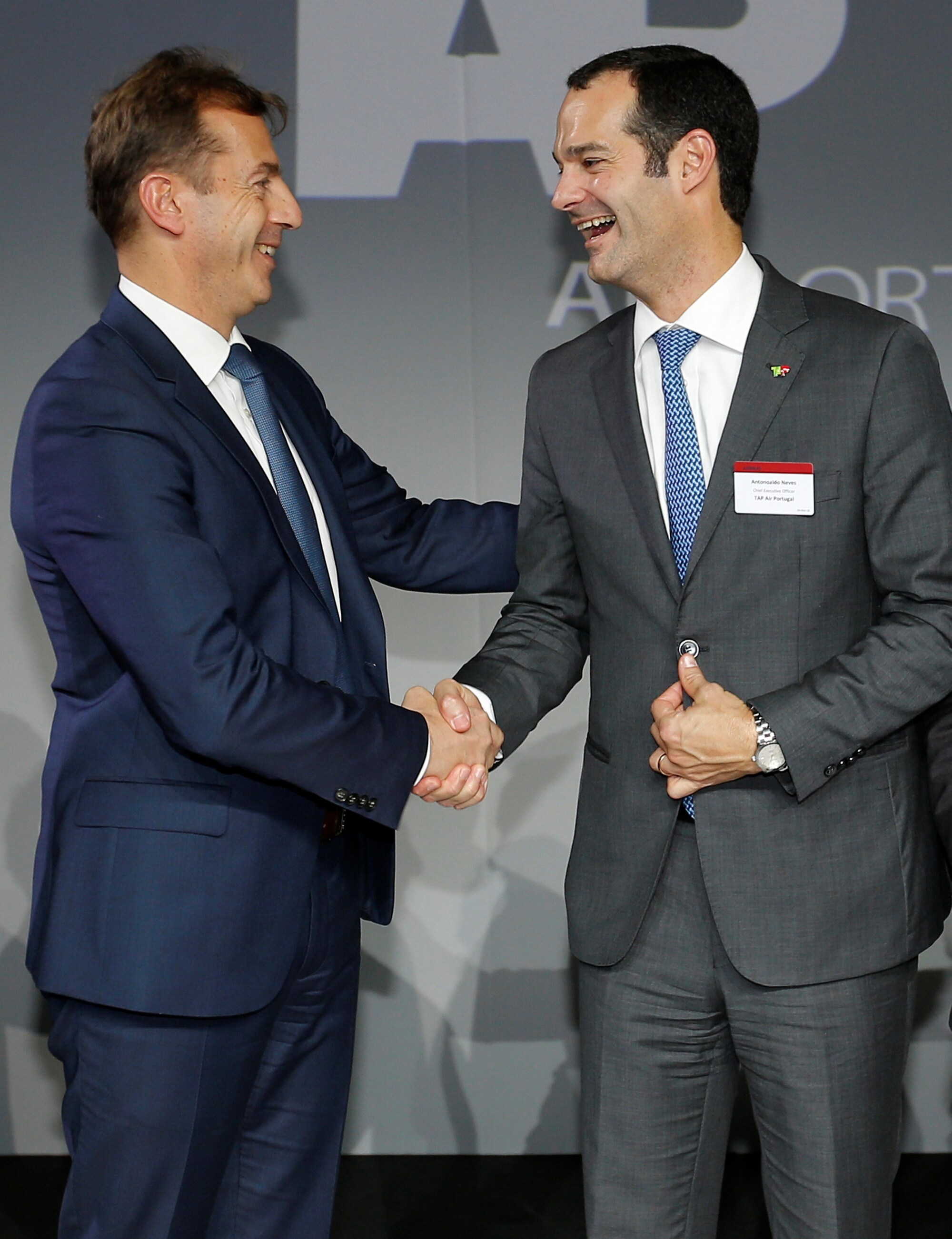 By Tim Hepher
TOULOUSE, France (Reuters) - Europe's Airbus delivered its first A330neo jet to TAP Portugal on Monday as it seeks to trump U.S. rival Boeing in the fiercely competitive battle at the lower end of the market for long-haul jets.
The face-off between the A330neo and Boeing 787 pits two generations of jetliner against each other in one of the most crowded but potentially lucrative parts of the aircraft market, predicted to represent $1 trillion in sales over 20 years.
The A330neo offers fuel savings through new engines from Rolls-Royce , though these have been delayed by industrial problems at the British supplier.
Airbus planemaking chief Guillaume Faury said he expected Airbus to catch up on delayed A330neo deliveries by end-2019.
Sales of the A330neo have also fallen short of expectations as Boeing places its 787, but Faury predicted these would pick up following the first delivery.
"The A330neo will in my view get more traction when it is in service," he told reporters.
One of the earliest and largest customers for the A330neo, leasing firm Avolon which financed the first TAP aircraft, said Airbus still needed to win more orders.
"It is a soft (order) backlog. We would prefer if there were more airplanes sold to more customers - wouldn't anybody?," Avolon Chief Executive Domhnal Slattery told Reuters.
"But the thing that is giving us comfort is that the replacement wave for the (earlier) A330-200 hasn't really kicked in and it should kick in this year, next year and the year after."
Airbus recently won A330neo orders from Kuwait Airways and Delta Air Lines, but Delta said it had deferred some deliveries of the newer A350 and industry sources say Kuwait had been given flexibility to delay or cancel A350s in return for its support.
MID-MARKET STRATEGY
The A330neo - sporting a newer cabin and larger engines than existing A330 long-haul jets - is the latest gambit in a battle between Airbus and Boeing over the fiercely contested 'middle of the market,' sitting between long-haul and medium-haul planes.
Boeing is weighing proposals to develop a dedicated jet carrying 220-270 people in a development analysts say could damage the A330, the most profitable Airbus wide-body model.
Airbus is attempting to close its jaws around the same part of the market through a combination of the 250-300-seat A330neo at the top end and the smaller A321neo underneath.
The dogfight between plane giants has been one of the most intense for years, prompting European claims that Boeing is trying to drive the A330neo out of the market to make way for its potential new jet. "Boeing failed in its mission to kill the A330," Airbus twin-aisle marketing head Crawford Hamilton said.
Boeing rejected this. "We are focussed on delivering the most capable, most efficient and versatile airplanes to airlines around the world," a spokesman said.
Boeing says it has won 65 percent of wide-body orders in the last 5 years. Airbus says the A330 won some 50 percent of orders contested against the 787 since the A330neo version was launched in 2014. Both firms select data to support marketing campaigns.
The aircraft delivered to TAP Portugal on Monday is the 298-seat A330-900neo, the larger of two versions developed by Airbus and one that dominates the tally of 242 aircraft on order.
Of these, 28 are officially earmarked for IranAir but Airbus says these won't be delivered any time soon due to renewed U.S sanctions, which apply to all jets using significant U.S. parts.
The smaller A330-800neo took its first flight this month.
(Reporting by Tim Hepher; Editing by David Goodman and Adrian Croft)
This story has not been edited by Firstpost staff and is generated by auto-feed.
Find latest and upcoming tech gadgets online on Tech2 Gadgets. Get technology news, gadgets reviews & ratings. Popular gadgets including laptop, tablet and mobile specifications, features, prices, comparison.
Updated Date: Nov 27, 2018 03:05:28 IST