Air India privatisation: This is Narendra Modi govt's plan to make ailing national carrier attractive for buyers
Air India has accumulated a total debt of Rs 60,000 crore which is keeping away prospective buyers for the ailing carriers
The Narendra Modi government has chalked out a plan to make the debt-laden Air India attractive for buyers and facilitate its strategic sale, according to a report on Bloomberg. For the purpose, the Modi government wants to transfer non-aviation assets and short term loans of Air India worth Rs 30,000 crore or $4.7 billion to a separate company.
Successive governments have failed to either bring the state-owned flier out of the debt mess or sell it to private players as its huge debt of Rs 60,000 crore, $7.6 billion, has kept possible buyers at bay. In the past, Tata Group that had founded the airline had showed interest in buying the carrier but the move was stalled after the issue was politicised.
Authorities concerned, according to the report, hope the bidding process of Air India will likely start on 31 March, 2018. The whole exercise is being carried out to facilitate smooth sale of Air India that was extended Rs 30,000 crore bailout package by the erstwhile UPA government.
If the government removes Rs 30,000 crore from the airline's total debt exposure of Rs 60,000 crore and shifts it to some other entity, it would mean it was absorbing the working capital loans of Air India. In May 2014, Modi rose to power on the promise that his government will implement "minimum government and maximum governance" in letter and spirit. The concept was drawn by Modi himself and getting Air India out of the debt mess would mean another policy achievement.
The strategic sale, as the government calls it, may boost Modi's image as a business promoting prime minister. Recently, global rating agency Moody's upgraded India's sovereign rating to Baa2 from earlier Baa3 and changed the outlook from positive to stable. Many experts welcomed the move and termed it a pat on the prime minister's back. Air India was once a major player in India's aviation market.
Over the past decade, the airline has not registered a profit since it merged another state-owned flier Indian Airline with itself. Some industry watchers had opposed the move back then saying the airline may land in financial mess. The only profit the company recorded after the merger in 2006 was in March last year. Air Idia earned Rs 100 crore in operating profit on the back of a decreasing oil prices. The airline posted a net loss of Rs 384 crore, the government had revealed back then.
The government has indicated it will allow foreign airlines to bid in the strategic stake sale of Air India though there holding in the company will be capped at 49 percent as the government wants to stick to foreign direct investment, FDI, guidelines for the aviation sector. IndiGo, a budget carrier run by Interglobe Aviation, had earlier said it wants to buy stake in Air India.
India
Modi noted that on the coming 15 August, India will enter its 75th year of Independence and highlighted that Amrit Mahotsav is being celebrated throughout the country to mark that year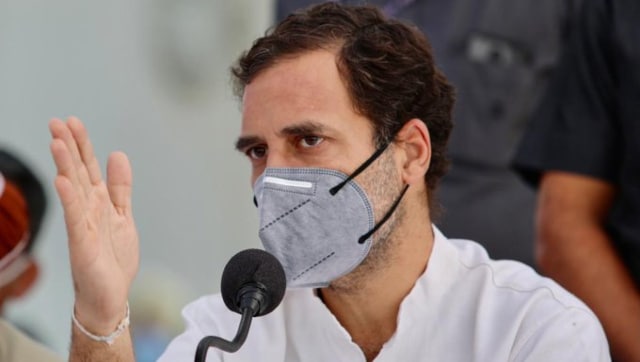 India
The former Congress president also shared a video on Twitter highlighting the alleged slow vaccination rate and media reports where people were not getting vaccines
India
Prime Minister Narendra Modi in his address to the nation on last Independence Day had announced that a new university would be established in Ladakh