Air India posts Rs 3 cr daily loss in Q1: How will it show 10-fold jump in operating profit?
Not a word on how this will be achieved was there in the minister's reply, other than the usual reference to generic steps taken in the past on routes, better fleet utilistion etc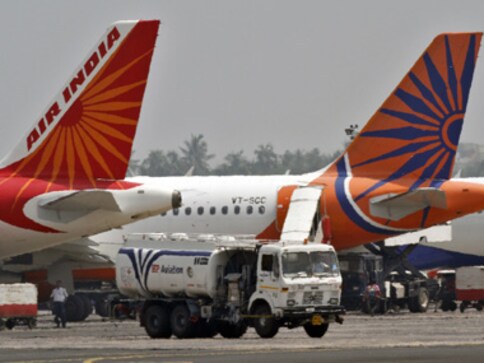 New Delhi: There was all round cheer when Air India reported a modest operating profit for 2015-16, for the first time since the two erstwhile airlines were merged to form the present entity. But in the first quarter immediately after this euphoric 12-month period, the airline has slipped back.
According to Minister of State for Civil Aviation Jayant Sinha, Air India reported an operating loss of Rs 264.14 crore between April-June 2017 quarter when the target was an operating profit of Rs 87.28 crore for these months. In other words, the airline was way off the mark, by about Rs 350 crore. Not only did it not report any operating profit, it actually made operational losses of close to Rs 3 crore a day during Q1!
So how will Air India achieve the 10-fold growth in operational profit this fiscal, as targeted? In a written reply in Lok Sabha today, the minister said that the first quarter of a financial year was typically the lean season for airlines and there was still an expectation of FY17 closing with an operational profit in the second half (October 2016- March 2017) of the year. That this government is getting ambitious over Air India is obvious.
Air India reported operating profit of Rs 105 crore last fiscal and its target for operating profit in the current fiscal is almost 10-fold growth at Rs 1,086 crore. Not a word on how this will be achieved was there in the minister's reply, other than the usual reference to generic steps taken in the past on routes, better fleet utilistion etc. What are the targets for achieving net profit? In other words, what's the financial future of this airline? Will the government think in terms of divestment of this white elephant anytime soon? It is clear that from what Sinha told Swarajya magazine in this interview there is little hope of the government divesting its stake in the airline.
Instead, the minister is banking on a "winning strategy" which will see Air India deliver a "robust" financial performance. "We believe there is a winning strategy for Air India to become a great global airline, which it once was. And because we think we have a winning strategy, we believe we can deliver an excellent financial performance for Air India as well. And we will also be able to make it a great place to work. Those are the dimensions we are working on right now. And we are very committed to that approach."
What this winning strategy the government is looking at may become clear in the coming days, but for now, the airline is mulling several measures to tackle its mounting debt pile. The minister said in his reply that almost Rs 24,000 crore of equity support has been given by the government already under the Turnaround Plan. Sinha said in his reply that the airline notched up operating losses as yields on passenger traffic fell 6 percent and cargo traffic revenue also declined during the quarter.
Yield is a measure of revenue per passenger and an airline official had said last month that for the entire first half of the fiscal (April-September), yields fell by a whopping 15 percent as airlines competed on fares on every route and wa forced to lower ticket prices. This means even the second quarter of this fiscal, Air India may have found it difficult to meet its lofty operating profit targets. And is now banking heavily on the peak winter travel season to push up yields and therefore operational performance.
But operating metrics apart, the airline needs to do a clean up of its books in a significant manner to become financially sound. The most important task before its management is debt reduction.
As we said earlier Air India is mulling a scheme where PSU banks could be asked to take equity in lieu of their exposure. Air India has a total interest outgo of Rs 4,000 crore each year with total debts on its books at about Rs 46,000 crore. Of this total debt, about Rs 20,000 crore is sought to be restructured through the Sustainable Structuring of Stressed Assets (S4A) scheme announced by the government recently, where banks are being asked to look at equity on return for debt repayment. The entire loan restructuring process could take up to six months. But once it is done and if it is done, total annual interest payment outgo will reduce by about Rs 1,000 crore. Will PSU banks play ball?
Also, another mammoth task before the airline is availing fresh loans for taking deliveries of some remaining aircraft from the old order for 111 aircraft. This means increased leverage, something which the airline should avoid. With the promised equity support nearing completion and benign oil prices making the operating environment cost friendly, this is as good a time as any for Air India to begin the long-awaited turnaround. The winning strategy that the government has up its sleeve had better be a winner.
India
With the purchase of Air India, the Tata umbrella will have a capacity share of 40.17 percent in Delhi
World
He was responding to a report by a US-based think tank, which alleged that Pakistan's debt was rising to a dangerous level because of CPEC
India
The carriers have been operating 85 percent of their pre-COVID domestic services since September 18, according to the ministry's order.