Air India needs a miracle to show operational profit; turnaround plan crumbling?
The extent of Air India's accumlated losses of a whopping Rs 41,380.45 crore can be gauged from the fact that this money would have been enough to fund India's health budget this year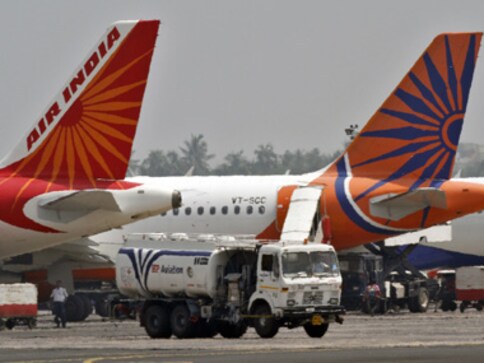 New Delhi: Air India's turnaround is on shaky ground and as a newspaper headline aptly said this morning, red ink is spreading on the airline's books. After posting an operational profit for the first time in a decade last fiscal, the airline has lapsed back into operational losses of about Rs 700 crore in the first six months of the current fiscal. This means close to Rs 4 crore each day between April and September this year. All eyes were trained on the airline making up for these operational losses by ensuring flawless performance in the remaining six months of the year. But with demonetisation, fall in yields and currency fluctuation, even this may remain a pipe dream. Forget 10-fold growth in operational profit this fiscal – the airline's stated target to achieve Rs 1,086 crore operational profit in 2016-17- only a miracle can now make Air India post ANY operational profit at all in 2016-17. In fact, the modest Rs 100 crore operational profit it showed last fiscal could well be a flash in the pan.
No operational profit or an insignificant amount will further delay Air India's lofty turnaround plans. Remember, the airline is still far away from making any net profit and its accumulated losses as per audited accounts on March 31 this year stood at a whopping Rs 41,380.45 crore. The extent of losses can be gauged from the fact that this money would have been enough to fund India's health budget this year since the amount earmarked for spending on health is Rs 38,026 crore in the budget. Or, this money would have gone a long way in India's spending for agriculture and farmers' welfare this year since the budgeted amount is Rs 44,469 crore!
A senior airline executive had told Firstpost earlier that despite losses in the first six months, Air India was on course to make some operational profit in the second half. "October to March is the time when we generate 2/3rd revenues for the full year. Besides, we expect oil prices to remain stable." This executive had further said that in the first six months, lease rentals of the Dreamliner (Boeing 787) aircraft and a Rs 100 crore loss due to currency fluctuation had worsened matters. But his optimism was before the government's demonetisation move. It has hurt growth in the entire aviation sector and Air India will obviously not be left untouched.
This piece in Business Standard quotes an airline executive to say that people have cancelled their advance bookings and there has been a decline of 10 percent in new bookings. "So the forecast for the next quarter remains uncertain".
So what should the government, which is the sole owner of the airline, do? Any suggestions – and there have been plenty – that the government should offload some stake in Air India have been brushed away by the Modi government. The common refrain among airline executives and bureaucrats tasked with the airline's turnaround is problems like the debt-laden books of Air India and its accumulated losses. "With this much debt on its books and such huge losses, who would want to touch this airline," is the usual refrain. As per a written reply in Lok Sabha last week by Aviation Minister A Gajapathi Raju, Air India is saddled with Rs 46,570.35 crore of debt. Of this, almost Rs 15,900 crore is towards aircraft loans. The senior airline executive quoted above had also said earlier that a fresh aircraft loan of Rs 10,000 crore will be raised to fund further fleet expansion from state-owned LIC.
Air India needs fresh loans since it still has to take deliveries of six Dreamliners (Boeing 787s) and three Boeing 777 aircraft till 2017-18, orders for which were placed during the earlier mega aircraft order of 68 Boeing and 33 Airbus aircraft. So there is little chance of the airline reducing the debt on its books anytime soon.
As we said earlier, the airline is also mulling over a scheme where PSU banks could be asked to take equity in lieu of their exposure. The total interest outgo of Rs 4,000 crore each year could be reduced by a fourth if this ambitious proposal works. Of the total debt of Rs 46,570.35 crore, about Rs 20,000 crore is sought to be restructured through the Sustainable Structuring of Stressed Assets (S4A) scheme announced by the government recently, where banks are being asked to look at equity on return for debt repayment. The entire loan restructuring process could take up to six months. But will PSU banks play ball?
So this is where Air India's turnaround plan stands: The airline is finding it tough to make operational profits for only the second year in a row which means its target on net profit gets pushed further. It is looking to restructure loans by asking PSU banks to swap debt with equity, a proposal which looks ambitious at this stage and therefore the overall debt burden wont get lighter in a hurry. And the airline is looking to raise fresh loans to purchase aircraft, which will surely impair the balance sheet further.
Air India needs a comprehensive turnaround plan which hinges on its sell off. The government has obviously been a disaster at reviving this once-profitable airline. It also needs competent officials to manage daily affairs – till now, it has been run by bureaucrats. That the government has been lax in fixing the gaps at Air India is evident – it is yet to nominate independent directors to the airline's board. These positions have been lying vacant since June. It has also been sitting on a proposal to create a post for a Joint Managing Directors, besides withholding some of the promised financial aid due to the airline this fiscal.
World
The country owes $40 billion in foreign bonds. Before the start of the war, Russia had around $640 billion in foreign currency and gold reserves, much of which was held overseas and is now frozen
India
India's UN mission should back up statements on religiophobia with concrete action on anti-Hindu, anti-Buddhist hate speech.