Air India disinvestment: Subramanian Swamy calls for Jayant Sinha to be 'dropped', supports Mohan Bhagwat's remarks
Subramanian Swamy tweeted that he welcomed Bhagwat's 'timely warning' on the Air India 'family silver sale'.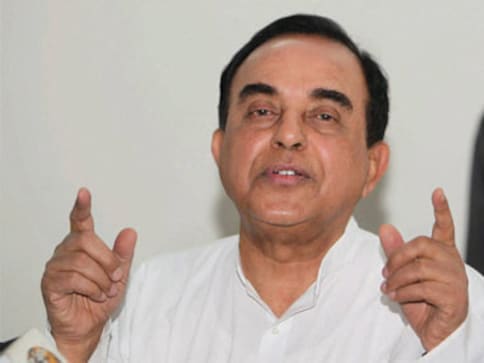 After Rashtriya Swayamsevak Sangh (RSS) chief Mohan Bhagwat said that debt-laden national carrier Air India should be run only by an Indian firm, senior BJP leader Subramanian Swamy tweeted his support for the decision, and also called for the resignation of Union Minister of Civil Aviation, Jayant Sinha.
Swamy tweeted that he welcomed Bhagwat's 'timely warning' on the Air India 'family silver sale'. He also put out advice for Prime Minister Narendra Modi. 'My advice to Namo: Put off the proposal to post 2019 poll', and added: 'Also drop Jayant Sinha'.
I welcome RSS sarsangh chalak Mohan Bhagwat's timely warning on Air India family silver sale. My advice to Namo: Put off the proposal to post 2019 poll. Also drop Jayant Sinha

— Subramanian Swamy (@Swamy39) April 17, 2018
On Monday, while cautioning the government against "losing control and ownership of its skies", RSS boss Bhagwat said Air India's operations have not been managed properly. "Air India should be handed over to anyone who can run it efficiently. The new operator must be an Indian player," the RSS supremo said, delivering a talk on 'Indian Economy and Economic Policies: Long-term Perspective' here.
Bhagwat said nowhere in the world has any country allowed a stake of more than 49 percent to foreign investors in national carriers, and specifically mentioned Germany, where foreign ownership is capped at 29 percent. He also advocated confiscation of shares if the foreign holding breaches the 49 percent mark and selling it to domestic investors, as is done in some countries.
While valuing Air India, one should not look only at tangible assets and get bogged down by the accumulated debt of Rs 55,000 crore, but also look at aspects like the landing rights at 30 global airports and availability of trained manpower, he said.
"One has to view Air India's losses in contrast to the assets it has. Air India's operations haven't been managed properly," Bhagwat said at the event at leading stock exchange BSE.
Union woes?
How the government handles the ailing carrier's employees is more important now. As on 1 January, 2017, the airline had 18,049 employees. By comparison, IndiGo had 14,576 employees as on 31 March, 2017. IndiGo also employed 8,225 employees on a temporary/contractual/casual basis. Air India has a 12 percent share of India's domestic market and has a 17 percent share in flights in and out of India, and it loses money. Indigo has a 40 percent share in India's domestic airline business and is a profitable airline, according to this Firstpost column.
On Sunday, as many as 11 Air India unions representing more than 10,000 employees took to Twitter, YouTube, Instagram and Facebook to protest against the stake sale plan as they are worried over possible job losses post disinvestment. Messages and graphics with 'Save Air India' slogan are being posted on various social media platforms. People are also being urged through WhatsApp messages to raise their voice against the strategic disinvestment of the national carrier, according to union representatives.
The government has come out with a detailed preliminary information memorandum, detailing plans to offload up to 76 percent stake in Air India and transfer the management control to private players. The proposed disinvestment will include profit-making Air India Express and joint venture AISATS. The latter is an equal joint venture between the national carrier and Singapore-based SATS Ltd
With inputs from PTI.
India
The man, Abdul Majid, in his post said the RSS and BJP leaders should apologise for the controversial remarks on Prophet Muhammad made by suspended BJP spokesperson Nupur Sharma, or PM Modi, Amit Shah, Yogi Adityanath's heads will be separated
India
The AAP previously said its tiranga shakas will be different from the shakhas of the Rashtriya Swayamsevak Sangh
India
Air India has been experiencing poor ground handling services since disinvestment in terms of check-in, baggage handling and other necessary services for the passengers