Ahead of next year's Lok Sabha polls, nearly Rs 1,900 crore allocated for buying EVMs
In the annual Budget, Rs 1,891.78 crore has been allocated for purchase of EVMs by the poll panel. Ahead of several assembly polls this year and Lok Sabha elections in 2024, the Union Cabinet had last month approved a proposal for funds to procure additional electronic voting machines for the EC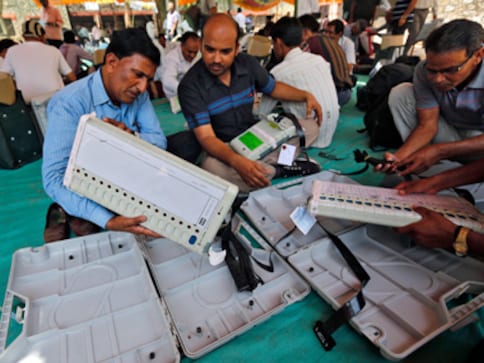 New Delhi: Nearly Rs 1,900 crore has been allocated in the Union Budget to the Union Law Ministry to buy electronic voting machines ahead of the 2024 Lok Sabha polls.
According to the budget document, Rs 1,891.78 crore has been allocated for purchase of EVMs by the poll panel.
"The provision is meant for providing funds to the Election Commission for procurement of ballot units, control units and voter verifiable paper audit trial units (paper trail machines) and ancillary expenditure on EVMs and destruction of obsolete EVMs," it said.
One control unit and at least one ballot unit makes for an EVM. Ahead of several assembly polls this year and Lok Sabha elections in 2024, the Union Cabinet had last month approved a law ministry proposal for funds to procure additional electronic voting machines for the Election Commission.
Officials aware of the development had then said that more of the same type of electronic voting machines, which are in use at present, will be procured from Bharat Electronics Ltd and Electronics Corporation of India Ltd, the two PSUs which had been manufacturing the machines since they were introduced.
They said with the increase in the number of voters and polling stations, more machines will be required.
EVMs that complete their life span and those which are damaged also need to be replaced, they said.
Since 2004, EVMs have been used in four Lok Sabha and 139 assembly elections.
Since 2019, VVPAT slips from five randomly selected polling stations per assembly constituency (or segment in cases of Lok Sabha seats) are matched with the EVM count for greater transparency.
No mismatch was found in the counting of paper trail machine slips and votes polled in EVMs in the assembly elections in Gujarat and Himachal Pradesh, and the seven bypolls held late last year.
The Legislative Department in the Ministry of Law is the nodal agency to deal with issues related to the poll panel, including EVM, election laws and related rules.
Read all the Latest News, Trending News, Cricket News, Bollywood News,
India News and Entertainment News here. Follow us on Facebook, Twitter and Instagram.
World
OpenAI's CEO Sam Altman is aware that many bad actors will use GPT-4 for large-scale misinformation and cyberattack campaigns, if we are not careful about how we use the tool. He also said he is aware of how AI may change the nature of jobs as we know it.
World
As impressive as it is, the current version of ChatGPT, which is modelled on the GPT-3 and GPT3.5 protocol, looks and feels obsolete. Sam Altman and the team of OpenAI showcased just how much more smarter and faster the new GPT-4 model is.
World
Just like ChatGPT, GPT-4 which promises to be more powerful and disruptive has already started making headlines for even more creative and accurate responses