Agriculture crisis: It's high time for govt to re-look at MSP as a tool to rescue farmers
It has become religious ritual that every year central cabinet meets to revise MSP upwards
During the last couple of weeks a section of farm community are on agitation in Madhya Pradesh and Maharashtra. It is not for the first time that farmers have gone on agitation against the establishment. In fact, the country witnessed much stronger agitations led by more powerful kisan leaders in different regions. Every time the farmers have come out with the same demand that is remunerative prices for their produces. There is nothing wrong in a producer of a product or service demanding a just price. But the fundamental issue is why should only a farmer demand a just price for his product? Why cannot he command a price, especially, now that we have adopted market economy, in the same way as suppliers of non-agricultural produces?
Unfortunately, neither policy-makers nor so-called farm leaders tried to address this fundamental question. Instead of making the farmers to be at the mercy of government of the day, attempt should have been to strengthen them as an effective supply force in the market. Every time farmers come to street, political leadership tries to douse the fire as a panic reaction. May be, because of the fact that farm sector constitutes not only a large vote bank but also effectively participates in democratic process unlike the comparatively better educated urban sector. No doubt, political leadership devised an easy tool called minimum support price (MSP). It has become religious ritual that every year central cabinet meets to revise MSP upwards. No government failed in its duty of revising upwards. Until 1996 upward revision used to be in the range of around Rs 10 per quintal which now has gone up beyond Rs 50 per quintal since the United Front government in the late nineties. No government including the Modi  government which appears to have sound economic approach other-wise mustered courage to re-look at MSP as a tool to rescue farmers. In addition, many state governments also contribute bonus price.
Attempt to resolve farm crisis is explained in terms of competitive upward revision of MSP. Still nobody bothers to understand why farmers continue to commit suicide despite continuous rise in MSP by practically every successive government. First of all, as the very word 'minimum support price' suggests, it becomes effective in protecting interests of farmers when market price crashes. In fact, the very objective of the policy is to ensure minimum price when market prices crash. This appeared like working well till mandis became competitive market, thanks to entry of organised retailers. However, markets also witnessed a situation when government procurement agencies could not compete with private procurers namely, the organised retail sector which resulted in MSP falling short of market prices. The current crisis is mainly because of glut in agricultural produces like tomato which was selling at one rupee a kg in MP. Once one accepts market logic, fluctuations in price cannot be kept out of this practice. If one enjoys a price of more than Rs 50 a kg during the period of shortage he should equally be prepared for a lower price during glut situation. That is how market works.
However, often agitation for demanding remunerative price becomes an excuse for hidden agenda, more so in the case of current stir in MP. If the price was the case, farmers should have immediately withdrawn the agitation on MP government's announcement to procure tomato at Rs 8 a kg. But the real issue is competitive politics among different factions –may be because of state assembly elections in 2018. Purpose of this article to discuss long-term solution in order to enable farmers getting remunerative prices; not going into political aspect of the agitation. Basically two policy related issues are involved in the context of enabling farmers commanding just prices. One, providing appropriate and adequate infrastructure facilities to farm produces. Second, more importantly, facilitating farmers' direct access to markets. Both would ensure just prices to farm produces. Of course, equally important is getting farmers out of clutches of private money lenders.
Consumers suffered sky-rocketing farm prices in the recent past-be it tomato or onion or vegetables. Right now, many farm produces may command prices lower than MSP. For instance, average price for tur dal in Akola market is Rs 3,500 as compared to MSP of Rs 5,050. Similarly, price of paddy in Cuddalore market is Rs 1,375 as against MSP of Rs 1,470. The same trend may be seen in other produces such as maize, jowar, groundnut, soyabean etc.  Going by straight forward market logic there should not be scope for farmers complaining about not getting remunerative prices. Because, during competitive market situation as witnessed a few years back with emergence of the organised retail sector they don't have to depend on government procurement agencies. Rather, farmers refused to sell to Food Corporation of India as they got better prices from private retailers. However, when market prices crash below MSP, farmers can always look forward towards FCI which is duty-bound to procure at declared MSP.
But the truth is somewhere else. Whether it is the case of farm produces commanding higher prices than MSP or just MSP during the subdued market prices, poor farmers are nowhere in the picture though successive governments have been taking policy decisions in the name of farmers. The real beneficiaries are middlemen, that is, traders. Under the system farmers do not have direct access to market to get benefit of either high price or guaranteed MSP. Often, indebted farmers are compelled to sell their produces at much lower prices in advance. First of all, our banking system should be made more humanistic while dealing with farmers so that they don't depend on money lenders. Unfortunately, credit-risk and KYC principles are applied strictly in case of farmers while powerful ones get away with thousands of crores with guarantee by persons with almost nil bank balance.
With regard to enabling farmers to have direct access to the market, current NDA government under Narendra Modi initiated historic step by incentivising the states to amend APMC Act in the last budget. Some states have already initiated steps in this direction. Hopefully, other states will follow soon. Besides, many measures such as preventing diversion of fertilizers to non-agricultural use-through chemical coating, improved crop insurance or for that matter linking rural employment guarantee scheme to productive agricultural work have been initiated. Perhaps, guaranteeing a price by 50 percent higher than the cost as suggested by the Swaminathan committee is the one major promise yet to be implemented. Problem with the current government, more so in the ruling party, is lack of articulating spokespersons capable of effectively reaching out to general public.
Whenever, there is crisis in the farm sector political leaderships, especially, opposition jumps with a demand for waiving farm loans. This is what Congress government has practiced over the years as an attempt to douse the fire. Unfortunately, even the BJP promised such a carrot during the recent UP elections. Now other states also started demanding the same kind of relief. Waiving of farm loan can be considered under extraordinary crisis situation. But that cannot be the fashion statement among the so called farm leaders and opposition parties nor it is a long-term solution.
Apart from enabling farmers' access to market through amendment of the APMC Act and getting them out of money lenders' clutches through banking sector's attitude, farm sector should be strengthened as an effective supply force. Farmers should be enabled to decide appropriate timing for selling their produces, that is, only when they can command just price-in the same way as manufactured products. This would mean providing adequate infrastructural facilities, that is, cold storages as well as refrigerated transportation facilities. The Vajpayee government had taken initiatives to encourage setting up of cold chains. However, the successive government did not take it forward. Similarly, announcement by Lalu Prasad as the Railway Minister in the first UPA government to provide dedicated railway wagons to transport perishable agricultural products was not carried forward. Had there been adequate cold storage facilities supported with refrigerated transportation, there would not be a situation of farmers getting compelled to sell tomato at one rupee a kg. Whether, there is glut or shortage, scientific storage and transportation would act as a balancing factor to the relief of both farmers as well as consumers.
Instead of trying to exploit innocent farmers to achieve narrow political agenda it is high time both ruling and opposition treat farm crisis as a national crisis and attempt to resolve the issue scientifically through consensual approach.
(Jagadish Shettigar is a former Member of PM's Economic Advisory Council and currently teaches Economics at Birla Institute of Management Technology, Greater Noida)
India
The suspect, who was nabbed by the locals while trying to escape with bags containing cash and gold, worked as a manager at the ICICI Bank branch in VIrar (East). He is currently under police custody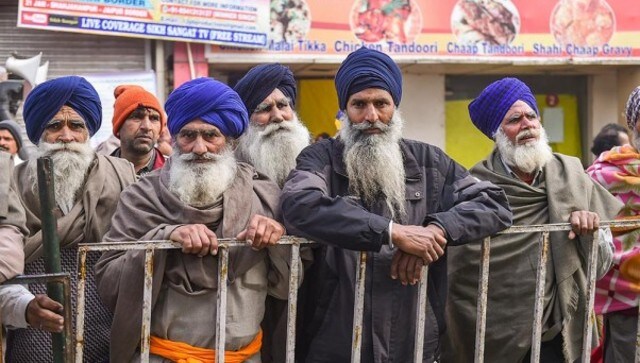 India
The cabinet decided that the Delhi government's lawyers will be public prosecutors in court matters related to the farmers' protest. The decision will be sent to L-G Anil Baijal for approval
Politics
More than 40 leaders from 33 parties attended the all-party meeting on Sunday and discussed which subjects should be brought up during the Monsoon session of the Parliament scheduled to begin on Monday