After Donald Trump tightens screws on H1-B visa, Japan opens its door for Indian IT talent
Not just US's next door nation Mexico, but Japan, Africa, Canada, Europe and some Asian countries too want Indian IT workforce to come work in their country.
With US president Donald Trump tightening the screws on the Indian IT outsourcing industry which accounts for nearly 62 percent of India's exports, other countries are taking the opportunity to welcome the country's IT talent with their open door policy. Not just US's next door nation Mexico, but Japan, Africa, Canada, Europe and some other Asian countries too want Indian IT workforce to work in their country.
The excitement is palpable with a second delegation from Nasscom having left for Japan on Friday to talk to their counterparts in the IT and ITeS-enabled sector.
The Indian IT body had taken a 10-member delegation of startups to Japan earlier in November 2015. They were IoT (internet of things) specialists. The Japanese government was proactive in extending the invitation and also took care of travel and setting up meetings for the delegation.
"The first delegation from India to Japan consisted of leaders from the startup industry. However, the quantum of business finalized in that meet is not known. "It is too early to say what kind of deals were brokered in that meeting," said Sangeeta Gupta, Senior VP, Nasscom.
India's capability of advanced technology is much in demand in Japan because the (information and communication technology) ICT-related industry in Japan lacks talent and capacity as well. Consequently, India and Japan will complement each other. "Our ICT-related industry does not have the talent and capacity of India," Shigeki Maeda, executive vice president of the Tokyo-bsed Japan External Trade Organisation (Jetro) told reporters ahead of "Invest Japan Symposium" organised by Jetro, Japan's Ministry of Economy, Trade and Industry and the Indian industry body Confederation of Indian Industry (CII) in New Delhi. It has an office in New Delhi as well, according to Mint.
The software services export revenue is expected to grow by 10-12 percent in FY17, touching revenue of $119-121 billion, Nasscom said in a statement. The IT-BPO industry added 2 lakh employees during the current fiscal, touching a total employee base of 3.7 million, according to Mint.
Realising that India's IT industry was heavily dependent on the US, Nasscom had decided even before the present crisis in the US to explore other markets looking at the Far East initially through discussion, research papers and market development activities. Later, it set up the Nasscom-Japan Council in April 2014 with an aim to focus on the interests of Japanese global in-house centres (GIC) that were based in India and more importantly address the challenges they face.
"The NASSCOM-Japan Council will help us to identify growth enablers and address various challenges for GICs in the country. With this initiative, we also aim to undertake activities which will make India a favorable destination for more GICs in Japan willing to expand globally and recommend on policies which will enable a seamless ecosystem of operations to address immigration, taxation and partnering with the government," said R Chandrashekhar, president, Nasscom.
Though Japan has welcomed Indian IT officials and it is expected that more Indo-Japan ventures and close contact tie-ups will emerge, there are two challenges that the industry faces. The lack of a common language like English and Japanese being the first language brings with it its own challenges for India. "The language is a barrier to Indians working in China and Japan as well," said Kris Laxmikanth, founder CEO & MD, The Head Hunters India, Bangalore. "Another concern is the high cost of living. These are major deterrents to the IT industry," he said.
Japan can contribute around 5 percent of total exports from India in the next five years, said Gupta. "People from the IT sector going to Japan will not be compensated and the growth will be marginally higher year on year," said Laxmikanth.
Though other markets are proactive towards India, the loss on account of business in the US cannot be compensated by all the other markets across the globe put together. That is a challenge the Indian IT industry will have to meet up with not just looking at other countries but also looking at creating and fulfilling domestic demand.
"It is a time to look forward to the change," said N Chandrasekharan, chairman, Tata Sons at the annual Nasscom summit in Mumbai last week. "Every time there is a regulatory change or some kind of a perceived challenge, in our industry, everybody says 'there is a problem' ... and it is hyped up whether it is H-1B, whether it is increase in re-staffing." In fact, he said these are exciting times for the IT industry given the exponential demand for technology as every business reorients itself. "Fundamentally, every business is going to be powered by technology. So, the opportunity and the demand that we are going to see is just exponential," he said.
"Change is something you have to live with. You cannot get overly paranoid, I don't think there is a cause for concern, I really feel the opportunity is immense," Chandrasekaran added.
The focus will be on India and though growth may be impacted in the short-term, the impact will not be as large as it is feared, point out analysts. Changes have been brought in with some of India's leading IT firms using local resources onsite. Not just that, automation has also reduced the dependency on people/labour by 20-30 percent. This could go up to 40 percent in the future, says DD Mishra, Research Director, Gartner - IT research and advisory firm. The future is not bleak as it was feared with Donald Trump and his America-first policy, after all.
News & Analysis
India aims to capture 20 per cent market share in Internet of Things (IoT), an emerging sector which would be worth $300 billion by 2020, a top Nasscom official said today.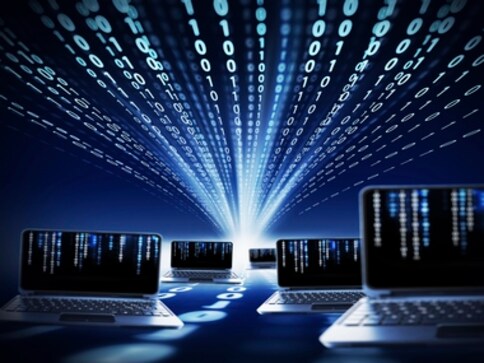 Business
When the NDA Government came to power, only 358 kms of optical fibre were laid, but in close to two and half years, as many as 1.23 lakh kms of optical fibre have been laid in the country and the process is going on, the Minister said.
News & Analysis
In a move towards developing the Internet of Things (IoT) ecosystem in India, IT industry's representative organisation Nasscom on Wednesday signed an MoU with the IoT Acceleration Consortium (ITAC)-Japan.