Activity halted at Venezuela's oil port, upgraders after blackout: sources
By Mircely Guanipa PUNTO FIJO (Reuters) - Venezuela's main oil export port of Jose and the country's four crude upgraders have been unable to resume operations following a massive power blackout on Monday, according to industry workers and a union leader close to the facilities. The most recent oil shipment for export, on the carrier Dragon chartered by Russia's Rosneft, left Jose, which is owned by state-run PDVSA, on March 24, according to Refinitiv Eikon vessel-tracking data and PDVSA's trade documents. 'There is no electricity, everything is paralysed,' oil workers' union leader Jose Bodas told Reuters on Tuesday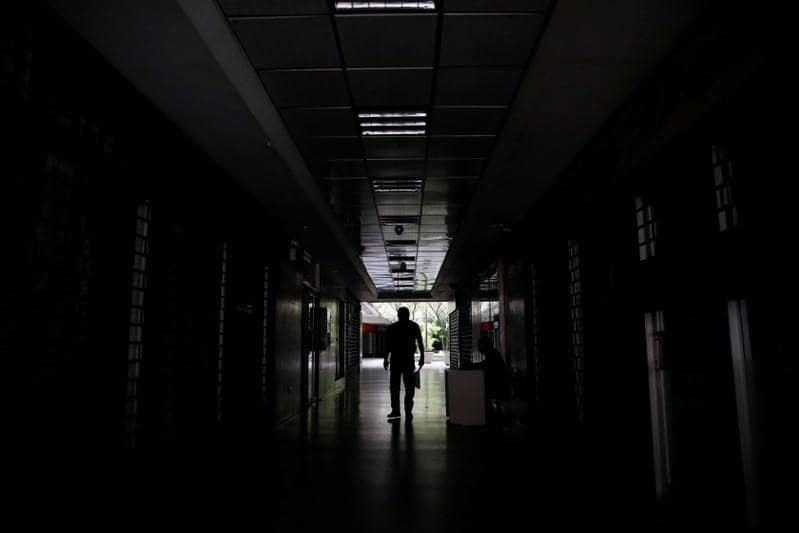 By Mircely Guanipa
PUNTO FIJO (Reuters) - Venezuela's main oil export port of Jose and the country's four crude upgraders have been unable to resume operations following a massive power blackout on Monday, according to industry workers and a union leader close to the facilities.
The most recent oil shipment for export, on the carrier Dragon chartered by Russia's Rosneft, left Jose, which is owned by state-run PDVSA, on March 24, according to Refinitiv Eikon vessel-tracking data and PDVSA's trade documents.
"There is no electricity, everything is paralysed," oil workers' union leader Jose Bodas told Reuters on Tuesday.
The blackout, Venezuela's second major power outage in a month, left streets mostly empty in the capital Caracas as school and work were cancelled.
President Nicolas Maduro's government again blamed the outage on an "attack," which comes amid a power struggle with the opposition and tensions with the United States.
Local experts and electrical engineers told Reuters both the current outage and a prolonged blackout that began March 7 were due to years of underinvestment and lack of maintenance.
Several electricity transmission lines were affected this time, halting power at PDVSA's oilfields, upgraders and terminals, according to one of the sources. The total effect of the outage on the company's operations is unclear.
Neither PDVSA nor Venezuela's oil ministry immediately responded to requests for comment.
PDVSA's four crude upgraders in the country's Orinoco Belt, capable of converting up to 700,000 barrels per day (bpd) of extra heavy oil into exportable crude grades, are operated along with U.S. Chevron, Norway's Equinor, France's Total and Rosneft.
"We tried to restart operations last night, but for now only emergency staff are working there," an upgrader worker said.
The blackout earlier this month also interrupted oil exports at Jose, the lifeblood of the OPEC nation's economy, eroding total export volumes and causing delays in loading and discharging oil.
Another PDVSA worker, who spoke on the condition of anonymity because they were not authorized to speak publicly, said the port had been evacuated around 2 p.m. local time on Monday.
(Reporting by Mircely Guanipa and Marianna Parraga, writing by Luc Cohen; editing by Rosalba O'Brien and Bernadette Baum)
This story has not been edited by Firstpost staff and is generated by auto-feed.
World
BAGHDAD (Reuters) - Rockets hit near U.S. forces and contractors in Iraq on Wednesday, including an air base north of Baghdad and a military base at Baghdad International Airport, the Iraqi army and security officials said. The army reported at least three rockets hit Balad air base, where U.S
World
By Silvia Ognibene and Silvia Aloisi FLORENCE, Italy (Reuters) -Italian police have arrested a Chinese couple accused of running a leather goods business which exploited immigrant workers it employed to make handbags for a Burberry supplier, according to an arrest warrant seen by Reuters. Tax police in Florence said in a statement that the two Chinese nationals were arrested on Wednesday as part of an investigation into alleged labour exploitation and tax fraud and that restrictive measures had been imposed on two other family members, including a ban on them leaving Italy
World
WASHINGTON (Reuters) - The United States on Wednesday blacklisted four Nicaraguans, including a daughter of President Daniel Ortega, as Washington warned it would continue to use diplomatic and economic tools against members of the leftist government engaged in repression. The U.S. State Department called on Ortega to release detained presidential candidates as well as other civil society and opposition leaders arrested over the past week in what Washington called "an increasing wave of repression." "There are costs for those who are complicit in the regime's repression.