Activist investor Carl Icahn sells nearly a third of his Occidental Petroleum stake
By Jennifer Hiller HOUSTON (Reuters) - Activist investor Carl Icahn, who has been waging a bitter battle against Occidental Petroleum Corp's board over its $38 billion (£29.76 billion) acquisition of Anadarko Petroleum, cut his holdings in the oil and gas producer by nearly a third, according to an open letter to shareholders he released Friday. Icahn has opposed the deal as 'hugely overpriced' and a misplaced bet-the-company gamble on oil prices rising, and urged Occidental's board to instead put the company on the market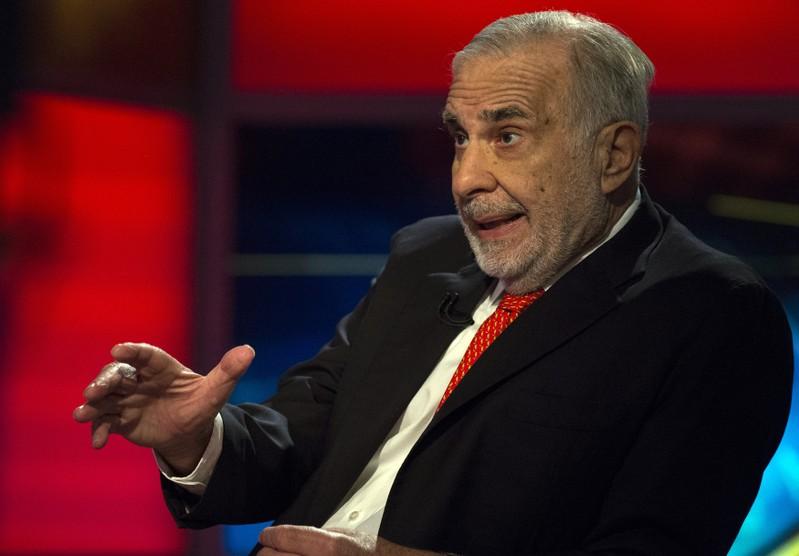 By Jennifer Hiller
HOUSTON (Reuters) - Activist investor Carl Icahn, who has been waging a bitter battle against Occidental Petroleum Corp's board over its $38 billion (£29.76 billion) acquisition of Anadarko Petroleum, cut his holdings in the oil and gas producer by nearly a third, according to an open letter to shareholders he released Friday.
Icahn has opposed the deal as "hugely overpriced" and a misplaced bet-the-company gamble on oil prices rising, and urged Occidental's board to instead put the company on the market.
Icahn sold 10 million shares and now holds 23 million shares, valued around $900 million, he said. He had owned a $1.6 billion stake in Occidental as of May 30.
Occidental bought rival Anadarko in August for $38 billion despite investor opposition to the deal, which did not go to an Occidental shareholder vote for approval.
Occidental did not respond immediately to a request for comment.
Icahn wants to replace board members, have the company accelerate asset sales, and in court is seeking documents related to the deal.
A letter to a Delaware judge earlier this week said he wants to know, "whether the actions of the directors and management were just serious mistakes or whether they represented knowing intentional breaches of fiduciary duty similar to those seen with Enron, Worldcom and other failed companies."
(Reporting by Jennifer Hiller, Editing by Franklin Paul and Andrea Ricci)
This story has not been edited by Firstpost staff and is generated by auto-feed.
Find latest and upcoming tech gadgets online on Tech2 Gadgets. Get technology news, gadgets reviews & ratings. Popular gadgets including laptop, tablet and mobile specifications, features, prices, comparison.
World
ANKARA (Reuters) - Turkey's daily death toll from the coronavirus hit a record high of 141 on Friday, according to data from the Health Ministry, as the country braced for nationwide measures amid a surge in cases in recent weeks. The data showed 5,103 new COVID-19 patients were recorded in the country, while the overall death toll rose to 12,084. Since July, Ankara has only reported symptomatic COVID-19 patients, a move critics say hides the true scale of the outbreak.
World
TBILISI (Reuters) - A gunman has released unharmed all nine hostages he had taken at a microfinance organisation in the Georgian capital Tbilisi on Friday, police said. According to preliminary information, the gunman was not demanding a ransom but had some social demands, including lower prices for medicines
World
By Matthias Williams KYIV (Reuters) - Thousands of people silently raised their arms in the air, held flowers aloft and broke into chants outside a church in Minsk on Friday at the funeral of a Belarusian protester. The death of 31-year-old Roman Bondarenko has become a flashpoint in months-long mass protests against President Alexander Lukashenko. Witnesses said Bondarenko was detained after a scuffle with people in plain clothes who came to a playground to remove red-and-white ribbons representing the protest movement