When Chinmaya Samal from a remote village in India failed to muster the grades to get admission to a leading engineering college of his choice, he had to settle for the next best which wasn't 'best' at all. He attended a local college to study information technology but the learning experience was far less than what he expected.
A year and a half into his studies, he went online and found open online courses from leading universities abroad that pieced the missing link he felt with regard to his learning at college. One of the courses that Samal applied for was Coursera's Financial aid program where he specialised in Android programming. So good was his learning skills that he became the winner on Coursera's Capstone Project. His disappointment at not having got through to a college of his choice was mitigated to some extent by winning a summer research opportunity at Vanderbilt University, thanks to connecting with the instructor from Coursera.
Presently, Samal is creating mobile tools for social good, including an app that will help issue Amber Alerts for missing children via social networks.
Samal is one among many Indians who opt for Massive Open Online Course (MOCC). Around 52,000 learners from across the globe were included in a recent survey by Coursera in partnership with researchers at University of Pennsylvania and University of Washington. The survey targetted any learner who was three or more months past completing at least one course on  Coursera.
Some highlights of the survey:
58 percent of career builders in India became better equipped for their current job
90 percent of Indians reported a higher career enhancement as against a global 87 percent
Over 76 percent of Indian learners said that they benefited from its courses against a global percentage of 61
36 percent of career builders in India saw tangible benefits like receiving a pay raise, a promotion, a new job or starting a new business
35 percent of learners in India are looking to further their education
33 percent in India saw tangible benefits like receiving credit or fulfilling prerequisites towards an academic degree, nearly double of global average of 18%.
30 per cent of Indians seeking to advance their education reported improved admissions to academic programs (versus 17 per cent globally)
39 percent who chose to earn a Course Certificate were more likely to report tangible career benefits, indicating the growing value of online education credentials.
Coursera was founded in 2012 by Daphne Koller and Andrew Ng, both Stanford University computer science professors, who shared a vision for harnessing technology to make education accessible to anyone with an internet connection.  The duo offered their first open online courses through Stanford in 2011.
Koller says that Indians on Coursera are disproportionately drawn towards technology, computer science, and business courses—more so than in any other large country. Karnataka has the largest number of Courserians, while Maharashtra and Delhi take the second and third positions, respectively. Primary target market in India is in the age group of 18 and above.
The courses are taught free of charge. However, a learner has to pay for a certificate of completion of the course.
Coursera tied up for the first time in India with the Indian School of Business (ISB), where it launched its first course, A Life of Happiness and Fulfilment, in June. The course attracted over 50,000 students, said Koller.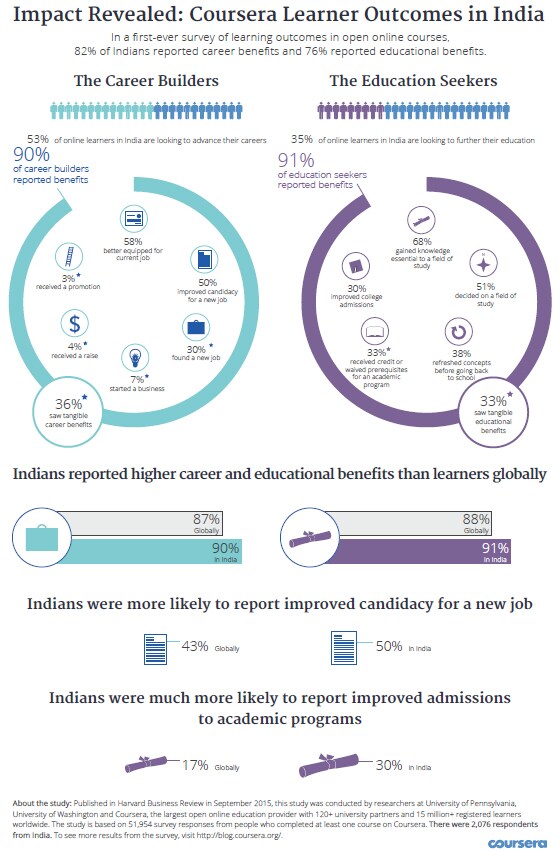 Your guide to the latest election news, analysis, commentary, live updates and schedule for Lok Sabha Elections 2019 on firstpost.com/elections. Follow us on Twitter and Instagram or like our Facebook page for updates from all 543 constituencies for the upcoming general elections.
Updated Date: Sep 28, 2015 16:05:42 IST