They take care of our security often in poor conditions; but they are also the least paid of all government departments. The department in question here is the home affairs, including the central armed police forces (CAPF).
CAPF includes forces such as Central Reserve Police Force (CRPF), Central Industrial Security Force, Indo-Tibetan Boarder Police Force, Boarder Security Forces.
According to the 7th Pay Commission report submitted to the government yesterday, the ministry of home affairs and CAPF have the least per capita expenditure pay and allowances at Rs 2.97 lakh.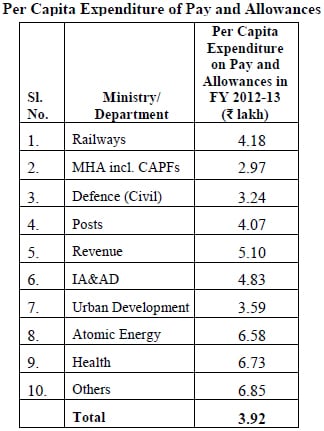 Interestingly, as per the data available in the report, this is the department that has witnessed a steady increase in head count over 2006-14 from 7.44 lakh to 9.80 lakh.
Out of the total, CRPF constitutes at least 30 percent of the personnel.
Even the railway staff seem to be in better position in comparison. As per the data, the staff strength of the Railways stands at more than 13 lakh while the per capita pay is Rs 4.18 lakh, much higher than the central armed forces.
Similarly, department of posts, which has close 2 lakh staff has a per capita income of Rs 4.07 lakhs.
Conversely, the department that has the highest per capita pay is external affairs, at Rs 34.95 lakh, followed by new and renewable energy at Rs 10.65 lakh and food processing at Rs 8.29 lakh.
External affairs has just 3,037 staff under it, renewable has just 187 and food processing 142.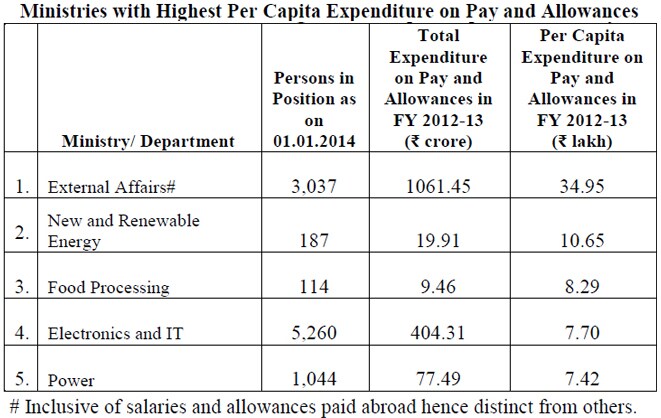 To be sure, a direct comparison of all departments may not give a fair picture since multiple departments have different efficiency and skill parameters. But, it is an irony that India's critical armed forces such as CRPF and BSF, who guard the lives of civilians receive the lowest pay.
Updated Date: Nov 20, 2015 15:46:18 IST