US now accounts for 44 percent of major cloud and internet data centre sites, followed by China which accounts for 10 percent.
The two leading countries are then followed by Australia, UK, Japan, Singapore, Germany and the Netherlands, each of which accounts for 4-5 percent of the total, according to Synergy Research.
New Q2 data from Synergy Research is based on an analysis of the data centre footprint of 13 of the world's major cloud and internet service firms, including the largest operators in IaaS, PaaS, SaaS, search, social networking and e-commerce. In aggregate the companies now have almost 150 major data centre sites.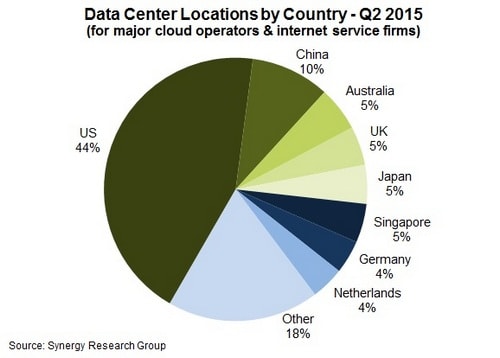 On average each of the thirteen firms had eleven data centre sites. The companies with the broadest data centre footprint are the leading hyperscale cloud providers – AWS, IBM and Microsoft.
Each has 20 or more data centre locations with at least one in each of the four regions – North America, APAC, EMEA and Latin America.
Google, Oracle and Rackspace also have a notably broad data centre presence.
The remaining firms tend to have their data centres focused primarily in either the US (Salesforce, Facebook, eBay, Yahoo) or China (Tencent, Baidu, Alibaba).
"The country distribution of major data centres clearly reflects two things – the US dominance of cloud and internet technologies; and the scale and unique characteristics of the Chinese market," said John Dinsdale, chief analyst and research director, Synergy Research Group.
"The ranking also reflects the relative importance of smaller countries that are often used as regional hubs – Hong Kong, Singapore, Netherlands and Ireland," Dinsdale added.
He further noted, "Until recently India was an omission from the list but Microsoft has just opened its first major cloud data centres in the country and both AWS and IBM will soon be following suit."
Last week, Microsoft announced the launch of three data centres in India. In-fact, IBM and Amazon Web Services have also shared their plans to set up data centres in the country. Amazon's cloud computing unit will open an AWS infrastructure region in India for its cloud computing platform in 2016. Technology giant IBM, which already has a data centre in Mumbai, is also planning to set up its second data centre in India to cater to the demand from various sectors including financial services and government.
In Sep. 17 report, Synergy reported that public cloud is now generating well over $20 billion in quarterly revenues for IT companies, with $10 billion going to companies supplying public cloud operators with hardware, software and data center facilities and $12 billion being generated from selling IaaS, PaaS and SaaS to enterprise customers.
On the supply side the companies with the biggest share of revenues are Cisco, HP, Dell, IBM and Equinix. On the cloud services side the market leaders are AWS, Microsoft, Salesforce, Google and IBM.
The report also said public cloud continues to make big inroads into the total IT market. While the total IT market grows at less than 5 percent per year, IaaS/PaaS revenues have grown by 49 percent over the past year and SaaS has grown by 29 percent.
Your guide to the latest cricket World Cup stories, analysis, reports, opinions, live updates and scores on https://www.firstpost.com/firstcricket/series/icc-cricket-world-cup-2019.html. Follow us on Twitter and Instagram or like our Facebook page for updates throughout the ongoing event in England and Wales.
Updated Date: Oct 06, 2015 14:23:54 IST