The total number of start-up deals in India and the average deal size have shown a notable increase in the January-March period of 2016, compared with the preceding quarter, backed by an improvement in fresh funding, according to a report by research firm, Tracxn.
Ticket size of funding rounds in India has gone up with $1.42 billion being deployed in 274 deals, compared to $1.01 billion invested in 261 deals in fourth quarter of 2015 and $1.6 billion invested in 174 deals in first quarter of 2015.
The average deal size for Q1'16 has been $8.8 millon, which is 28 percent up compared to Q4'15 which had an average deal size of $6.4 million.
Of the $1.45 billion invested in India, 600 million was invested just three companies – Ibibo ($250 million), Snapdeal ($200 million), BigBasket ($150 million).
Bangalore led with 84 deals with total funding amount of $395 million, while Delhi – NCR region accounted for 98 deals with a total funding amount of $804 million in Q1'16. The quarter witnessed a total of three IPO's  -- Infibeam, Team Lease and Quick Heal, with two IPO's in February itself, a rare occurrence.
Accel Partners was the most active investor in Q1'16 with six deals. Tracxn Labs was most active at seed stage with participation in 10 deals.
Q1'16 saw five $100 million plus rounds, split across 4 different cities – Bangalore, Delhi, Mumbai, Gurgaon with an average deal size of $8.8M, which is 28 percent up compared to Q4'15 which had an average deal size of $6.4M.
Contrary to the belief, 143 new companies raised funding in Q1'16, which indicates investors are still bullish on early stage companies in India. In the last 5 quarters, the ratio of early stage to late stage rounds has seen a rising trend, with late stage deals being significantly lower than the early stage deals.  Though early stage deals have been significantly high in number than late stage deals, there has been a decreasing trend in the last 3 quarters.  Comparing Q1'16 with Q1'15, both, the number of late stage deals reduced almost to half.
While Q1'15 and Q1'16 have seen a relatively similar deal size, Q4'15 was down by roughly 10 percent.
Unicorn club
Q1'16 got off to a good start with eCommerce marketplace Shopclues making it to the billion dollar club after raising funds from GIC and existing investors Tiger Global and Nexus Venture Partners.
Q2'15 has been an interesting quarter, as it added three Indian companies to the Unicorn List
Besides Shopclues, five companies – Paytm, Grofers, Quikr, Snapdeal and BigBasket raised more than $100 million in Q1'16, equivalent almost to half the number of companies that raised in the previous year.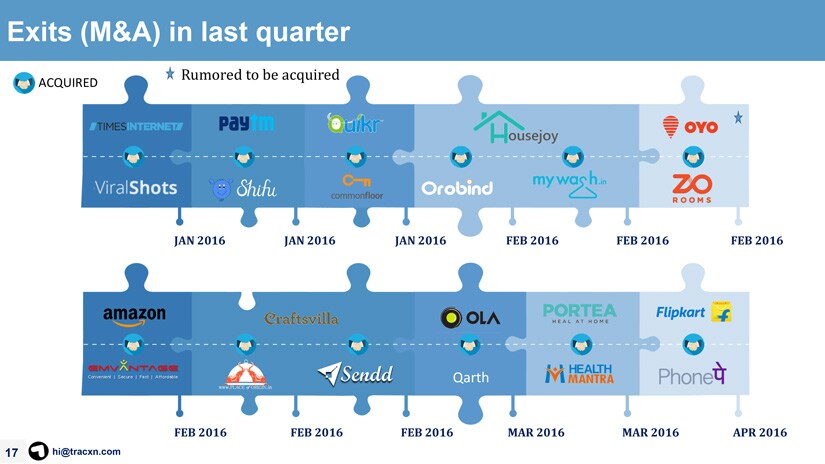 According to Tracxn, analysis has been done only for technology companies, which includes software, hardware and tech-enabled services and factored in funding of only private companies. Private funding raised by listed companies are excluded even if they were raised from Venture Capital firms. Funding rounds which are made public and of only Q1'16 have been accounted for. The analysis is done purely on rounds which involve funding from Venture capital firms, Corporate Venture arms or by angel investors, Tracxn said.
Updated Date: May 28, 2016 11:51 AM