25% cess on luxury cars: Why shed crocodile tears over the rich, govt right in hiking total tax incidence
The only trouble is, no one is grieving for the rich getting this stick from the government except car makers
New Delhi: The socialist mindset, which frowns on luxury and seeks maximum taxation on such goods, was again at play last week. This mindset dictates that not only should policy making deter consumers from buying items which promote luxury, but such customers should also pay through their nose if they do decide to indulge. When the GST Council realised in hindsight that instead of appearing pro-poor and anti 'suit boot', it had unwittingly enabled makers of luxury cars and bulky Sports Utility Vehicles (SUVs) to offer hefty price cuts post GST. However, it scrambled to reverse this 'anomaly'.  Result? The moment this correction is done in the GST rate structure, prices of your luxe car may rise by several lakh rupees. The government is planning to increase the cess component on such cars from 15 percent to 25 percent.
Earlier, the GST Council had similarly raised the cess on cigarettes when it realised that the post-GST rates were lower than the total taxation incidence on cigarettes earlier. No one was seen shedding tears at a costlier puff under GST, then why should there be any sympathy for luxury car buyers then? A buyer who can shell out tens of lakh, even crores, for a vehicle of his dreams may not even notice a price increase of a few lakh rupees. Besides, large cars pollute more, eat up more road space per vehicle – with our perennially clogged cities and creaking urban infrastructure, taxing the buyers of such fuel guzzlers cannot be a bad idea, whichever way one looks at this decision.
Prices of most such vehicles had turned significantly cheaper in most states following the introduction of the GST on 1 July. Toyota's Fortuner had turned cheaper by Rs 2.17 lakh and the Innova by Rs 1 lakh. Most luxury cars had also turned cheaper by as much as 8-10 percent in many states.
Why does the government want to cut short the happiness of Indians, for whom owning a car is a status symbol which increases in direct proportion to the length of the car and its price? There seems to be sane, albeit delayed, logic to government's entire exercise. In the pre-GST days, small cars (less than 4 m in length and with either 1200 cc petrol or 1500 cc diesel engine displacement) attracted the lowest total tax incidence at around 33 percent. This category now qualifies for 28 percent + 1 percent cess under GST, which means the total tax incidence has decreased marginally and prices have come down a tad. So far, so good.
Now comes the bone of contention: the large cars. In the pre-GST regime, their total tax incidence was 50 percent and sometimes even over 50 percent. This is where the GST experts slipped – they lowered the total tax incidence on such vehicles to 28 percent + 3 percent and 28 percent + 15 percent, which means in neither case will the total tax incidence rise beyond 43 percent.  Consumers and makers of SUVs, luxury cars were ecstatic at this turn of events, with many companies offering up to 7 percent price reduction and one prominent luxury car maker slashing prices by Rs 10 lakh! This will now have to change, with prices actually going up in the case of some drool worthy beauties. Audi's Q7 SUV will get dearer by Rs 7 lakh while the Mercedes E-Class will cost nearly Rs 4 lakh more, a Times of India report said. It also quotes Roland Folger, MD of Mercedes Benz in India, as saying that the company's plans to expand production in line with the 'Make in India' initiative will be hit. "We are highly disappointed with the decision. We believe this will be a strong deterrent to the growth of luxury cars... (and) will also affect our future plans of expansion."
The only trouble is, no one is grieving for the rich getting this stick from the government except car makers. Several analysts we spoke to, who track the automobile sector closely, said that though the hike in cess has come about suddenly, it is unlikely to hit demand for SUVs and luxury cars in the long run. "There may be some impact in the short term but demand should bounce back eventually," said one with a Mumbai-based brokerage.
Once GST rates were announced, luxury car prices fell by about Rs 10 lakh for some brands, by between 10-12 percent for others. The latest development may mean that final prices will be slightly higher than even the pre-GST prices. Critics of the government's flip-flop have pointed out that such frequent changes in policy dent its much publicised 'Ease of Doing Business' endeavour. And that this will hurt not just the car makers and consumers but also the entire supply chain. They point out that for example, BMW assembles at least 50 percent of its cars in India – it used to sell completely built units earlier.  In addition to reworking the assembly math, the German auto maker will also have to redo its price list within just two months!
But this will surely be short term inconvenience. Buyers willing to shell out not just tens of lakhs but crores for luxury vehicles may not be hugely impacted by a single-digit percent increase  in prices. Large cars, SUVs anyway comprise only a small part of the annual passenger vehicles sales in India, including exports. Just about 1 percent of Indian PV sales in 2016-17 fell into this category – last fiscal, India's total sales (domestic plus exports) for passenger vehicles was just over 3 million units, of which luxury cars were estimated to be only around 30,000-35,000). Why shed tears over only a percent of the market, that too the top end where affordability is really not much of a concern?
An analyst described the situation thus: "Because of GST, highest price cuts happened in SUV and luxury cars. Mahindra & Mahindra cut prices by up to 7 percent..... GST was more beneficial for this segment rather than for small cars. This went against government's logic of encouraging small car purchase. The demand in the luxury segment is relatively inelastic as price hikes do not matter. If demand is inelastic, it will not see much impact on price hikes and therefore the 'Make in India' story also won't be impacted."
The only quibble one has with this taxation conundrum is the way the GST Council is jacking up rates in hindsight, within weeks of the regime coming into effect. Perhaps the government needs better understanding of India's pre-GST complex taxation structure to correct any more anomalies.
Find latest and upcoming tech gadgets online on Tech2 Gadgets. Get technology news, gadgets reviews & ratings. Popular gadgets including laptop, tablet and mobile specifications, features, prices, comparison.
India
It was not just the fact that Koshyari chose to make an intervention, his manner of doing so was immeasurably crass and was a direct assault on constitutional values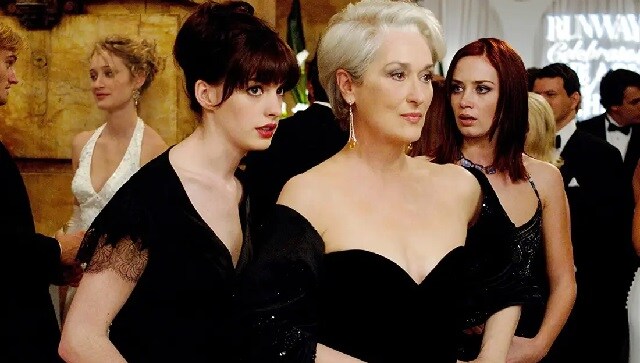 Entertainment
Despite having two women at its centre, The Devil Wears Prada ended up reaffirming and perpetuating harmful gender stereotypes for the most part.
World
India's democracy is key to sustaining the momentum of its Indo-Pacific vision over the turbulent years to come.