2% GST rebate on transactions upto Rs 2,000 could be a paradigm change
Anything done by the government itself and met out of its funds is more welcome than foisting a scheme onto public sector enterprises.
The government spent Rs 258 crore on the two schemes -- Lucky Grahak Yojana and Digi Dhan Vyapar Yojana, launched to promote digital payments. Around 16 lakh people received monetary prizes for adopting digital transactions. Prime Minister Narendra Modi announced in April 2017 that the government will spend Rs 495 crore for a period of six months on two new schemes to promote the government's digital payments app, BHIM --- cash back and referral bonus.
What the government now has in mind could be a game changer as it is universal in its sweep and availability---an across the board 2 percent rebate on digital payments up to Rs 2,000. It could take the form of cashback or upfront and immediate reduction from the bill itself. Anything done by the government itself and met out of its funds is more welcome than foisting a scheme onto public sector enterprises. PSU oil companies offer 0.75 percent rebate on digital payments for petrol and diesel but that makes a dent on their profits.
Let us examine the proposal in the anvil with an example. You dine at an air-conditioned restaurant and the bill comes to Rs 1,000 plus GST of 18 percent.  The total bill is Rs 1,180.  As per the proposal, you would either get back Rs 36 through credit to your bank account from which you made the digital payment or it would be straightaway reduced from the bill in which case you would only pay Rs 1144 to the restaurant.
The cut off point of Rs 2,000 seems to have been carefully thought of. Most of the purchases in the humdrum of one's life are for less than Rs 2,000, be it petrol, milk or groceries.  In the event, normally one should make the grade comfortably without any manipulation or maneuver if only she uses her card or Aadhaar card linked to BHIM.  Indeed this would give a tremendous boost to digital payments which have started slackening after picking up dramatically during the demonetization period when currency notes were in short supply thanks to dysfunctional ATMs and the inordinate time taken in remonetization.
Those who are presented with a bill of more than Rs 2,000 need not despair. They can go 'Dutch' for example if they are sitting in a restaurant as a group of families or friends.  'Split' is the word used. Present two or more cards to the waiter. The cashier knows how to split the bill into as many equal or unequal units as desired. Thus a Rs 6,000 bill can be divided into Rs 2,000 each and three cards can be used to make the payment. Each one will make the grade for the 2 percent GST rebate.
But going 'Dutch' is not generally an option at places other than restaurants. Going on a binge is usually done in a group which explains the idea of going 'Dutch' but often an individual may have to fend for herself when the purchases are going to exceed the Rubicon of Rs 2,000.  She still does not have to despair.
Splitting of income and expenditure is a practice that comes easily to Indians.  Income is split so as to get into the lowest tax bracket or better still go below the tax-free threshold.  Similarly, bills can be split. A Rs 5,000 bill can be broken down in to three so that no single bill is for more than Rs 2000.  The shopkeeper of course has to swipe three cards or the same card three times over one after another which of course he won't mind.
And if the shopkeeper, however, turns out to be unusually petulant and refuses, the customer can always look for another shop to plan her purchases. One may therefore question the wisdom of the government in fixing a cap on purchases for qualifying for the 2 percent GST rebate because it may seem to be an exercise in futility given the ingenuity of Indians when it comes to splitting costs.
The government will have to put its foot down if splitting goes over the top, which for example would be when an expensive appliance like a washing machine priced at Rs 15,000 is broken down into units each of less than Rs 2000. The government then ought to say, Enough is enough.
India
The buildings will provide modern, secure and functional working spaces, the Prime Minister's Office said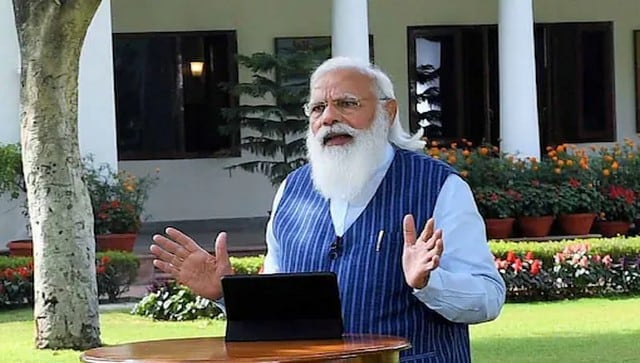 India
The reshuffle comes in less than a week after Prime Minister Modi last Saturday met secretaries of all ministries and departments to speak about required reforms in government processes.
India
The visit by the Saudi foreign minister comes at a time when India has been engaged with all leading powers on the developments in Afghanistan