Union Budget 2013: Chidu's real fiscal deficit will miss by a mile
If you add the oil subsidies given out by ONGC, Gail and Oil India, the real fiscal deficit will be closer to 5.7 percent despite the FM's best efforts
The most important number the world will be watching out for in Budget 2013 is the fiscal deficit number – not just the additional taxes on the rich, or estate duty, or any other revenue collection measure.
However, like always, this number will be a piece of fiction. Since he has been taken up on his promise that he will bring down the fiscal deficit to 5.3 percent, P Chidambaram cannot afford to disappoint the markets and global investors on this number. This is why one should say that this piece of fiction is what he will try to achieve at any cost.
This is the main reason why the finance ministry is making such a song and dance about the Central Statistics Office's (CSO's) lower GDP projection of 5 percent in 2012-13, which the finance ministry is keen to project as at least 5.5 percent.
There are two reasons for this. One, a lower GDP means a 5.3 percent fiscal deficit will be tougher to achieve. At the current-price GDP projection of Rs 94.62 lakh crore on 5 percent real growth, a 5.3 percent fiscal deficit would be around Rs 501,485 crore. If the GDP number is raised to 5.5 percent, as the FM wants, the current-price GDP number would be higher at Rs 95.07 lakh crore. And 5.3 percent of this would be nearly Rs 2,400 crore higher than before.
Chidambaram is thus fighting for additional leeway with the fiscal deficit number by projecting a higher GDP. Since the final GDP number will not be clear till at least May 2013, in the budget the finance minister can make his own assumptions and meet his deficit target. Hence the quarrel with the CSO.
The government's chief statistician, TCA Anant, explains why the CSO and the finance ministry can work on two different numbers for the fiscal deficit in an interview to The Times of India. "Perceptions can be different, they will get reconciled when these events move into the past, which will be in May when we have the complete Index of Industrial Production (IIP) data for the year. But the real picture will emerge next January since the full picture on indicators such as agriculture is not available until June or July."
In other words, Chidambaram can do his own math in the budget and there is no reason to not accept it. But Anant is clear that the data currently available does not support the finance ministry optimistic projection of 5.5 percent GDP growth. Asked whether he has seen green shoots of recovery in industrial production, he says: "Given the data that is available, given the IIP figures available up to last month, not really."
However, even assuming that the GDP numbers live up to Chidambaram's hopes and leave Anant's numbers behind, the fact is the real fiscal deficit will be a concocted one.
There are several ways this can be done. One way, as Pranab Mukherjee showed last March, is by shifting expenses of this year to next year. Mukherjee grossly underprovided for food, fuel and fertiliser subsidies, and this is why Chidambaram has a problem.
Secondly, the fuel subsidy figure mentioned in the budget is itself a piece of fiction, even if Chidambaram plans to provide for it fully, because nearly 40 percent of the subsidy is given by ONGC, Gail and Oil India by sacrificing their profits.
Yesterday's third quarter results for ONGC show that the company paid out Rs 12,433 crore in discounts (subsidies) to the oil marketing companies (OMCs), and this impacted its post-tax profits by Rs 7,260 crore. Net profits thus fell to Rs 5,563 crore, but even this money has been largely appropriated by Chidambaram in the form of dividend payments of Rs 4,278 crore (along with other shareholders).
No prizes for guessing why ONGC is paying out such huge dividends when profits are falling. Mr C is at it again.
Clearly, the budget's fiscal deficit numbers are being achieved at the cost of the country's efforts to produce more oil by investing more in exploration by ONGC, Gail and Oil India. The finance ministry is thus robbing the oil companies of surpluses in order to fund the fiscal deficit, and in the process it is ensuring that the subsidy burden will stay higher for longer than necessary since the country's dependence on imported oil will keep rising.
In 2012-13, even after the slow-motion diesel price hikes of 45-50 paise a month, ONGC, Gail and Oil India will probably pay out Rs 60,000 crore in subsidies to the OMCs (Indian Oil, Bharat Petroleum and Hindustan Petroleum). Assuming they pay less tax on this loss of profits, the net benefit to the exchequer will thus be around Rs 40,000 crore.
If one agrees that this subsidy should ethically be paid by the exchequer, the net burden borne by ONGC, Gail and Oil India (i.e. Rs 40,000 crore) should be added to the fiscal deficit number for 2012-13.
Even assuming 5.5 percent growth, the real fiscal deficit number would be around Rs 541,485 crore – which, on the estimated current-price GDP number of around Rs 95.07 lakh crore, would be nearly 5.7 percent of GDP.
Chidambaram's real fiscal deficit will thus miss his self-imposed target by a mile. Even if he hits it, he will be doing so at the cost of the country's long-term energy security.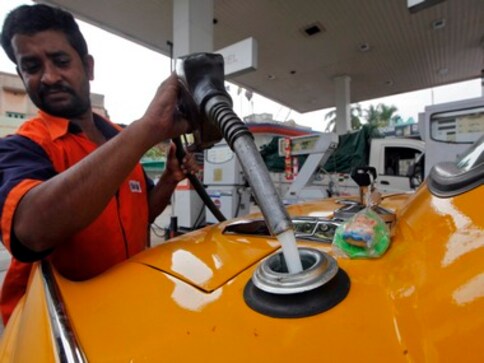 Economy
Despite the diesel price hike, the subsidy burden in the budget is not going to come under control. Without further steps, there is no fiscal nirvana
Economy
Fiscal 2013-14 will be characterised by weak investment demand more than anything else.
Economy
If only the FM would take a look at the cash-strapped government's ever-expanding list of ministries and regulatory agencies, he would realise that by just downsizing the government staff strength by 5 percent, he can save nearly Rs 6,000 crore.