The high level of pollution recorded in India's capital city recently acquired immense attention from all fronts. People woke up to dense smog, there were reports of smog-related accidents and several health-related issues were also reported. Delhi's air pollution is worsening day by day and the increasing volume of dirt and harmful gas emissions is making it impossible for people to venture out at any given point of the day. The city's high emissions from cars, road dust and industrial waste contribute to the high pollution loads that rank it among the world's most-polluted.
Consider this, last year, 10 Indian cities ranked on WHO's list of cities with highest levels of air pollution. The WHO list also stated that the levels of ultra-fine particles of less than 2.5 microns (PM2.5s) are highest in India, which has 16 of the world's 30 most polluted cities!
Let's take a closer look at the problem of growing air pollution; it's various causes and the resulting health issues.
What is air pollution? Is it just external air pollution that is posing a threat?
Air pollution refers to the contamination of the air. The presence of harmful substances like carbon particles, road dust, industrial waste, fossil fuel emissions, chemicals like sulfur dioxide all contribute to air pollution. Experts believe that maximum air pollution gets generated from energy use and production. The burning of fossil fuels is hazardous as the process releases harmful gases into the air; pollution in the form of carbon dioxide and methane raises the earth's temperature, which worsens the situation.
The Lancet Commission on Pollution and Health concluded -
Diseases caused by pollution were responsible for an estimated 9 million premature deaths in 2015 – 16% of all deaths worldwide. Out of which polluted air alone was responsible in 2015 for 6.4 million deaths worldwide comprising of 2.8 million from household pollution and 4.2 million from ambient pollution.
It also states, with 2.5 million deaths in 2015, India has been ranked first in pollution-related deaths.
It goes on to report that smoke from bio fuels such as wood, charcoal, coal, dung, crop waste, used indoors for cooking or heat contains high levels of particulate matter and even incense sticks are major contributors to indoor pollution.
Air pollution can lead to severe health problems.
Air pollution can severely impact people who are already ill. Pollution in the air can cause allergies, heart disease, stroke, lung cancer and Chronic Obstructive Pulmonary Disease (COPD). It is an umbrella term used to describe progressive lung diseases including emphysema, chronic bronchitis, refractory (non-reversible) asthma, and some forms of bronchiectasis. This disease is characterized by increasing breathlessness.
Emphysema and Chronic bronchitis are the most common conditions that makeup COPD. It can be diagnosed by doing lung function tests.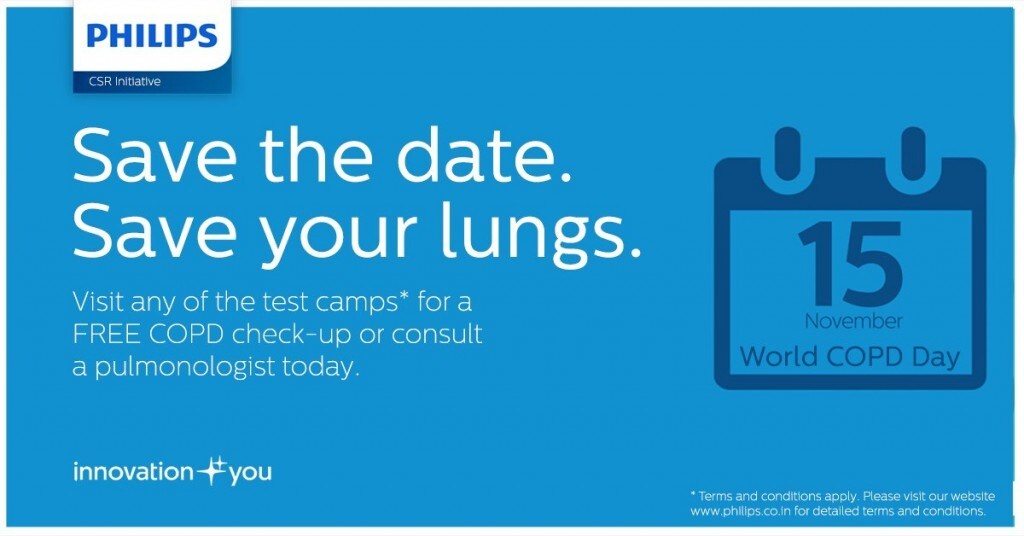 The World Health Organization's estimate shows that COPD by 2030 will be the third leading cause of death worldwide. It states that COPD is the second leading cause of deaths in India, and globally, India is second only to China in COPD deaths.
Is there any solution to the problem?
Clean air is an inalienable human right. As India strides ahead on the path of economic development, it must focus on cleaning up the air its citizens breathe. This can only be brought about by concerted government action coupled with responsible citizen behaviour. Responsible consumption and conservation are only ways to solve environmental problems.
At Philips, we care for your health.
At Philips, we understand that those who suffer from a respiratory illness, fight every day to breathe comfortably and to lead a fulfilling life. Improving lives is at the heart of Philips, and healthy breathing is core to our mission. This World COPD week, to help people identify and fight the growing lung problems, Philips CSR is organizing free COPD test camps across 4 cities. The details of the COPD test camps are as under-
KANPUR:
14th & 15th November
Time 2pm-5.30pm
KP Clinic,37/54 B
Gilish Bazar, Mestan Road...
Near Kotwali Kanpur
Mob-09918201218
Tel:-0512-2367610
DELHI/NCR:
14th November
Time: 9am to 1pm
Metro Hospital Noida, Delhi
CHANDIGARH:
17th November
Time: 10am-4pm
Dr Deepak Bhasin
Max Hospital, Mohali
BENGALURU:
18th November
Time: 9 am- 6pm
Narayana Multi-Specialty Hospital
For any further information, you can also call on 800-419-8844 or SMS COPD to 58888.
Click here to know more.
This is a partnered post.
Updated Date: Nov 15, 2017 10:57 AM