It was both an emergency and the morning of the festival of color, Holi, when I just had to make a trip to the medical store to get my mother's insulin shots for her sudden and ever dipping sugar levels. I had no choice but to take the casual walk down the road, which turned out to be one of the most frightful experiences of my life. Five men, all of whose faces were not even recognizable, approached me with balloons and powdered colour in their hands. I am certain to this day that I did not know who they were. In broad day-light I was faced with two options, either run or stand and face reality. I went with a 'No' to each of their advances of trying to touch and dress me in colour, and yet they succeeded to throw a little when I tried my best to slip away. My hair was left painted green, as I held the shots of insulin in my hand and returned home.
To me Holi is a festival which celebrates life and colour, it's meant to bring joy and not harm. The incident not only frightened and left me terrified, but also threatened my personal space, making me give a thought to whether I'm still safe when I'm at work or outside the house in broad day light. It has brought my attention to the many women like me who have been victims of men who have misused a festival under the garb of colour. To recall one such incident, was a student from Lady Shri Ram College in Delhi who was hit with balloons filled with semen, and this was not only outrageous but disrespectful in every sense, compelling me to ask the question, "Are we as women safe?" But fortunately for us women, we are now equipped to broadcast our stories and bring to light a situation on the rise. Because these actions are clearly not fueled by the festival itself, instead it is driven by men who decide to behave in a certain way, and hope to get away with their actions.
But what's great is coming up with a counter-measure which is not only effective, but also uses tools of mass communication to reach out to as many people as possible. What we need is a collective effort, where we all together raise awareness for the safety of women. One such company that has really helped in raising awareness against this issue is Reliance General Insurance. During the course of the festival, posters depicting three situations out of a Holi celebration were put up across colleges in India. To look at, it looked like any other celebration with colour, but once you scanned the QR code using your phone, the picture was stripped of the colour, leaving a grim sight of a woman being manhandled, all under the garb of a celebration with colour. Having the support and backing of companies like Reliance truly backs the cause and safeguards the rights of women, while working towards women's safety.
The campaign not only got the attention of young men, but also served a self-check and re-evaluation of their own behavior during the festival each year, while highlighting the need for men to protect women during the festival instead of vice-versa. The poster campaign was so well-received, that it led to an initiative on social media under #HoliNotHooliganism. And in an earnest appeal for a safer Holi for women, these were some of the reactions sighted on social media.
 The campaign got men curious and interested
Women voice out their opinions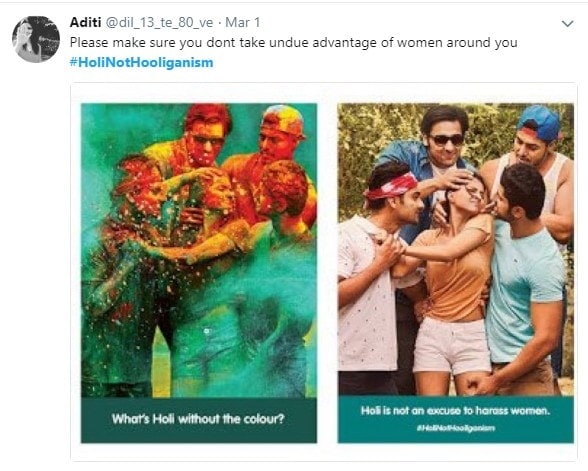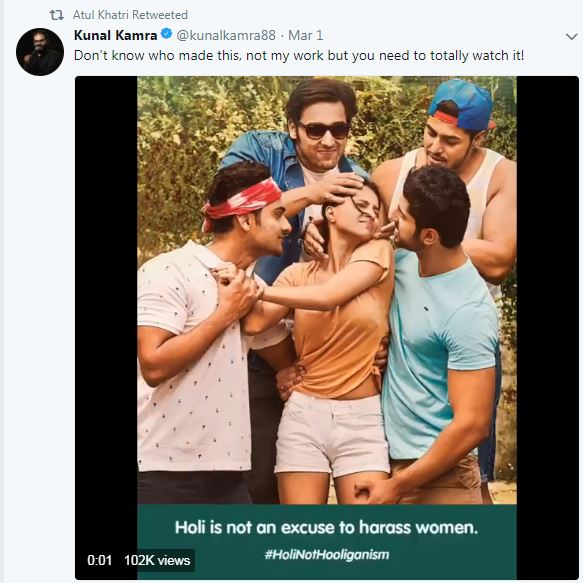 The Police departments were quick to take notice of the campaign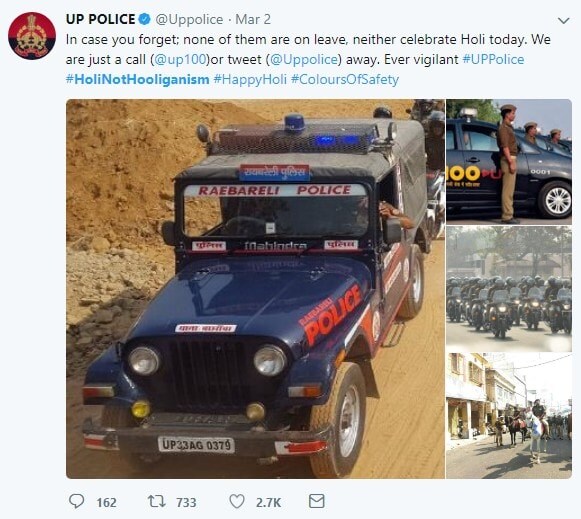 This is a Partnered Post. 
Updated Date: Mar 07, 2018 21:06 PM