Perfetti Van Melle India (PVMI) released a new commercial for one of its flagship brands, Center Fresh, for its latest paan- flavoured chewing gum.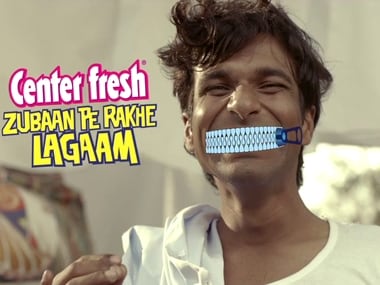 The new TVC reaffirms Center Fresh's tagline, "Zubaan Pe Rakhe Lagaam" (Keeps your mouth shut).
Chaitanya Shekar, Group Product Manager, Perfetti Van Melle India, said "Center Fresh and Paan have significant synergies, given their mouth-freshening properties, and it was only a matter of time in getting this logical extension on the brand. We are extremely excited about this new launch and we believe this format will open up new avenues for consumption of Paan in a quick and fun way."
Abhijit Avasthi, NCD, Ogilvy & Mather India, said "We have all come across the not-so-pretty sight of people stuffing paan into their mouths and talking. Half of the time it's not even clear what they are saying. But they go on, without caring whether the spittle is staining their clothes or flying off from their mouths and landing on the other person's face. We took this insight and crafted a funny ad that showed the consequences a dhobi's son has to face due to his talking while chewing paan."
Credits:
Ogilvy Creative Team:
Abhijit Avasthi (National Creative Director), Anurag Agnihotri (Group Creative Director), Ashish Naik ( Senior Creative Director), Saurabh Dikshit (Creative Director)
Ogilvy Account Management Team:
Kapil Arora (President- Branch Head, Ogilvy North), Antara Suri (Vice President, Client Services), Parul Madaan (Account Director), Mithila Manhas (Account Supervisor)
Production House: Soda Films
Director: Rajesh Krishnan
Producer: Ameya Dahibavkar
Updated Date: Dec 21, 2014 04:24:27 IST