It's raining offers with Snapdeal and HDFC bank's revamped credit card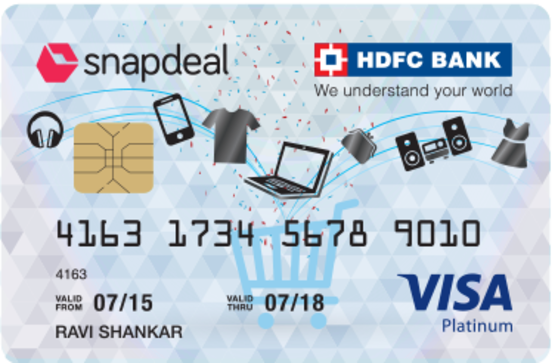 Credits cards come in handy whenever we are short of funds. They also provide us with various discounts on multiple products and services that we all love. Only if, we could have a little more! To satiate our desire for great deals Snapdeal and HDFC Bank have revamped the features on the Snapdeal-HDFC Bank credit card.
The all new credit card provides amazing offers while shopping on Snapdeal. You can also use your FreeCharge wallet to make purchases for various products. This will make your shopping experience not only pleasant but also swift.The Snapdeal-HDFC Bank premium platinum card offers customers great value in the form of discounts, offers, and rewards. Prospective customers can apply for a card online across Snapdeal platforms and enjoy instant eligibility and faster CIBIL checks.
The Snapdeal-HDFC Credit card aims to reach out to the masses with worthy alternatives to cash-based modes of payments, with great supporting deals and amazing offers. Let's check out six amazing offers you can reap using a Snapdeal-HDFC Bank credit card!
5% instant discount every time you shop on Snapdeal across categories
10X reward points for all spends on Snapdeal and other premium partners (FreeCharge, UrbanClap, etc). This is equivalent to 6.67% in savings in addition to 5% instant discount.
Do you want to buy that amazing shirt or dress on Snapdeal but are reluctant because of the price tag? Well, if you spend 2000 Rupees on Snapdeal within three months then you can get cash back of INR 500!
When you get your Snapdeal-HDFC Bank credit card you are eligible to receive a joining bonus 500 reward points which are equal to Rs 250 discount on Snapdeal.
You receive 2 reward points on spending INR 150 anywhere using your credit card.
If you love long drives then you are in for a treat. By using your Snapdeal-HDFC Bank credit card at any gas station you will get a 2.5% waiver on fuel surcharge.
Love spending big? If your yearly spends cross INR 1.5 Lakhs then an annual fee of INR 500 from your annual spends.
Limited period offer of no joining fees for new members
10% instant discount on Snapdeal every Friday. This is in addition to 10X reward points.
So, what are you waiting for? Get yourself a Snapdeal-HDFC credit card and unbox your zindagi's biggest discounts!
This is a partnered post.