India's rich artistic tradition's beautiful forms and colours will leave you wonderstruck
These art forms with their beautiful vibrant colours are a perfect representation of Indian diversity and traditions.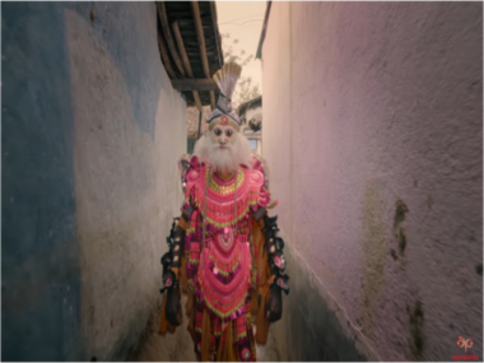 The purpose of art is washing the dust of daily life off our souls – Pablo Picasso
Art in India dates back to 3rd millennium BC. As time progressed, Indian art branched into various forms such as pottery, painting and textile arts. These art forms spread throughout the Indian subcontinent – mutating and evolving to represent the cultures of their region. These art forms with their distinct features, techniques, forms and most importantly the beautiful vibrant colours are a perfect representation of Indian diversity and traditions.
Asian Paints through their 'Colour Journey Campaign' have captured these mesmerising art forms in different parts of India. Check out some of the many art forms in India and how they are made to satiate the inner art enthusiast in you.
 Turbans in Gujarat
Turbans have been an essential and an integral part of our culture since the dawn of civilisation.  In the pre-historic era, men felt the need to protect themselves against all natural odds followed by the desire of self-beautification, resulting in the gradual evolution of the turban.
Chhau Masks in West Bengal
Chhau masks are an integral part in Chhau – a dance performed during the end of Chaitra in the months of March or April. Chhau masks are made of mud, paper, and clay and are painted in pastel shades to give them a bold look. There are three variations of the Chhau dance depending on their place of origin. They are Seraikella Chhau, Mayurbhanj Chhau and Purulia Chhau. The Chhau masks are used for the Seraikella Chhau, and Purulia Chhau but are not normally used for Mayurbhanj Chhau.
Mirror inlay in Rajasthan
The history of mirror mosaic also known as mirror inlay in India goes back to the 17th century when Mughal emperor Shahjahan ordered the construction of the Sheesh Mahal. Adorned with stone inlay and complex mirror-work of the finest quality create a gleaming effect in the royal halls and courtyards in Mahals of Rajasthan.
Perak in Ladhak
Perak in Ladhak is a type of headdress worn by Ladhaki women. The Perak is seen as a powerful protection against harm and a binding force for the community. It is composed of a strap of leather studded with semi-precious stones, such as lapis lazuli and turquoise.
Durry Rugs in Rajasthan
Durry Rugs are unique to Rajasthan. They are light, strongly woven and are known for the use of geometrical patterns. They are manually woven by skilled artisans on a traditional horizontal or vertical loom.
Tibetan Brocade in Uttar Pradesh
Tibetan Brocades are hand-loomed fabrics which incorporate a rainbow of exquisite colours with gold and silver threads.  Brocades are frequently used in shrine furniture, teaching thrones, banners, frames for thangkas, and appliquéd works of art. Much of the richness of Tibetan Buddhist shrines comes from decorative traditional brocades.
If you have been coloured curious by these unique traditional Indian art forms, then you can click on the links in the article to know more about them at Asian Paints Colour Journey.
This is a partnered post.
Business
Rs 1,700 crore manufacturing plant of Asian paints at Visakhapatnam, the Andhra Pradesh government said it has cleared the "administrative hurdles" for the project.
Investing
Nomura has downgraded Asian Paints to "neutral" from "buy" citing concerns about slowing volume growth, the possibility of price cuts and an increase in A&P spending over the next few quarters.
Business
Asian Paints on Wednesday reported a 17.90 percent increase in consolidated net profit at Rs 672.09 crore for the first quarter ended 30 June