Raksha Bandhan is India's official "brother and sister day". The phrase literally translates into "the protective bond", which is supposed to be shared between a brother and sister. This day is celebrated much like a festival and more than anything it is a major holiday in most parts of the country. Here are a few of the posts which stood out in terms of metrics and in terms of creativity.
1) Fevicol
Engagement Score: 14, 019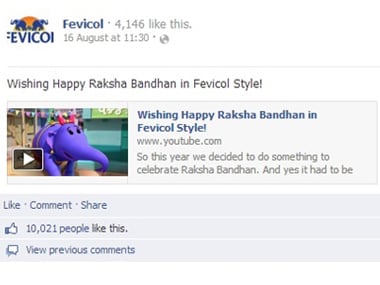 Fevicol's post received the highest and most impressive engagement score. The ever creative brand played with its own logo and came up with this video of the two male elephants being pursued by a female elephant that is waiting to tie a rakhi and make the naughty men her brothers.
2) Johnson's Baby
Engagement Score: 705
How can a brand with baby in its name not use a baby in its post? And that is exactly what Johnson's baby did. The child care brand from Johnson & Johnson reminded its fans of the sweet bond between siblings irrespective of their age. The use of Indian babies in ethnic attire added flavor to the already tasteful image.
3) OLX
Engagement Score: 321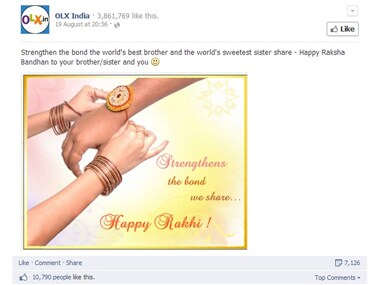 In spite of the wish being very regular and run of the mill, this post from OLX received the most likes and comments of all brands that posted a Raksha Bandhan greeting.
4) KFC
Engagement Score: 192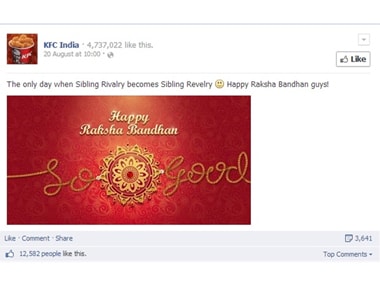 KFC in their standard tongue in cheek of saying stuff that all youngsters can associate with posted this update wishing all its fans a happy Raksha Bandhan. The smartly integrated brand slogan "soo good" into the rakhi made the update stand out and brought itself the highest number of shares.
5) Nestle Milkmaid Sweet Moments
Engagement Score: 140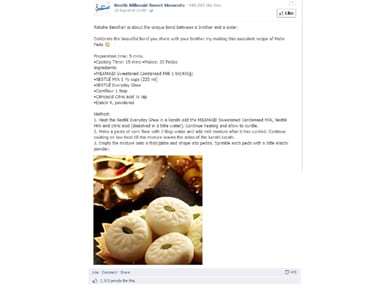 Festivals in India are all about the sweets and snacks. And Raksha Bandan is no exception. Nestle Milkmaid, is carving a niche for itself as an easy make-at-home sweet brand. Standing by its proposition, the brand's Facebook greeting for the festival included a simple recipe which most of their fans seem to have tried at home.
Special Mentions
These post aren't big in terms of numbers but definitely caught our eye in the way of smart message delivery and interesting product integration.
1) Cadbury Celebrations
Cadbury, the ever proactive brand, also extends its innovation to the labels under its wings. The Cadbury Celebrations page apart from having a very relatable message also laid out a unique campaign- Songs for Sisters, which was promoted on Facebook and Twitter. The campaign urged brothers to dedicate a song specially created (by the brand) for their sisters with messages from the brothers themselves. Now which sister wouldn't love that?
2) Aircel India
Raksha Bandan is also the day when a brother gifts his sister something special. While I can think of a hundred goodies I'd like to receive, I definitely would also love that my phone- which always magically runs out of talk time, is recharged and stocked up on some balance. This message from Aircel introduces their feature of mobile top-up through Facebook along with a reminder that this would be a good gift for the sister. Smart and catchy!
3) Pepsodent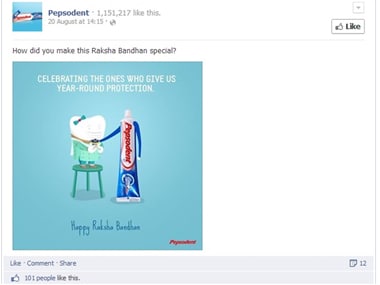 Rakhi is all about the 'protective one' and Pepsodent just remembered that they too are the "bade bhai" (big brother) of every household tirelessly protecting the pearly whites. What's not to love when a salwar clad tooth ties a rakhi to a tube of toothpaste?!
Methodology
The Engagement Score calculation is based on the number of Likes, Comments, Shares and estimated impressions, so a page with a lower fan base can still have a better engagement score than a page with a huge fan base even if they don't get as many interactions. All data has been compiled and analyzed from the Unmetric application which tracks dozens of metrics to enable brands to benchmark themselves against competitors and their industry sector.
This is a guest post byRanjani Raghupathi, Marketing Executive from Unmetric Inc.
Updated Date: Dec 21, 2014 04:27 AM