Flipkart lays the foundation of the future of TV's with its exclusive 55-inch Mi LED Smart TV 4
Flipkart also provides multiple filters like price range, product type and customer ratings to aid its customers in making a sound purchase decision.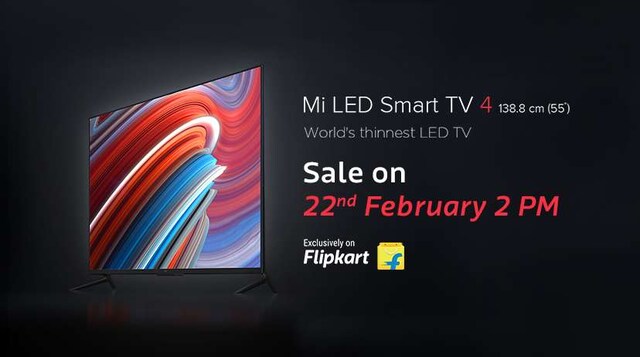 Nail cutters, furniture, clothes, cosmetics, electronics, gym accessories and big Home appliances
. These are a wide variety of products, and they have nothing in common except one thing. They are all available on Flipkart! Since its inception in 2007, Flipkart has changed the way India shops.
Ease of use and efficiency are two characteristics that have prompted the success of the company. If you wish to buy a smartphone or maybe a Washing machine
, then you can simply log in to Flipkart's website or app to make a purchase. Flipkart also provides multiple filters like price range, product type and customer ratings to aid its customers in making a sound purchase decision. Add features like Flipkart Assured and Flipkart First into the mix, and you have the perfect online shopping experience.
Now, the e-commerce giant aims to dominate the television market, and it's already off to a running start.
Flipkart nearly doubled its revenue from television unit sales in 2017 by selling one million television units worth between Rupees 1,950-2,050 crores. Those are astounding figures, however, the company has bigger plans this year. Flipkart is aiming for Rupees 5,000 crores in television unit sales in 2018!
Mr Sandeep Karwa, head of large appliances at Flipkart, in an interview with ET said, "We are looking at a plethora of initiatives—right from exclusive partnerships with brands to enabling credit for our users to be able to purchase a television."
The part about exclusive partnerships grabbed our attention, and it turns out Flipkart is well on its way to shape the future of the television market in India. And this has been made possible because of an incredible partnership between Flipkart and Xiaomi.
Xiaomi is about to launch a 55-inch 4K smart LED television in India called the Mi LED Smart TV 4 which is thinnest LED TV ever manufactured in the world. And it's also the cheapest! Take a look at the graph below depicting the average price of Smart televisions in India.
The price of LED TV's was around the 60K mark from 2015 to 2017, and now, Xiaomi has put a major dent in LED TV prices by introducing the Mi LED Smart TV 4 for Rupees 39,999 exclusively on Flipkart. Xiaomi has always strived to provide the best quality product at the lowest price possible. The Mi smartphones are a great example of Xiaomi's innovative capabilities, and this time around they have done it again with an LED TV.
Here are a few highlights of the Mi LED Smart TV 4 –
The Mi LED Smart TV 4 measures only 4.5 mm at its thinnest point which is a lot thinner than the latest smartphones.
Bezel-less displays are a hot commodity these days, and Xiaomi has incorporated a frameless display in the Mi LED Smart TV 4. It's like watching a piece of glass suspended in the air!
While the Mi LED Smart TV looks absolutely stunning, it also sounds great with the Dolby Atmos 3D Spherical Surround Sound.
What's the point of buying an ultra-thin TV and then putting it on a clunky stand? This is a problem that you'll never face with the Mi LED Smart TV 4's crystal clear and elegant TV stand.
Mi LED Smart TV 4's deep learning AI system understands your preferences and intelligently classifies content, so everyone gets to enjoy highly personalized recommendations.
These are only a few highlights of the Mi LED Smart TV, and it has a lot of other amazing features. Now, if you're planning to get your hands on the Mi LED Smart TV 4, then you're in for a treat. Like we have mentioned earlier, the Mi LED Smart TV 4 is exclusively available of Flipkart for an irresistible price of Rupees 39,999, but there's more! Flipkart is offering a host of amazing offers that add a cherry on top of this already delicious cake. Check them out below!
EMI's for the Mi LED Smart TV 4 on Flipkart start as low as Rupees 1,368/month.
You can get a 10% instant discount on HDFC Bank's credit and debit cards.*
Axis Bank Buzz credit card offers an extra 5% off.*
You can safeguard your Mi LED Smart TV 4 with a 2 year extended warranty for just Rupees 3,499.
Click here to enter your e-mail to get an instant notification for the launch of the Mi LED Smart TV 4.
This is a partnered post.
News & Analysis
The Indian smartphone market will see transactions worth Rs 61,000 crore during the festive season, with 61 per cent of it coming from e-commerce platforms like Amazon and Flipkart. At least ⅓ of smartphones sold will be 5G enabled.
World
Referring to the argument made by the US that F-16 sustenance package is to fight terrorism, Jaishankar had said everybody knows where and against whom F-16 fighter jets are used.
India
Petrol sales soared 13.2 per cent to 2.65 million tonnes in September when compared to 2.34 million tonnes of consumption in the same month last year