Debunked: 5 myths surrounding diapers and potty-training
Debunked: 5 myths surrounding diapers and potty-training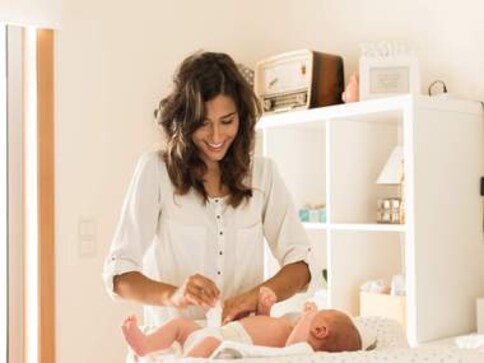 Babies are cute, and the whole experience of caring for them is a pleasure in itself. From grandparents, friends to society, everyone gets into giving newbie parents meaningful advice, but how can moms and dads be sure that the information they receive is accurate? Here are few myths surrounding baby-care that might interest you.
Myth 1: Usage of diapers can cause a skin rash
Diapers, whether made from cloth or from a disposable material can never cause a rash. All you need to do is use the diaper properly. The best way to avoid the onset of rash is to follow general hygiene habits like cleaning your baby between diaper changes; once you do this, then getting a rash is out of the question.
Myth 2: You need to spray your baby's skin with a layer of powder
There is no mandate which says that you must sprinkle powder on your newborn after you change him or her. Today diaper technology has come a long way in ensuring that your baby's skin remains dry even after the baby wets his or her diaper. Also, your baby might inhale the talc, giving rise to respiratory problems.
Myth 3: Change your baby's diaper as soon as they soil it
You need not change your baby's diaper the moment he or she soils it. Babies are more likely to soil their diapers when they are awake than while sleeping, and it's perfectly safe to keep the diaper on for a little more time if you have to. You need not wake up your baby just to change their diaper. If your baby is awake, and for comfort reasons, like preventing rash, or to minimize smell, you could change the diaper. Also choose diapers which are absorbent, soft and comfortable, like Huggies to avoid discomfort.
Myth 4: Using diapers for long periods of time does not allow your baby's skin to breathe
This might have been true a long time ago when diapers were new in the market. But current day diapers are very advanced and allow air to circulate and the skin to breathe. They are designed to protect and not harm your child's skin, all you need to do is to choose a good brand that cares for your baby's skin as much as you do.
Myth 5:  When he's ready he wouldn't want to be in a dirty diaper
Your child will not tell you when he or she 'is ready,' to potty train. In fact, they couldn't care less about it, and waiting could delay the learning experience. Toddlers are usually ready to train at 22 months of age, and while other parents wait a longer period, you can save yourself some money and stop buying diapers and just potty train your child.
This is a Partnered Post. 
Entertainment
The veteran filmmaker, who turns 74 today, has walked on the path of spirituality and controversy, both. For all his cinematic achievements, the man has also lived and experienced an alternate life that reflects his dark side.
India
The efforts by the foresters were highly appreciated by the people in the comment section.