Congratulations if you still haven't purchased new home appliances. You'll love reading this!
MarQ by Flipkart is offering top rated home appliances loaded with all the advanced features at truly unbelievable prices.
Have you finally bought your dream house by taking a massive loan? Or are you moving to a rented apartment in a new city? Congrats, but no time to celebrate as you now have to turn this flat into a home by buying essential appliances. Undoubtedly, you would love to purchase top-notch products. Unfortunately, all those EMIs are already sucking your blood dry. So usually, you are left with no option but to choose between quality and affordability. Not anymore though, as Flipkart's in-house brand MarQ by Flipkart is offering top rated Home appliances
loaded with all the advanced features at truly unbelievable prices. It's staying true to its policy of 'Quality Ya Price, No Compromise!'
Television
It is good that the TV sets are getting slimmer every passing day. But, you may have noticed that these size-zero televisions have tinny sound output. This is where MarQ by Flipkart stands out with its TV sets that offer Dolby Digital Tru-Surround Sound. While the world is busy boasting only about the display in the TVs, this brand is offering an equally stunning & immersive audio for a complete experience.
MarQ by Flipkart's line-up covers 14 variants of TVs right from 24-inch to 65-inch. This includes a good mix of smart, android and non-smart TVs. It's Android TV range has the latest certified Android 8.0 along with a voice-controlled remote operated by Google Voice Assistant. Its smart TVs open a whole new world of content & entertainment with preloaded apps like Netflix, YouTube, Eros Now & Netrange browser.
Buying a TV which boasts of all these advanced features won't cost you anything less than Rs. 1 Lacs in the market today. However, MarQ by Flipkart's 55-inch 4K Ultra HD Android TV loaded with these extraordinary features is available at a delightful Rs 41,999. That's too good to be true!
MarQ by Flipkart has a wide range of washing machines too. You can choose from semi-automatic top load to fully-automatic front load. These products are loaded with features such as smart sensors for water and energy efficiency, express wash and much more. But what makes them truly stand out is the diligence that has gone into customising the wash for all fabric types.
Its 7.5 KG Fully Automatic Front Load offers 15 Wash Programs which takes care of all your washing needs. Be it the delicates or your expensive designer garments. But all these features wouldn't have been enough if you have to break the bank to buy it. A similar fully automatic front load will cost you more than ₹30,000 from other brands. But MarQ by Flipkart has made this disruption possible by offering this feature-packed quality machine at just ₹16,999. If you are looking for a new washing machine, you have to check this out.
Inverter AC
ACs are notorious for high electric bills. MarQ by Flipkart thinks it can make a difference by making using the Dual Inverter Technology. It enables the inverter to run at a variable speed-  This means that the compressor works as per the efforts required to maintain the temperature without fluctuations giving you great energy savings. This AC is not just light on your electricity bill but also light on its own price. You can get the MarQ by Flipkart 5-Star 1.5 Ton Inverter AC at an astounding price of ₹29,999. Something truly unheard of, a similar product would typically cost you more than ₹45,000 from other brands.
Refrigerator
Side-by-side refrigerators look elegant and have all the place you need to store your food and drinks. Sadly though, these have always been well out of budget for most of us. A quick search will tell you that such refrigerators cost nothing less than ₹70k. But now MarQ by Flipkart is disrupting this space by introducing a 565L side-by-side refrigerator with water dispenser at an unbeatable price of Rs 39,999.
This stunning fridge is equipped with a smart digital sensor with Artificial Intelligence to maintain the precise and optimum temperature. With a big cooling tower and multiple air vents, this AC has express freezing & cooling- a must need for scorching Indian summers.
Clearly, MarQ by Flipkart is proving that consumers don't have to choose between quality and price. It's all set to disrupt the market with its brilliant innovations to make premium attainable. So, if you are looking to shop for home appliances during the festive season, don't forget to check out this before pulling the trigger. Explore the MarQ by Flipkart products here!
This is a partnered post.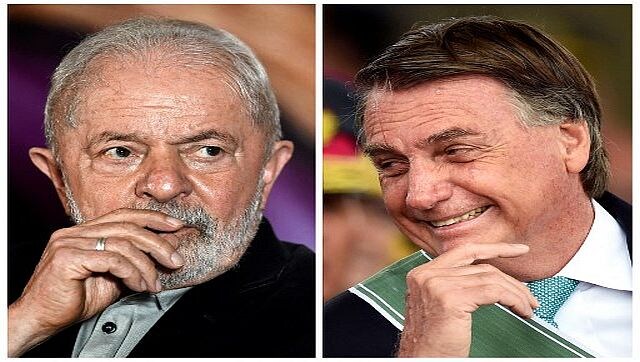 World
The 2018 race that brought current President Jair Bolsonaro to power was already awash in disinformation. If anything, the campaign is arguably uglier this time around, given that the presidential race is highly polarised between the far-right incumbent and his leftist nemesis, Luiz Inacio
Entertainment
Ashi Singh also said, "When we make a show, we silently always hope the audiences like it and shower love and respect upon us. We portray a character given to us; but they relate more to the character than us as individuals."
Entertainment
The scandal-hit Golden Globes, one of Hollywood's most important awards events, are to return to television next year, organizers said Tuesday, after being dumped by broadcasters and shunned by industry figures over ethics lapses.