1 credit card 3 different modes of payment - your cashless future is right here, right now!
While transacting at POS merchant outlets, use the EMI and Rewards buttons on the Nexxt Credit Card for quick and convenient payment.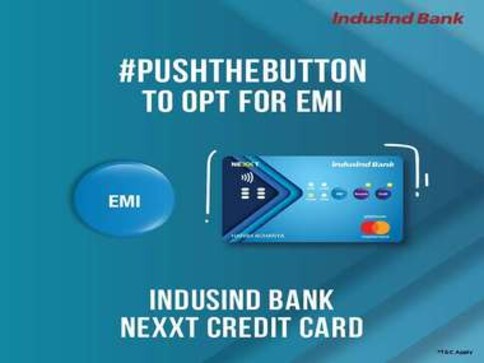 IndusInd Bank Nexxt Credit Card - India's First Interactive Credit Card takes personal banking to the next level.
The next generation of banking is here, now! IndusInd Bank recently launched India's first interactive Credit Card which empowers its customers with three different ways to pay - regular credit, flexible EMIs or reward points, all by simply pushing a button on the Nexxt Credit Card.
Created in partnership with Dynamics Inc., headquartered in Pittsburgh, the company designs and manufactures intelligent, battery-powered payment cards -this card is equipped with LED buttons to switch between multiple payment options at a POS counter easily.
How does it work?
For in-store transactions, simply press a button indicating your preferred payment option. The indicator light will come on and then blink for 6 minutes. During this time swipe/insert/tap the card or hand it over to a cashier.
While transacting at POS merchant outlets, use the EMI and Rewards buttons on the Nexxt Credit Card for quick and convenient payment. However, other activities like online payments and ATM cash withdrawals etc. will use the standard credit option.
What's great about this card is that you never have to fill out paperwork, call the bank, or log in to any banking channel to convert a POS transaction into EMIs or to redeem Rewards Points.
What else makes the IndusInd Bank Nexxt Credit Card truly awesome!
Nexxt Rewards
Get 1 Reward Point for every Rupees 150 spent on the Nexxt Credit Card and use the Rewards button to pay for purchases with accumulated points.
Nexxt Life
Buy one movie ticket and get another one absolutely free when you use the Nexxt Credit Card to buy a ticket on BookMyShow or Sathyam Cinemas.
Nexxt Travel
Enjoy access to 600+ VIP airport lounges across the world as part of the Priority Pass Program and enjoy special waivers at airport lounges outside India with the Travel Plus Program.
Never worry about travel insurance again as IndusInd Bank has partnered with ICICI Lombard General Insurance Company Limited to also give you valuable Travel Insurance Cover.
Nexxt Freedom
Ka-ching! Enjoy a waiver* of 1% on fuel surcharge and save more every time you refuel at any petrol pump across India.
Nexxt Concierge
Try the complimentary 24-hour concierge service and let a team of professionals help you with hotel reservations, flight bookings, arranging spa services, recommending nightlife hotspots, booking taxis and much more, anywhere in the world. All you have to do is ask!
Nexxt Auto-Assist
Make every journey as smooth and hassle-free with IndusInd Bank Nexxt Auto Assist. 24-hour help, 365 days a year means you never have to worry about unforeseen breakdowns or any other emergencies including accident management, medical help, roadside repair and emergency towing among others.
Nexxt Assurance
Keeping you safe is our top priority. Get the peace of mind with 'Total Protect', a first-of-its-kind program which covers everything from Counterfeit Fraud to Unauthorized Transactions in case of loss/ theft of Card.
In addition, the Nexxt Credit Card also gives you complimentary Personal Air Accident insurance cover of up to Rupees 25 lakh proving undoubtedly that you are in very good hands.
This is a partnered post.