Writing a 3D Kashmiri: Basharat Peer on the challenges of co-scripting Haider
Peer spoke to us about balancing Shakespeare and Kashmir while writing Haider.
After adapting Macbeth and Othello for Hindi film screens, Vishal Bharadwaj has now made Haider.
Starring Shahid Kapoor, the film is an adaptation of William Shakespeare's Hamlet. The play tells the story of Hamlet, a Prince of Denmark, who is troubled by his father's death and his mother's decision to marry his father's brother. Hamlet seeks to avenge his father's death and in the process, chaos unfurls in the kingdom.
In order to adapt the 17th century play for 21st century India, Bharadwaj collaborated with journalist and author Basharat Peer. Bharadwaj had got in touch with Peer after the director read Peer's book, Curfewed Night, a poignant account of life in violence-wracked Kashmir. Haider is Peer's first film project.
Set in mid-nineties' Kashmir, Haider has Shahid Kapoor playing the titular role. Instead of his mother, it's his step-mother, played by Tabu. The famous ghost from Hamlet has been tweaked a little and is now not Hamlet's father, but simply a man who has returned from the netherworld, played by Irrfan Khan. Haider shows a middle-class Kashmir that is steeped in reality. It's a world of doctors, students, school teachers, journalists — like anywhere else in the world — who face circumstances that are uncommon and traumatic.
Peer spoke to us about balancing Shakespeare and Kashmir while writing Haider.
Over the years, Hindi films have often used Kashmir as a landscape and its political turbulence as a backdrop. Kashmiri characters, however, have been few and far between. What were you were conscious of as a writer creating Kashmiri characters for Haider?
There haven't really been any three dimensional Kashmiri characters in Indian cinema. It sort of reminds of you of Shylock's critique of anti-semitism in The Merchant of Venice: "If you prick us, do we not bleed? If you tickle us, do we not laugh? If you poison us, do we not die? And if you wrong us, shall we not revenge."
Writing about Kashmiris as any people should be written about is all I have tried to do all my life as a writer. Curfewed Night was a response to caricatures of Kashmiris in Indian political writing; I wrote Haider in the same spirit, with the same feeling.
Our Hamlet is a history MPhil student, his father is a doctor, his evil uncle Claudius is a lawyer, his mother Gertrude is a school teacher. They don't live in a houseboat, but in regular houses. They fall in love, they betray, they make sacrifices, they fight back, they cry, the get angry, like human characters anywhere. They do find themselves dealing with external situations that are particular to Kashmir in the mid-1990s.
Bollywood tends to flatten communities into stereotypes (Punjabis, for instance, are almost without exception loud and tacky). In Haider, you had the task of showing not just lead characters, but effectively an entire society since the whole film is set in Kashmir. How difficult was that?
It is never easy, but I do hope that they come across as realistic portrayals and not stereotypes. They are very middle class characters. They wear the clothes of their class in that setting. As in reality most Kashmiris speak Kashmiri at home, the closest we could get to that, since the film was being made in Urdu/Hindi, is that they speak in regular Urdu, the equivalent of the language of their class.
You seem to have taken on the task of translating some of Hamlet's more famous lines. How hard was that?
Vishal and I agonised a lot over the soliloquies. There are sections of the "To be or not to be" speech that worked well in translation. For the constraints of time, as the play is a long one, we had to omit the famed "Apparel maketh a man" soliloquy.
But one had to find new ways of incorporating a sense of Hamlet's madness. We were able to retain and translate the section where Hamlet meets Rosencrantz and Guilderstern and speaks about Denmark being a prison. And we had to create new soliloquies to convey his madness and the veiled political satire in it.
There is a scene when Haider, his head shaved, and dressed in torn, shabby clothes rants on a traffic roundabout in Srinagar, and apart from a few senseless jokes, reads out the bare act of the Armed Forces Special Powers Act. Also, what helps in cinema is that music and visuals do replace a lot of words.
In Shakespeare's Hamlet, Denmark is plunged into political uncertainty because of family politics and this ultimately results in the country losing its autonomy and Fortinbras's Norway taking over the kingdom. Did you feel the play's political angle offered an effective parallel with Kashmir?
An adaptation doesn't exactly follow the original. Fortinbras is barely there in Haider. The world of Claudius and Polonius does become the world of counter-insurgency and government-run, counter-insurgent militias in Haider and thematically that is what dominates the action.
Haider releases on October 2, 2014.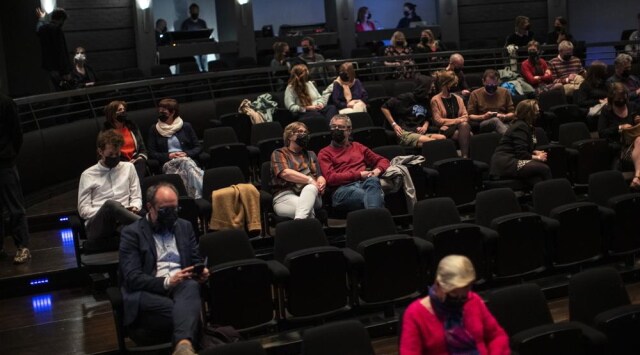 World
Belgian authorities are organising test events but have not yet given venues and their workers a solid green light to reopen.
Entertainment
Disha Patani says she's '"grateful that Radhe is finally releasing in the best possible way."
Entertainment
Jackie Shroff discusses dabbling into comedy with Radhe and his upcoming movie Phone Booth, and why more filmmakers are opting to direct iight-hearted movies now.