Why did the Censor Board cut 4 mins out of The Grand Budapest Hotel?
The Censor Board, has edited a little more than four minutes off Anderson's film, the Grand Budapest Hotel. We wonder why.
The story of The Grand Budapest Hotel begins with some organised chaos. A uniformed man opens a door and in comes a procession of hotel staff, including waiters, bellboys and maids. Orders are given briskly; they are followed, equally briskly. Everyone in the frame moves with such neat precision and efficient harmony that it seems there must be a choreographer in the film's technical team. For all its balletic qualities, The Grand Budapest Hotel is not a choreographed piece. The elegant grace of the action in the film and its wonderful tempo are courtesy director Wes Anderson and editor Barney Pilling.
For those who have already seen Anderson's film about a concierge and a bellboy of a luxury hotel in the 1930s, there may be a few unsettling moments if you see it on big screen once it releases in India this Friday. This is because the guardian of Indian innocence and sensibility, the Censor Board, has edited a little more than four minutes off Anderson's film.
It's not a negligible amount of time, but most of the cuts in The Grand Budapest Hotel are cosmetic. Considering the jarring cuts that we've been exposed to in the past, these are almost subtle in comparison. In fact, one could go so far as to feel a certain sense of gratitude that the Censor Board thought that adults who watch the film – The Grand Budapest Hotel has been given an 'A' rating, which actually does makes sense. This is not a film for immature audiences – need not be protected from its more graphic moments. Consequently, scenes showing chopped heads, lopped off fingers, murder, a boy and girl kissing, and containing the word 'fuck' have the Censor Board's permission to exist.
One of the montages that has been cut establishes that the film's flamboyant hero and the hotel's head concierge Gustave H as a womaniser. This point is made even without the scenes showing Gustave with his elderly paramours (he only seduces doddery heiresses who are guests at the hotel), so it isn't a great loss, although the shot in which Gustave delicately eats grapes while getting a blow job is quite classic.
Another moment that made the Censor Board palpitate is one in which one of the film's villains realises that a prized painting has been stolen from his home and replaced with one that shows two naked, masturbating women. Those who wish to be outraged could certainly point out that films like Grand Masti and Race have far more tasteless references to sex, but we all know from past experience that the Censor Board's decisions are usually guided by obscure regulations and whimsy rather than logic.
It's worth nothing though that in the case of The Grand Budapest Hotel, it's not just the usual conservatism about sex and sexuality that is in evidence. The lengthiest cut in the Indian version of Anderson's film has absolutely no reference to anything even vaguely sexual. It involves four convicts, one concierge and some dessert. Here's what happens in the deleted scene.
Gustave is in jail because he's been accused of murdering an heiress. In prison, he takes on the chore of going from cell to cell with the food cart at meal times. When he arrives at one particular cell, the four inmates invite Gustave inside. The five of them sit at a table and Gustave brings out a little box that has an exquisitely-crafted dessert in it. He divides it neatly and offers the sliced dessert to his hosts. Once they've finished eating, the convicts confide to Gustave that they've figured out a way to escape. This is the plan, as outlined by their leader, Ludwig:
"You got broad-gauge iron bars on every door, vent, and window. You got barb' wire on every containment wall and barricade. You got seventy two guards on the floor and sixteen more in the towers. You got a 325-foot drop into a moat full of crocodiles – but like the best of 'em, it's [the prison] got a soft spot, which in this case happens to take the form of a storm drain sewer system datin' from the time of the original rock fortification way back in the Middle Ages. Now, nobody's sayin' it's a stroll down a tree-lined promenade with a fine lady and a white poodle, but it's got what you'd call 'vulnerability'…"
The only problem, as Gustave points out, is that to reach this drain, they need tools to dig a tunnel. Fortunately Gustave has an idea.
Thanks to the Censor Board, if you see The Grand Budapest Hotel at an Indian cinema, you will not see the scene that's been described above. You will, however, see Agatha, a masterful confectioner, make chocolate and icing-embellished desserts that have almost-miniature digging tools inside them. You will also see Agatha's nifty creations make it past the prison security. Like Trojan horses made of butter cream icing, the disguised tools appear before a guard who can't bear to slice or stab them (as he did the loaf of bread and hunk of cheese and sausage that preceded Agatha's edible works of art). So, the digging tools enter the prison.
However, the Censor Board doesn't want you to see those tools being used. Consequently, the scene in which the convicts stay up past the official bedtime to dig through the cement floor of their cell with the tools, is cut.
There's only one reasonable and logical conclusion that can be drawn from this: the Censor Board doesn't want The Grand Budapest Hotel to teach Indian audiences how to break out of jail using tiny tools that were hidden in chocolate-based confectionery.
The questions of whether the ticket-buying audiences of arty English films are likely to go to jail, or if Wes Anderson is necessarily the go-to man for tips on jailbreak, are separate issues. White collar crimes are on the rise, we're told, and there is certainly a profusion of European dessert shops in Mumbai. Who knows what criminal behaviour may be facilitated by a cupcake or a macaron?
As far as The Grand Budapest Hotel is concerned, the cuts imposed by the Censor Board pose only minor problems for the viewer. For instance, all of a sudden and with no explanation, Harvey Keitel (he plays Ludwig) appears in the film. Equally inexplicably, hey presto! And there's a tunnel that Gustave and gang run into and out of to escape the prison. Still, while cuts like these do trip up the pace of the film, by and large Gustave and Zero's stories remain intact and The Grand Budapest Hotel suffers only marginally. In spite of the importance that the Censor Board has attached to it, the film is not about jailbreak but about the love for beautiful things.
The real takeaway from the Censor Board's decision to sanitise The Grand Budapest Hotel by removing the escape plan is that it makes you realise how some of Bollywood's most beloved films would have been brutalised in the hands of this board. If Ludwig and his dessert-coated tools are too dangerous to be let loose upon the Indian imagination according to the Censor Board, imagine how it would have reacted to Kaalia, Khalnayak and Don 2? Imagine these films with the jailbreak edited out of them.
Ironically, these celluloid plots pale in terms of dramatic flair to the stratagems that real criminals have carried out, without drawing any inspiration from Bollywood. Tihar Jail, for instance, has seen some fantastic escape. In the 1960s, American smuggler Daniel Walcott was sent to Tihar because he was caught smuggling ammunition. Walcott had a plane that was impounded, but he was given permission to run its engines – which meant pouring a little fuel into the plane – from time to time. Walcott managed to fill the tank enough to not only escape to Pakistan using that impounded plane, but apparently, before leaving the Indian air space, he dropped a bag of cookies into Tihar, for his ex-inmates.
Who can forget the jailbreak king, serial killer Charles Sobhraj, who once escaped a prison in Mumbai by faking an appendicitis attack and made a fabulously cinematic escape out of Tihar Jail in the 1980s. Sobhraj distributed fruits and sweets to everyone on the occasion of his birthday. It turned out that the food was drugged. Sobhraj calmly walked out of jail while everyone, including the guards, lay passed out.
In a world made up of such realities, could the story of a concierge, who escapes a false charge of murder using a little humour, a lot of grace and a thoroughly unrealistic plan, be dangerous? But perhaps it's the fact that the film is harmless that made it the Censor Board's target. It got to flex its muscles and make a show of strength without actually ruffling any feathers or provoking anyone. Because we're counting our blessings that The Grand Budapest Hotel is coming to Indian big screens in the first place, but also because there's more than enough beauty in the film to make the cuts seem insignificant.
Find latest and upcoming tech gadgets online on Tech2 Gadgets. Get technology news, gadgets reviews & ratings. Popular gadgets including laptop, tablet and mobile specifications, features, prices, comparison.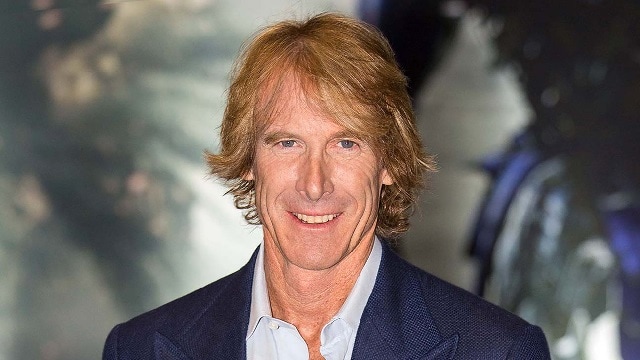 Entertainment
"We worked out the safety issues months ago," Michael Bay said about tackling the coronavirus outbreak on his set
Entertainment
Jim Carrey talks about choosing to co-write a fictional tale rather than a memoir, although the protagonist of his book is a "representation" of him.
Entertainment
The Old Guard fails to capture the appeal the novel had for readers to the uninitiated viewers.