Twinkle Khanna's take on feminism is honest. Here's why it's also refreshingly different
What's the track record for our female Bollywood stars, when it comes to talking about feminism? Twinkle Khanna is the rare exception, willing to speak up for womankind.
Bollywood actresses often run from the word 'feminism'. Infact, our favourite Bollywood export Priyanka Chopra has been quoted saying 'the word feminist has been bastardised'.
So it was refreshing when Twinkle Khanna owned up to being a feminist at the launch of her new book The Legend of Laksmi Prasad where she said, "I want to say something. Many journalists, who have read the book, came and asked me hesitantly 'Are you a feminist?' They were behaving as if the question was 'Are you a Justin Bieber fan ?' Feminism means wanting equal opportunities and those who say they are not and they don't believe in feminism, are idiots."
She further elaborated on the topic in an interview with Mint, where she said, "Anybody who says they're not a feminist by the clear definition of the word would be kind of idiotic, no? What does it mean at the end of the day? You just want equal opportunities."
Twinkle Khanna is one of the rare Bollywood celebrities who is proud to be a feminist.  This may be because of a popular presentation of feminism in India which often excludes men from the equation, making it seem like the concept is inherently anti-male. Unsurprisingly then, it's in celebrities' best interests to play it safe, avoiding a term that is misinterpreted and misunderstood by an important segment of moviegoers. Here are a few celebrities who should have followed Twinkle Khanna's example of 'befriending' feminist ideology:
Tabu
Tabu said she liked the work of poet and women's rights activist Maya Angelou but added 'this doesn't make me a feminist though'. "I don't want to be called a feminist, but I don't disown feminism," she told the Hindustan Times.
Lisa Haydon
Lisa Haydon who became famous after her role in Queen as an independent, single mother in France, said that she does not "like the word feminist." "Feminism is just an overused term and people make too much noise about it for no reason," the model-turned-actress told Times of India in a recent interview.
Parineeti Chopra
Parineeti Chopra said in an interview with Indian Expresss, "I am very often confused to be a feminist but I am not. I am really not. Coming into Bollywood, I think definitely it has made me stronger and more responsible."
Priyanka Chopra
Priyanka Chopra, who is making waves internationally for portraying a strong female character in Quantico, has said, "It's got very strong female characters, and I don't think it's a bra-burning feminist show where you're like, we hate men, but we have really strong male characters, too." The reason she found Quantico 'progressive' was 'it gives females an opportunity to be equal with the boys'.
Katrina Kaif
Katrina Kaif said she isn't a feminist but questioned why actresses are relentlessly asked about the men in their lives. She said, "I don't think I am feminist but I don't think an actress should be made to speak about the men in her life when there is so much more to her and what she has achieved. We need to respect that."
Madhuri Dixit
"I don't think I'm a feminist. I am independent and strong, which is what women should be like," Madhuri Dixit said a press conference at the 14th International Indian Film Academy extravaganza while promoting her feminist film Gulaab Gang.
Alia Bhatt takes the cake for this confusing quote in Cosmopolitan Magazine, "I'm almost a feminist and believe if a girl wants to do something she should be able to do it in the same way that a man is able to, which is sometimes a problem in our country. It's about having power over women but, at the same time, there is a side to our culture that respects women with all its might — people pray to women idols, so generalising doesn't help." What is being an "almost feminist" exactly?
As an article in Huffpost points out,
The only women who stand for feminism will be immediately slotted as 'activists' and their desirability will plummet immediately and they will be slotted as the 'art film' type.
Find latest and upcoming tech gadgets online on Tech2 Gadgets. Get technology news, gadgets reviews & ratings. Popular gadgets including laptop, tablet and mobile specifications, features, prices, comparison.
Entertainment
Top Bollywood producers have united to sue Republic TV and Times Now for 'defamatory' coverage. With theatres reopening after seven months of shutdown, it is imperative that Bollywood clean its name.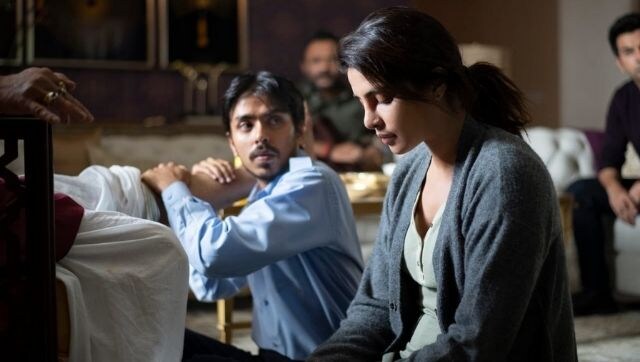 Entertainment
Priyanka Chopra describes Netflix's The White Tiger, based on Arvind Adiga's Man Booker Prize-winning novel, as a "powerful" film that will make viewers "uncomfortable"
Entertainment
RRR, also starring Ajay Devgn and Alia Bhatt, came to a grinding halt in March following the COVID-19 lockdown.