The Hobbit review: It's heartbreaking to bid farewell to Middle Earth
The Battle of the Five Armies may not be the best example of Jackson and his ability to make Middle Earth an exciting, living realm, but it is a smooth, well-crafted movie.
Back in 2001, director Peter Jackson did what few had thought was possible: he turned the first part of JRR Tolkien's The Lord of the Rings trilogy into a riveting, beautiful cinema experience. The Fellowship of the Ring was our first step into Middle Earth. Lavishly imagined and exquisitely realised by Jackson and his mostly-Kiwi crew, the different kingdoms and races of this imaginary land enchanted both Tolkien fans as well as newcomers to Middle Earth. Jackson didn't disappoint with The Two Towers, which was particularly applause-worthy considering how difficult that book is to adapt, or the final instalment, The Return of the King. The way Jackson adapted, conceived, plotted and filmed The Lord of the Rings was an example of how to adapt books and make a trilogy the right way.
So it's heartbreaking to watch The Hobbit: The Battle of the Five Armies and realise what some of us had suspected last year while watching The Desolation of Smaug: The Hobbit is an example of how not to make a trilogy. It isn't just that Tolkien's The Hobbit is a slim, contained little adventure, rather than a sprawling epic that can be made to span nine hours. The real disappointment is realising that just as the golden gleam of the one ring could enslave even the purest soul, so the lure of lucre has wound its charm around Jackson. If there was ever a series that didn't need to be a trilogy, it is The Hobbit.
This isn't to suggest The Battle of the Five Armies is unwatchable. Jackson and his crew's love for Middle Earth is palpable and yet again, New Zealand is transformed into that imaginary land effortlessly and beautifully. That actors like Richard Armitage and Ian McKellen are able to emote convincingly despite the hair, prosthetics and elaborate costumes on their person, is remarkable. Their performances are even more impressive when you realise how many dramatic moments are in slow motion and how mannered almost every moment is. For instance, Thorin is in an underground mine. He's talking to Bilbo, menacingly. Not only does he glower with eyes half-shut — to bring home that he is being menacing — his voice goes deeper; he speaks slower. Each word stretches, like he's powered by dying batteries. And, out of nowhere, there's a wind blowing his shampoo-commercial worthy locks away from his face. In case you'd forgotten, this is all taking place underground, in a mine. Only in a Beyonce concert is the wind quite as obliging and targeted.
The real triumph of The Battle of the Five Armies is how Jackson has plotted the war that pits all the good in Middle Earth against an awesome, horrifying orc army, led by Azog the Destroyer (Manu Bennett. Yes, it's a brown man under all that pallid, mangled whiteness). It begins with Thorin (Armitage) and his crew holed up in Erebor, where Smaug had hoarded an insane amount of gold. Once Smaug is killed by Bard (Luke Evans), everyone wants their share of the treasure inside Erebor. Even the Elves, led by Thranduil (Lee Pace, show up to claim what they feel is theirs. The problem is, Thorin doesn't want to share and he's going mad.
Little Bilbo (played maginificently by Martin Freeman) tries to save the day, but cute as he is, he's powerless against Thorin's crazed greed. And so, the scene is set for a great battle between dwarves and elves (and men. But they're just ugly, hairy and inconsequential for most part). It's an epic battle of hairstyles: dwarven frizz versus elvish blow dry.
Just then who should pop out, but an army of orcs. It makes no sense that a little contingent of dwarves are able to hold off the orcs and it makes even less sense that a roaring Thorin, followed by his little gang, is all it takes to deliver the final blow to the orcs, who seem to outnumber the dwarves by hundreds. But that's ok. It's an epic fantasy. Here be dragons, and smouldering dwarven hotties like Thorin and Kili (Aidan Turner).
Jackson's thrown in a little love triangle, added a few characters and brought other tweaks to the original story. The really meaty and powerful addition is the final encounter between Azog and Thorin. The two of them fight to the death on a frozen lake and it's a spectacular fight sequence, both in terms of choreography and because it's plotted like a short story. There's a build-up, a climax, a plateau, followed by a twist and finally a resolution.
Enjoyable as Jackson's ability to fuse storytelling into a series of fight sequences, The Battle of the Five Armies isn't a gripping watch. In fact, it drags from time to time. For those who know The Lord of the Rings films, there are patterns — in terms of characters, devices, the way the story unfolds and even camera shots — that Jackson quite obviously replicates in The Hobbit. Some of the replicas don't work quite as well. Luke Evans is no Viggo Mortensen, for instance, and neither is his Bard a patch on Aragorn. Tolkien fans may feel unpleasantly ruffled by how Jackson has beaten and moulded the characters of Tolkien's tale to fit a more Hollywood mould. The greed of the dwarves, for instance, is made palatable by camouflaging it as a kind of temporary madness.
The Battle of the Five Armies may not be the best example of Jackson and his ability to make Middle Earth an exciting, living realm, but it is a smooth, well-crafted movie. Perhaps the saddest part of watching it is to know that this is the last time that the big screen will be a portal to return to Middle Earth. It's time to pull out the box sets of LOTR and remember the golden age of Jackson's storytelling.
Find latest and upcoming tech gadgets online on Tech2 Gadgets. Get technology news, gadgets reviews & ratings. Popular gadgets including laptop, tablet and mobile specifications, features, prices, comparison.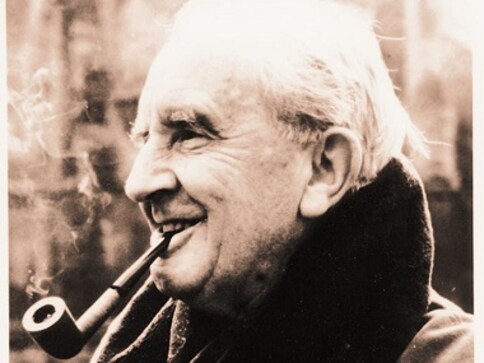 Life
JRR Tolkien's latest book is about the romance between a mortal man and immortal elf.
Entertainment
The Lord of the Rings movie series made over $2.9 billion worldwide
Entertainment
The Hobbit will be split into two parts with the first installment due in December 2012 and the second in December 2013.