The Ghazi Attack movie review: This underwater thriller is not quite on target, but is a fine effort
The Ghazi Attack is an ambitious film for a first-timer and director Sankalp Reddy does capture the frenzy of an underwater confrontation with some finesse.
The time is 1971. A battle is simmering between Pakistan and India. There's also a battle between East and West Pakistan. And then there's one more tussle between the commander of submarine S21 Captain Rann Vijay Singh (Kay Kay Menon) and his Navy command appointed officer Arjun (Rana Daggubati) assigned with keeping an eye on the hotheaded captain.
There's a fourth fight too — the one you have within yourself, between your ethics and logic and your patriotism and instinct. Debutant writer-director Sankalp Reddy takes on all these issues and plays them out mostly underwater represented by a detailed set of the interiors of two submarines. There are a few other shots in the offices of generals on both sides of the border and the rest is special effects. Sadly these artistic and computer generated images of war craft, docks, floating and submerged submarines and torpedo attacks are nothing less than shabby — almost comic book-like.
Rann Vijay Singh's idol is Colonel George Patton, whose biopic released in 1970. In other words Singh is as shrewd as he is unfettered by rules. Balancing the two and maintaining calm on the boat is loyal-to-a-fault second officer Devaraj (Atul Kulkarni).
The setting of the high sea shenanigans is the Bay of Bengal and the S21 is engaged in a delicate underwater battle with Pakistani sub PNS Ghazi, commandeered by a sneering Captain Razzak (Rahul Singh). Since the Pakistanis are the bad guys not only do they look un-groomed and sweaty but they are also shot from a low angle so that their nostrils flare menacingly into the camera. But Singh is given the dialogue of the film. When a broken S21 dodges the torpedoes by fixing its depth a few metres and simply dodges the line of fire by going up and down, a frustrated Razzak exclaims, "Is he a commander or a lift man!"
At the beginning of the movie you stare at and listen to the narration of an essay packed with disclaimers. You also know that in this film you are going to hear the National Anthem and Saare Jahan Se Acha. But you don't feel that swell of pride and patriotism because barring Kulkarni, the other actors do not represent any firm stand. On the contrary, Kay Kay Menon plays the captain with the consistency of someone with multiple personality disorder. Then there's Tapsee Pannu as a refugee who appears to have one instruction: stand in doorways looking shell-shocked.
The Ghazi Attack is an ambitious film for a first-timer and Reddy does capture the frenzy of an underwater confrontation with some finesse. The strategising and head-to-head between two shrewd seamen at either end of the battle line is handled well as are the dynamics between the officers and crew aboard the ship. It's not quite on target but it's a fine effort.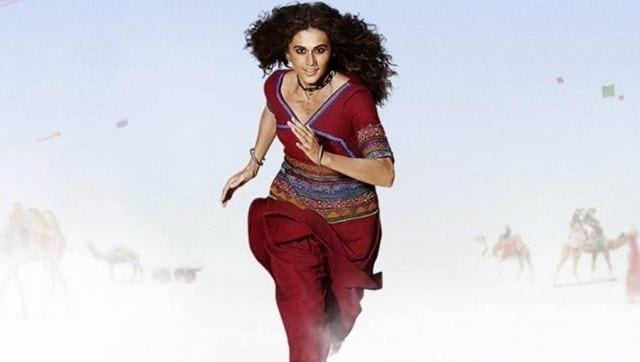 Entertainment
Taapsee Pannu says "the result of Rashmi Rocket will affect me a lot more than my other films."
Entertainment
Disney's latest is the kind of surefire blockbuster that will have both cinema-goers and cinema-owners smiling from ear to ear.
Entertainment
Carrie Coon and Jude Law are devastatingly good in this marriage story and haunted-house thriller rolled into one.