The Dirty Picture: Free, sexual and female
The movie is a celebration of the liberating power of sexuality. The moment when a woman's body is not merely an object but her way of being herself.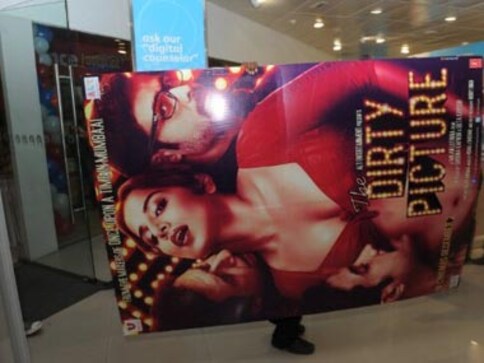 By Shiv Visvanathan
They were opposites in everything but shared the same name, expressing a unity in that very opposition. They were both called Smitha.
Hindi cinema produced Smita Patil, one of the most powerful intellectual forces in Indian Cinema. Smita was a unique creation, conveyed a fury of ideas all left unsaid. Smita Patil reflected desire as expressed by the intellect.
Her foil, Silk Smitha, was sheer physicality. Larger than life and exuding excess, her seductions were literal. While Smita Patil was a legend of art cinema, Silk Smitha was the stuff of folklore. Both died in tragic circumstances: Smita died in childbirth, Silk took her life.
The Dirty Picture is an attempt of a latter-day Smita Patil to make sense of the legend of Silk Smitha.
In a biographical sense, The Dirty Picture is a story of a village girl who sees the city as desire and conquers it. It follows her path from a bit actor desperate for a job to a star consumed by millions. In between, it captures the many men in her life. Silk's life is a biography of freedom, of a woman wishing to live her own way, arguing her right to her sexuality, while trapped by the hypocrisy of society and of the male imagination.
The masculine fantasy is about what you take to bed but never home to your family. The vamp is every man's secret life while the wife remains a duty. Love, desire and fantasy are the prerogative of the vamp.
There is an unforgettable scene where Smitha receives an award from her former lover and an old rake of a film star. He mumbles that he has seen many women like her come and go. An angry Silk lights a cigarette and lashes out at the audience. A woman's body, she says, is the dirty picture in every man's mind. A secret they collectively punish her for exposing over the course of the movie.
In The Dirty Picture, morality is hypocrisy, a pollution ritual that keeps duty and desire apart and makes sexuality taboo.
The Dirty Picture is also a pretext for the celebration of the cinematic eye. As Silk puts it beautifully in the film, she is not a fact of biology, that her parents did not create her. She was born when the camera focused on her, when the lights created her and the spectator's eye consumed her. Between the multiple eye of the camera and the spectators, a star is born.
This is both her triumph and tragedy.
The male gaze invents her, consumes her, creates her and Silk lives on in the eyes of her million spectators. In the end, Silk realises this is the vulnerability of the actress. She depends on the eye. To be seen is to exist. A star without a film is a forgotten footnote. A star dies when the eye moves elsewhere. The suicide of a star is that lonely moment when she knows that there is no one looking at her. It's a moment of closure, of lights out, a moment captured beautifully in the film.
The film is brilliant at two levels. It is acute in its portrayal of male hypocrisy, but more so in its portrayal of how sexuality liberates women. The Dirty Picture is the stuff of sociology and the meat of a feminist critique of a male world. Beyond its sociological roots, however, it is a celebration of life, an ode to cinema and the liberating power of sexuality. This is a woman who enjoys sex and whose sexuality exudes power and freedom. The woman's body becomes her way of being herself. When the body takes over and speaks its language, all society stops to watch and listen.
The Dirty Picture begins as nostalgia and ends as invention. It fails to recreate a legend, but instead creates a new mystique around Vidya Balan. Balan achieves what Silk Smitha failed to: a place in a male-dominated world. For once, the men are side shows as she grows from bit girl to star. As the two stories merge, one realises it is the legend of Vidya Balan that is being created on-screen, as she takes the Silk route to reinventing herself.
Shiv Visvanathan is a social science nomad.