Tamil Nadu Premier League: With Matthew Hayden as mascot, the league's ready to roll
The Tamil Nadu Premier League, which starts on 27 August and will go on for three weeks, got a grand launch on Thursday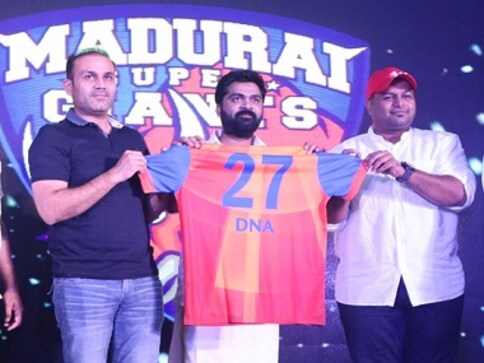 In Tamil Nadu — especially Chennai — cinema and cricket are the favourite pastimes for lakhs of people.
When N Srinivasan, the former BCCI chief, and his Chennai Super Kings (CSK) were ruling the roost, there was an unprecedented craze for the game. Now that Srinivasan is no longer controlling Indian cricket and CSK has been banned from the IPL tournament, the local boys were missing big cricket action.
Srinivasan — who still controls the Tamil Nadu Cricket Association (TNCA) — has now started another T-20 tournament in the state: the Tamil Nadu Premier League (TNPL). Srinivasan's peer, the lawyer PS Raman (who also heads BCCI's legal cell) will be the chairman of TNPL.
PS Raman told Firstpost: "Yes, it is going to be a great T-20 tournament, where we will be tapping the potential of the district players in Tamil Nadu. The state has the best league in the country. The short tournament — spanning 23 days will see eight teams competing in three venues — Chennai, Natham (near Madurai) and Tirunelveli across Tamil Nadu."
TNPL is following the same format as IPL. Eight teams from all over the state representing various towns like Madurai Super Giants, Lyca Kovai Kings, TUTI Patriots, VB Thiruvallur Veerans, Ruby Kanchi Warriors, Chepauk Super Gillies, Dindigul Dragons and Karaikudi Kaalai will take part in the tournament. Nobody can use 'Chennai' as it is reserved for the Chennai Super Kings in IPL.
Former Australian and CSK star batsman Matthew Hayden is now the brand ambassador of TNPL. Wearing a veshti (the lungi in North India), Hayden went across Tamil Nadu key cities promoting the tournament. Hayden also watched Kabali at the popular Albert Theatre in Chennai and said he loved it!
TNPL teams have roped in popular Kollywood celebs to promote their teams. Madurai Super Giants, partly owned by Dhyanidhi Alagiri and the Chennai-based Kothari family flew down former India star batsman Virender Sehwag for a big launch. The launch had popular star Simbu, music directors Anirudh and SS Thaman taking part. All the teams are trying to rope in glamorous Kollywood stars for the three-week tournament which starts on 27 August.
Find latest and upcoming tech gadgets online on Tech2 Gadgets. Get technology news, gadgets reviews & ratings. Popular gadgets including laptop, tablet and mobile specifications, features, prices, comparison.
First Cricket News
Let's test your knowledge on all things Chennai Super Kings ahead of IPL 2020.
First Cricket News
Just like the previous two years, CSK will once again depend heavily on their experienced international players to make an impact.
First Cricket News
Young Shaw struck a fluent half-century and shared a 94-run opening stand with Shikhar Dhawan to guide Delhi Capitals to 175 for three.