Storks review: An entertaining animation film meant for all kinds of audiences
There's really no reason why you shouldn't be watching Storks in theaters this weekend. Take your kids too.
If you've ever been a kid, and there are pretty high chances that you have, you've probably asked your parents where babies come from, and you've been told different ridiculous stories.
And if you've had even a remote connection to the West you were informed that storks carry babies over to your parents' place like a courier service. Now we get a whole animation movie surrounding this particular myth, Storks, and the results are surprisingly zany and fun.
We're introduced to Stork Island where parents' letters requesting for children are sent and processed, and the birds send over the requisite babies to the addresses marked in the letters.
The company shuts down when one of the storks named Jasper (Danny Trejo) kept the baby instead of delivering it.
Twenty years later the island is now a warehouse, much like Amazon, led by Hunter (Kelsey Grammer) whose eye is on his subordinate Junior (Andy Samberg) to take over duties.
To pass the test he's given the task of firing the human Tulip (Katie Crown), the now grown up baby who's been hanging around the island ever since the mishap. One thing leads to another and a few goofball errors occur that send Junior and Tulip on a road trip to deliver a baby.
What works in Storks is how unabashedly 90s it feels.
The zippy zany animation style, the motor mouth style of comedy, and the whole bonding over a road trip angle is reminiscent of pretty much every animation movie from the 90's. However it never feels like a tired rehash – there's so much energy oozing out of every scene it's difficult not to be entertained by the goofiness.
The jokes, courtesy of writer-director Nicholas Stoller (Forgetting Sarah Marshall) are shot out as if through a Gatling gun and just don't stop punching you in the funny bone.
Junior's over the top mannerisms, though not an all time classic is quite reminiscent of the Genie in Aladin, and there's some unexpected humor and heart in the Modern Family style subplot involving the parents (Ty Burrell, Jennifer Aniston) of the baby to be delivered.
The all too familiar themes of family and home are hilariously complemented by absolutely nutty sequences like an encounter with villainous wolves chasing in speedboats. In fact some of the scenes are so ridiculous you'll tend to wonder if this is a stoner movie disguised as a kids' cartoon.
There's the standard issue 'social message' in the film but luckily it isn't forcibly hammered into our skulls like many other animation movies. On the contrary you'll be pleasantly surprised by how delicately the theme is handled, given the loud silliness of the rest of the film.
Storks is a film I had absolutely no expectations from and it turned out to be the animated surprise of the year.
It's the kind of movie meant for pretty much all kinds and ages of audiences, and if you're in need for some emotional manipulation the finale contains that layer as well. Except the 3D glasses there's really no reason why you shouldn't be watching it in theaters this weekend. Take your kids too.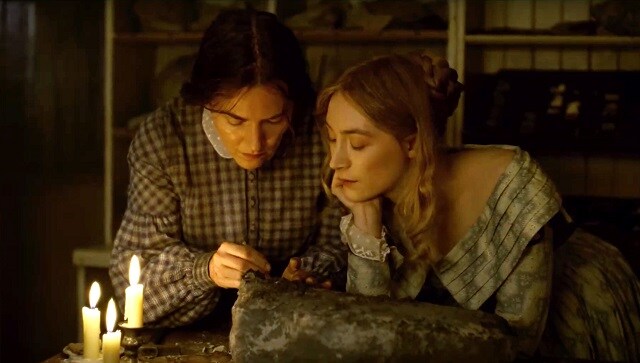 Entertainment
Ammonite suffers from a slowness, that intends to mimic the pace of life, but does not build or culminate into anything profound or satisfying.
Entertainment
Photo-Prem is a funny, quintessential take on what we leave behind for memories but quickly loses potential with half-baked writing and slow pace.
Entertainment
Time to Dance is pulled down by its unexceptional story, prosaic dialogues and colourless performances by the leads