Sonakshi Sinha has a gift for weight critics - her middle finger!
Sonakshi Sinha shows a middle finger to her haters, says she will never be size zero.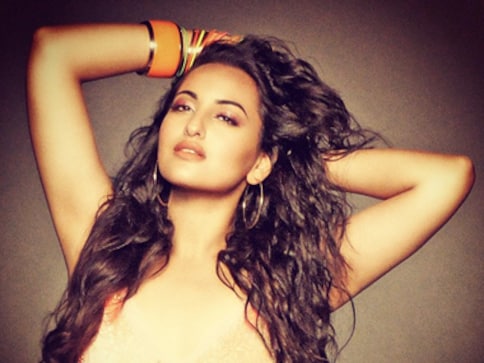 Trolls on Twitter have always had a gala time, taking potshots at Sonakshi Sinha. Not for her acting performances, but for her looks.  Sinha has been called a 'fat cow' on her birthday, some had suggested that her forehead be declared a new state in India and compared it to an eight inch highway. While so far, the actress had taken the higher road and refused to get bogged down by such comments, if her recent instagram post is any indication, those days are far behind her and she has no hesitation in showing her middle finger to her haters.
Sinha recently posted a photo of a skeleton on her Instagram account and wrote the following message as the caption:
To all those who keep commenting on my weight, whether its a full picture, or a close up where you cant see jack. Take a good look at this picture. Now get this: 1) this aint ever gonna be me. 2) get over it. 3) i wish u could see which finger i hold up for shallow and idiotic people like yourself.
Despite the fact that she is the antitheses of all beauty cliches that Bollywood endorses, the actress has done very well for herself. In just four years time,  she has not only won over her critics with her performance in Lootera but also starred in several box office hits. And with her successfully establishing herself as an actress, we had finally got a heroine who isn't size zero and looks more like any one of us.
"I am here to act and not be size zero," Sinha had said in an interview, in the initial stages of her career, and we had all cheered for her. However, much has changed since then. In an industry where senior actresses like Priyanka Chopra gets pulled up for being muscular (Bhansali yelled at Chopra once for showing up on the sets 'looking like a man'), we can hardly blame newbies like Sinha for kowtowing to Bollywood's beauty standards and spending hours on the treadmill .
Although Sinha still claims that she doesn't want to be size zero, she hasn't really given the treadmill a break, if reports are to be believed. Since last November, Sinha has been training hard to lose weight and recently debuted a much slimmer self on the cover of a health magazine.
However, the actress insisted that it is something she did for herself and not due to the pressure from the industry or media, but she also added that she was happy that "she succeeded in closing critics' mouth, who criticised her for being overweight".
Entertainment
Britain's queen consort, who worked with O'Grady to support animal charities, led tributes to a performer who emerged from the alternative gay comedy scene and became a national treasure.
Entertainment
The actor in a recent interview spoke about the conversation he had with his wife Shabana Raza had about his career, how he was still surviving, and much more.
Entertainment
The nightclub that Darcelle opened more than 50 years ago in downtown Portland, Darcelle XV Showplace, posted a statement on Facebook expressing grief and asking for privacy and patience.