Sharmila on Saif: He is not like Tiger at all
In freewheeling and frank interview, Sharmila Tagore talks about her son, Saif Ali Khan's childhood, career, relationship with his father, and Kareena.
She swung the arc between sex kitten and consummate actress in films that ranged between Shakti Samanta's Evening in Paris to Satyajit Ray's Apur Sansar and Devi. She married a cricketing legend, and is now mother to one of Bollywood's biggest stars.
He boasts of an enviable lineage that traces back to Rabindranath Tagore on one side, and the royal house of Pataudi on the other. He joined films as a chocolate boy hero but cemented his reputation as an actor in films like Omkara and Being Cyrus.
Sharmila Tagore talks about her son, Saif, in a freewheeling interview.

Saif  is your first born. What was your first thought on seeing him ?
I thought he was a very beautiful baby, he was a beautiful boy too, very cuddly. But right from the beginning, he had a mind of his very own. He was not an easy child. He broke every rule of the game. And that was a trait that stayed with him. He was a challenge. He was extremely bright, very intelligent, it did not take him any time to get bored. He was impulsive, spontaneous, could grasp a situation at once.
It must have been tough on you as a mother?
I was very busy those days, through his early years. From 1 to 6 years, I was doing double shifts, could barely take him to school and back.
His student days, what were they like?
He never lived up to his potential, and his report card always bemoaned the fact. His books would look new at end of term. But he was gregarious. He was in boarding school in UK. When I went to Winchester, everyone knew Saif, from the taxi drivers to the scholars to the students. He mixed with them all.
But he did not apply himself to his studies and it worried you?
Yes it did, immensely. All I wanted was for my child to conform. We all do, though we challenge norms in our own lives. But we don't let our children do the same, maybe we want them to conform so they will be safe. I am afraid I was guilty of that. But he was not one for the safe harbour. He preferred, as Balzac called it,  the open sea. Yes, it worried me.
Does he still worry you?
He is very changed. He grew up to be very sensitive. He likes eclectic reading, and is very high on aesthetics. If I have to redo my room, I turn to him for suggestions, rather than my daughters. They could not care less. Saif, on the other hand, brings his sense of harmony to everything.
Tell me a little about Saif and his father.
In the beginning he was in total awe of Tiger. But the relationship developed. You know, Tiger never saw his films, when he did see Omkara it was on a TV screen. But he supported him completely. Yes, initially Saif did have a sense of rebellion, but later, he wanted to be like Tiger, like his father.
Would you say they were alike in some ways?
Not at all. Tiger was reserved, focused, exclusive. He could rule out people he did not like. Saif, on the other hand is hail fellow well met, gregarious. He talks to everybody. Now however, he seems more tending to find a balance between what he was and what his father was like. He is getting more choosy, more focused.
How did you react to his wanting to join films?
It was a surprise. He was being groomed to take his place in the family hierarchy, but those days, I think they were carrying these ads for Gwalior Suiting, and on an impulse when they rang to call him and ask if he would also be in one of the ads.
One thing followed another. He  then signed a film with Rahul Rawail, opposite Kajol. But everything went wrong and Rawail sent him packing. Sacked him because he was not serious enough. I requested Rawail not to do it, it would go against his career. Luckily Yash and Umesh Mehra stood by him. He signed a film with them.
How did you handle it, as a mother also in the industry?
I sent him to Gulzar. I thought he would be the right mentor for my son, bring him to line.
And did he?
He ran away. Said, 'He [Gulzar] lives like a hermit'. And then he got married. Umesh was very worried, he felt a married actor has less appeal.
His marriage, did he consult you at all?
I do the crosswords quite regularly. I start the paper from the last page, so I did not see the first page news. Karan Thapar, the TV anchor called and said, 'Your son is married'.
Was that marriage good for him?
Amrita was steady, she was a good influence. He procrastinates, she anchored him, made him more focused.
What was his reputation like in the industry?
Hmm. He wore torn jeans, he sometimes painted his nails.. he made it difficult for himself. The industry gave him a tough time, in return for his 'strange' ways.
I had been a non conformist too, I went to Bombay and stayed in a hotel instead of a house with a chaperon. I lived alone, smoked, had the occasional drink...it was all very iffy. Tanuja and I were great friends and we made reams of gossip print in the magazines. But after a point, I conformed, took up a house, and coped with maids and a driver stealing petrol and all that. Saif had it tougher.
But he wanted to act, nonetheless?
He gave it all he had. He was the chocolate boy hero at first, thanks to his looks. He was a bit at sea. The accent was an issue, then he knew so little about India having spent so many years in boarding school abroad. But he jumped in with vigour and abandon, giving it his all. He had a screen presence and that helped him get fans. Besides, he has an energy on screen, yet he is vulnerable, he is not Mr Know-It-All. I like that about him. Also he makes his co stars look good, he is not in competition with them, but realises they all have to do well to make the film work.
What is your take on Kareena, they do seem very serious about each other.
She is good for him, more focused, very responsible. When we went to Bhopal, she made a list of the things she wanted to learn to grow as a person: to play the piano, to learn to cook, prune roses... he will never make a list, he is spontaneous, and sometimes, thus, irresponsible. He will tell my mother I am coming for dinner, and then she will call saying where is Saif, and I would have to say, 'he's on the plane, on his way to Bhopal'.
She is also very loyal. If I try to criticise him in her presence, she sweetly says, 'Amma, it is not like that...' And I think the fact that she is happy with her work and her life as it is now and is not hankering for more or isn't overly ambitious makes her a great person. She praised and raved over Dirty Picture and Vidya Balan in it, which shows she is confident of herself.
Find latest and upcoming tech gadgets online on Tech2 Gadgets. Get technology news, gadgets reviews & ratings. Popular gadgets including laptop, tablet and mobile specifications, features, prices, comparison.
Arts & Culture
Every Friday, we'll bring you a curated list of online experiences — performances, talks, tours, screenings — to mark on your weekly calendar.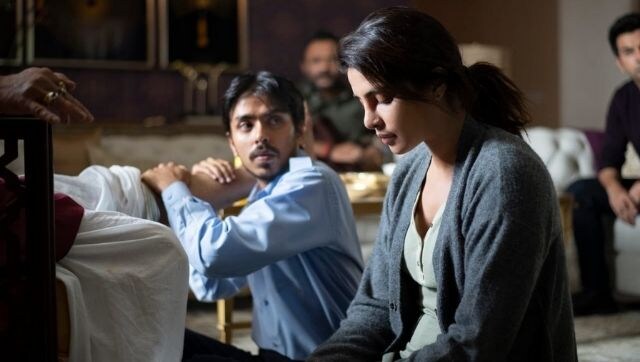 Entertainment
From Saif Ali Khan's Tandav to Priyanka Chopra and Rajkummar Rao's The White Tiger, here's all you can look forward to watching this month.
Entertainment
International Film Festival of India (IFFI) is scheduled to take place in Goa from 16 to 24 January