Shah Rukh Khan is a 'Dilli ka launda': Sayani Gupta on her 'Fan' hero
Sayani Gupta tells us what it was like working with superstar Shah Rukh Khan in Yash Raj Films' Fan
She was first noticed in her second film for the ease with which she kissed another woman on screen — a blind woman in love with Kalki Koechlin's character in Margarita With A Straw. Few knew then that Sayani Gupta would next appear in one of the biggest mainstream releases of 2016 — Fan, opposite Shah Rukh Khan.
When I meet Sayani at a restaurant, she is just back from puja celebrations of Nabo Barsho, a day before Fan's release. "I'm starving", she says and quickly orders some fish. But even when our chat ends, the fish is untouched. "It's too soft," the Bong girl declares.
Sayani is as forthright about her upcoming film, Fan. And of course Shah Rukh Khan. But she keeps mum about her role. "It's the way Yash Raj rolls," she explains.
So, are you excited about Fan's release?
Not much. [Thinks] Well, yes, I am excited to see the film. It's actually a numb feeling. It's not my film anyway. I have no idea how my character has turned out. It's Shah Rukh Khan's film. It's a double whammy for him. We don't even stand a chance. It's nice to be associated with such a big film.
But you don't seem too excited because it may not be a very big role.
No, when I took on the film, I was told that technically, it's the longest screen time after Shah Rukh. But I never expect too much from anything. I am that sort of a person. Nothing excites me too much. I am very detached that way. I understand that cinema is not an actor's medium at all. There's no control you have on anything. Cinema is really a collaborative art form. So I will be really stupid if I am very excited. I know that my job is done the day the shoot is wrapped. It's nice to be in the film because it's a Shah Rukh film and it's such a big film. Like a friend told me, chalo it's a 100-crore film. Not that I care much about that. I love acting. I love cinema. I want to produce and direct a film as well.
How about writing?
No. I am more visual. I have no idea what my characters will say. In life also. I don't know what to say ever.
What was your aspiration when you started acting?
To do good work. It remains that way. I wanted to be an actor since I was 4.
Did you have a role model?
No. I live my life the way I want to. I know I deserve to be seen. I know my work. I am better than most people.
[Laughs] The only actress I liked was Madhuri Dixit.
Ever been a fan?
Never.
How about Shah Rukh's?
Yes, He is the only one. But otherwise, never been a fan.
Do you want a fan following?
Of course. I want to have the biggest stardom anyone can get. When I came to Mumbai, I thought I want to be a good actor and the desire to be a star is shallow. But I realised that no one takes you seriously unless you are a star. People value your time and effort more. It's a problem in the country. You don't get the good roles, otherwise. Right now I have three-and-a-half fans, maybe! [smiles]
How was it working with Yash Raj Films?
They are strict about everything. Everything is very streamlined and efficient. Everyone is fantastic in their work and attitude. And you can see it percolates from the top — from Aditya Chopra. Even though I have not met him, I can make out he is a visionary.
How was your experience with Maneesh Sharma?
He's a baby. Amazing. The first time I saw him, I thought such a young boy….he can't be Manish. He is very sorted as a director and has enormous clarity of vision.
And Shah Rukh?
I met him on the first day of the shoot and no one thought of introducing us. So we did our first scene where the characters have known each other for the longest time. After the shoot, he said, "Baby, I didn't get your name" and he gave me a hug. In fact he hugged me three times that day and finally gave me my best compliment: He said, "You are really talented. You will go a long way". I swear I couldn't even say "thank you". I just froze.
What did you think of Shah Rukh as the shoot progressed?
He is the most humble and generous person. He never behaves like a superstar. He makes you feel really special. He really wants to touch you within and there is something very genuine about it. He is the richest actor in the world and he is so humble. He will just sit on the floor with you, and smoke a cigarette. Shah Rukh is just another Dilli ka launda.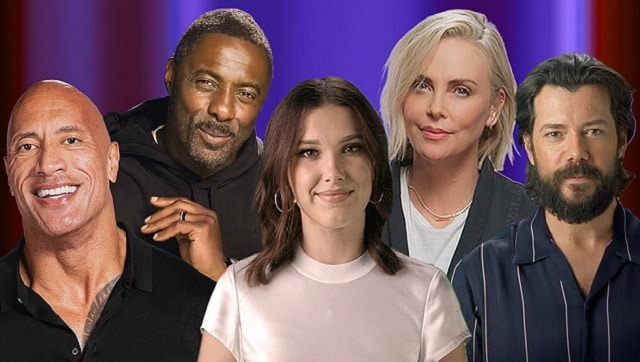 Entertainment
TUDUM: A Netflix Global Fan Event will be held on 25 September in a virtual format.
Entertainment
"I was too busy with work, did not know what Raj Kundra was up to," said the #ShilpaShetty's statement, which is a part of the 1,400-page charge sheet filed by the Mumbai Police
First Cricket News
IPL matches will be played at Dubai, Sharjah and Abu Dhabi with limited seating available keeping in mind the COVID protocols and UAE government regulations