Saiyami Kher on Mirziya co-star:' Harshvardhan is chilled out, we have a lot in common'
Saiyami Kher, who debuts with acclaimed director Rakeysh Omprakash Mehra's Mirziya opposite Anil Kapoor's son, Harshvardhan, has big shoes to fill because of her illustrious acting lineage.
Hazel-eyed Saiyami Kher, who debuts with acclaimed director Rakeysh Omprakash Mehra's Mirziya opposite Anil Kapoor's son, Harshvardhan, has big shoes to fill because of her illustrious acting lineage. She is the granddaughter of yesteryears' leading actress Usha Kiran, who was the heroine of the biggest Bollywood trinity — Dev Anand, Dilip Kumar and Raj Kapoor.
She is also the niece of award winning actress Tanvi Azmi, and her parents, Adwait and Uttara Mhatre Kher (ex Miss India) were well-known models in the eighties.
"But I don't look it as pressure," said Saiyami, who's yet to taste success. She is hoping that her life will change after Mirziya is out. "Life has not changed as yet; hopefully I think it will change one month post release. It has been very interesting because I have come across so many different people in my journey so far; there is an excitement of getting into the industry. So all that is very new, very fresh, very exciting," she added.
Rakeysh Omprakash Mehra found his Sahiban in Saiyami after months of intensive search. Although he also made it very clear that she was not chosen for her lineage. "We've selected Saiyami for her ability to project the delicacy, strength, turmoil and resolve of the character. Just like Harshvardhan, it didn't matter where Saiyami came from. She had to prove herself capable of carrying off the character', said the director.
Mehra's inspiration to do this film goes back to his college days, when he read the playwright in his college drama society. "At the end of the play someone would say, 'Sahiban ne teer kyon todi' (Why did Sahiban break the arrow?). This stayed on with me for over 30 years. I have heard many love stories like Romeo Juliet, Laila Majnu, but Mirza-Sahiban left a deep impression on me because of the character of the girl, which is unique and pivotal," he said.
Saiyami further opens up about working with Anil Kapoor's son, Harshvardhan, who also debuts in the film. "I was under the impression he will be very filmy but he wasn't, which is why we got along very well. He is a chilled out boy and very easy to get along with. There wasn't any struggle on that front. We have become great friends. Also, we have lot of common interests in sports and movies."
Not many know that Saiyami had represented Maharashtra in both badminton and cricket. She was offered a place in the Indian Women's National Cricket Team but she turned it down to become a model.
The budding actress has a list of actors and directors with whom she would like to associate. "I am a huge fan of Amitabh Bachchan and want to share screen space with him. In the younger lot, I would like to work with Ranbir Kapoor; he's supremely talented. It would also be a dream to work with Imtiaz Ali, Anand Rai, Zoya and Farhan Akhtar. It is very fortunate that these days they are writing scripts for girls and as long as I get films in that space I will be happy," said Saiyami, adding, "I have signed a bilingual Tamil-Telugu film with Mani Ratnam, it has been pushed and I want it to start soon." 
Find latest and upcoming tech gadgets online on Tech2 Gadgets. Get technology news, gadgets reviews & ratings. Popular gadgets including laptop, tablet and mobile specifications, features, prices, comparison.
Entertainment
The full trailer for Mirzya, unveiled on Thursday, 23 June, evening, introduces us to Harshvardhan kapoor and Saiyami Kher more thoroughly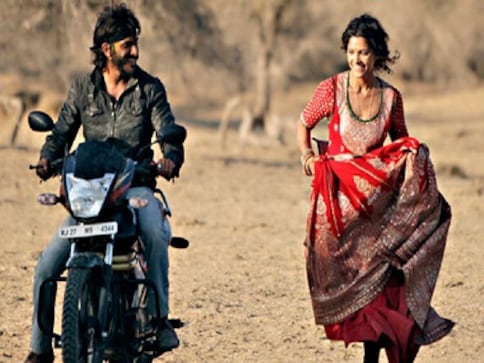 Entertainment
There is much promise in Harshvardhan Kapoor, Saiyami Kher and Anuj Choudhry's debut but as a film, Mirzya speaks, but says nothing.
Entertainment
Rakeysh Omprakash Mehra's upcoming film Mirzya has released its second trailer and it reveals the intriguing story of the Mirza-Sahiban folklore.