'Batman v Superman: Dawn of Justice' review: A throwback to Rajiv Rai's 'Mohra', and not in a good way
Batman v Superman: Dawn of Justice is an embarrassment to the superhero genre that is surprisingly reminiscent of the Hindi film Mohra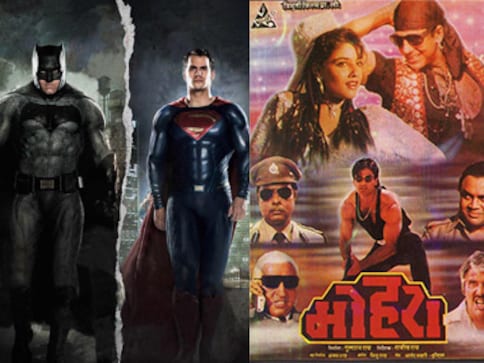 I was one of the few who enjoyed Man Of Steel and defended it when the Superman fanbase bashed it. I defended Zack Snyder for his ability to push put memorable visuals, and for the first time accurately portraying the 'power' of Superman's flight. I defended its villain who had a purpose, and wasn't evil for the sake of being evil. I cannot defend Snyder any more because Batman v Superman: Dawn of Justice is an embarrassment to the superhero genre that makes you bleed from every cavity in your body.
Before we get to the plot of BvS, we need to evoke Rajiv Rai's seminal 1994 film Mohra. In that film master criminal Naseeruddin Shah lies and manipulates good guy hero Sunil Shetty into fighting the other good guy hero in the film Akshay Kumar. The two then realise that Shah is actually a scumbag, and then team up to kick his ass and rescue the woman he's kidnapped. This is the exact same plot in Batman v Superman: Dawn of Justice — and is thus a remake of Mohra.
Batman and Superman fans have been waiting for almost 50 years for a movie that puts them on screen together and they're in for a hell of a heartbreak. But Mohra isn't the film's bellyflop, it's the conflict. Having watched the movie and thought deeply about it, I still can't figure out why Batman and Superman were fighting each other. There literally isn't any reason why they can't stand each other, other than the fact that Batman has a dream about Superman wearing hair gel and angrily grinning at him. If dreams were enough reason to be angry with someone then you better watch out for your wife who had a dream about you secretly eating vada paav after gym.
But dreams are the reason for Batman's angst against Superman — why the latter is pissed with the former is even less clear. During a tense scene where Batman is chasing a villain in his car, for absolutely no reason Superman just lands up in front of the Batmobile like a traffic cop and stops the Batmobile. Is Superman's night job a traffic cop checking Batman for drunk driving and looking for a bribe?
The stupidity doesn't end there. At least Mohra had Shah using some logical ways to manipulate his pawns. In this script co-written by Oscar winner Chris Terrio, when Superman is framed for things he didn't do, not once does he just speak up and tell the public that he was framed. And he is supposed to be a journalist, a profession that excels in rendering facts to the public. The stranger part is he doesn't even try to figure out what really happened — because then his girlfriend Lois Lane (Amy Adams) wouldn't have any role in the film. Her principle usage in the film, of course, is to be kidnapped repeatedly by the Snyder versions of Paresh Rawal, Gulshan Grover and Raza Murad and be saved repeatedly by Sunil Shetty in a red cape.
At the center of all this tomfoolery is Jesse Eisenberg as the grand villain of the movie, Lex Luthor, whose performance is reminiscent of Shah Rukh Khan in Ram Jaane and English Babu Desi Mem. Eisenberg hams, twitches his nose and stammers. His dialogue is so terrible the real reason he goes bald is that he sees his own performance on screen and tears his hair out. The Raveena Tandon of the film — Wonder Woman played by Gal Gadot — is such a disappointment she makes Alicia Silverstone in Batman and Robin look like Meryl Streep. Her theme music is cringe worthy, and the inclusion of her and the other superheroes in this film is a stark demonstration of the filmmakers trying to emulate the Marvel universe and failing. This film should only have been about Batman and Superman — but in their effort to catch up with the Avengers and set up the Justice League, the filmmakers squeeze in way too much, leaving little time to explore any single element. And because there is really no reason why Batman and Superman are pissed off with each other, the big draw of the movie, their brawl, seems like an overlong and unnecessary CGI mess.
And if you've seen the trailers of the movie you've seen the whole film. The only spoiler that the movie offers is that it spoils your mood. If Snyder had decided to rip off Mohra at least he could have made Wonder Woman sing "Tu cheez badi hai mast mast", and incorporated Viju Shah's awesome Terminator background score instead of Zimmer's eardrum shattering, vomit inducing deafening drivel. After Man of Steel, Snyder had this one chance to redeem himself, and he blew it spectacularly. With the future of the franchise, including the Justice League movies in his hands, it's truly a dark and depressing time for DC fans.
Bollywood
'Rarely do films take such monumental tasks'. Akshay Kumar is amazed that YRF created over fifty thousand costumes for Prithviraj.
Entertainment
Aditya Chopra is known for delivering blockbusters like Dilwale Dulhaniya Le Jayenge, Mohabbatein and Rab Ne Bana Di Jodi. The filmmaker has turned 51 today.
Entertainment
Aamir Khan and Kareena Kapoor Khan starrer Laal Singh Chaddha is directed by Secret Superstar helmer Advait Chandan. It is set to hit the screens on 11th August.