Pyaar ka Punchnama 2 review: Lovestruck men and bimbettes create this silly, light-hearted film
Men, be ready to relate. At times. Women, be ready to hate. All the time. Hopefully, you can laugh it all off. Together.
In Pyaar ka Punchnama 2, the Hindi word for a man in love is ch$@#ya. As someone puts it succinctly in the film, "kuch ch$@#ye auraton ka ch$@#yapa sokhne ke liye istemaal karten hai."
While in its first edition, 2011's sleeper hit Pyaar Ka Punchnama, the man in love was the dog or the substitute 'good friend' who cried, Pyaar Ka Punchnama 2 has made some progress. This time, he doesn't cry. Instead he shops, paints nails, sets up matrimonial profiles for his girlfried, says "I love you", is a yes man and wags his horny tail. And so the peppy theme song continues: "Ban gaya kutta..."
In the writer/director, Luv Ranjan's world, the ch$@#ya is the Frustrated, Used Boyfriend (FUB). If the popular and hilarious five-minute monologue in the first Pyaar ka Punchnama depicted the level of male frustration, the eight-minute monologue in the second bursts out of the Indian male waiting to bash the female. And yes, it's funny in some parts. But way too one sided — like a half fried egg, dripping all over the faces of pretty women.
Basically, the concept is just another version of the marriage jokes that we've all heard a hundred times over. There is one thing thread running through all the punchlines: the joke is on the women. PKP2  uses this well in the context of today's youth and relationships. The fundamental misogynist principle remains the same.
For instance, the monologue of frustration starts with, "Problem yeh hai ki woh ladki hai." Gogo (Kartik Aryan) launches into the hate speech for which the audience has been eagerly waiting since Pyaar ka Punchnama. His back literally against a wall — it has on it a sign that reads "Dead End" — Gogo raves, rants and holds up the baton for Team FUB. Well done, boys (aka the writers Rahul Modi, Tarun Jain and Luv Ranjan). Only, are these 'problems' really real? It seems that the monologue had more truth than the script that supports the hate speech.
So, yes Gogo, Chauka (Sunny Singh) and Thakur (Omkar Kapoor) find girlfriends and lose their peace of mind. Chiku (Nushrat  Bharucha), Supriya (Sonali Sehgali) and Kusum (Ishita Raj) are women and of course, no one understands women. So why even bother? Let them just do illogical things since they're from Venus.
So Boy 1 (Thakur) meets Girl 1 (Kusum) in a gym. She squats; he stares at her derriere; they end up in the girl's bedroom. Here, the boy says something about the girl being from the '70s. Then, he promptly puts on a cassette player (belonging to the '70s) and the two of them do some exotic dancing for each other. Soon enough, the boy is wearing a Tshirt that says: "In the end, it's all about s*x." Point taken. He's a clever Engineer who can prove his prowess in the boardroom and the bedroom, while Girl 1 only shakes her booty, earns less than him and eyes his gold card.
Boy 2 (Gogo) meets Girl 2 (Chiku). He goes beyond veg or non-veg jokes and instead delivers some fruit talk as pick-up lines. She giggles. Love strikes. For all his flirting, he is a really good boy who is ready to go to any extent to please his girl. She doesn't think beyond shades of blues and pinks, talks in a baby voice and shops till he drops.
Boy 3 (Chauka) meets Girl 3 (Supriya).The two dance to "Didi tera dewar deewana" at a wedding. She lets him drop her home. Next, they are having wine in his home. Lusty glances replace conversations. Love strikes. He is the sincere sort who wants to marry the girl. She has some unexplained fears regarding her parents, but no qualms about flirting with Boy 3.
It's that easy to fall in love.
But not that simple to sustain the relationship because women are demanding creatures and men are suckers. He's got to love her, love her best friends, which include irritating bimbos and a childhood male buddy who sleeps in her bed. Loving her means loving her parents, who want her to marry someone else and just pretend to be her brother instead. Love is handing her your wallet when she claims to want to split the dinner bill.
The 'problem' is that while such women may exist in fact or fiction, it all feels rather forced, superficial and designed to play to the frustrated men in the crowd. As Pyaar ka Punchnama 2 continues, the women get dafter. Chiku doesn't know Sachin Tendulkar has retired. Kusum gets more greedy and manipulative. Supriya becomes more and more coy.
It's rather convenient that all the boys are simply wonderful people while the women are bimbos or bitches.
The men curse their own weakness, which is not such a 'problem' here. It brings out the best in the bromance scenes, both in terms of dialogues and performances. The way Sunny Singh's Gogo says "beta..beta..beta.." while aping his girlfriend's father, is applause worthy. So are innumerous one liners, including one on Sooraj Barjatya and his take on love, friendship and saying sorry.
Men, be ready to relate. At times. Women, be ready to hate. All the time. Hopefully, you can laugh it all off. Together.
Entertainment
Tom Clancy's Without Remorse does the bare minimum to stand out in an already cluttered genre of rogue spies seeking vengeance.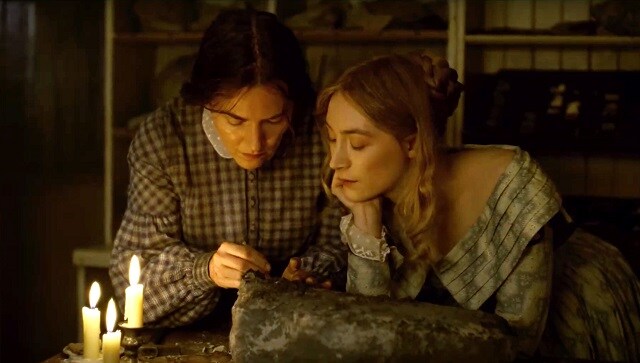 Entertainment
Ammonite suffers from a slowness, that intends to mimic the pace of life, but does not build or culminate into anything profound or satisfying.
Entertainment
Photo-Prem is a funny, quintessential take on what we leave behind for memories but quickly loses potential with half-baked writing and slow pace.