PK review: Alien Aamir, buddy Anuska take on the C-word in a brave yet silly film
The plot of PK has been a closely-guarded secret and one reason for this is that the film doesn't really have much by way of a credible story.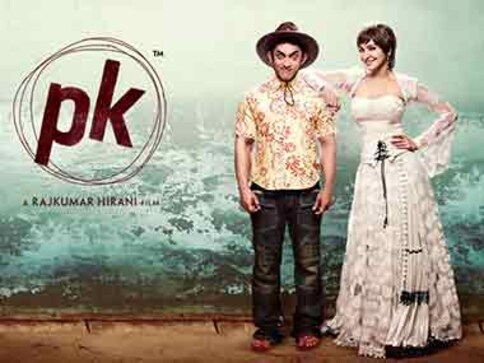 Editor's note: This review does not reveal spoilers, as such, but it does contain a number of details that a reader who wishes to be surprised at in the theatre hall may not want to read ahead of viewing a greatly anticipated movie -- and whose carefully guarded plot has been one reason for the level of anticipation.
If you've seen photographs of Rajkumar Hirani, you know that the director of the Munnabhai films and 3 Idiots comes across as a harmless, good-natured man. Kind eyes, bushy moustache, a ready smile – there's nothing unsettling about him. Consequently, you expect his films to be as good natured as him, and usually, that's exactly what they are. PK, however, is a Trojan horse, or a Trojan teddy bear (given how fluffy and cute the film looks). It shows up promising happiness and giggles, but leaves you with an attack of unexpected cynicism.
The plot of PK has been a closely-guarded secret and one reason for this is that the film doesn't really have much by way of a credible story. Aamir Khan is PK, a Bhojpuri-speaking alien who looks like the buff lovechild of an elf (the ears) and a hobbit (the height and body language) and behaves vaguely like a telepathic Rain Man who picked the wrong person to give him a facelift (the eyes and eyebrows). PK lands in the middle of Rajasthan and his first introduction to planet Earth is that he's robbed. Searching for the thief, PK roams around and lands up in Delhi, where he meets journalist Jaggu (Anushka Sharma). Jaggu has just returned to Delhi from Belgium, where she was ditched at the altar by her Pakistani boyfriend Sarfaraz (Sushant Singh Rajput). Fascinated by PK, she befriends him and decides to help him recover what he's lost.
There are lots of funny exchanges as PK and others understand the ways of our world. The humour in the film ranges from the sort that has PK sticking his hand in a fat man's bum to a subtler variety. Yet again, Hirani is able to coax a winsome performance out of Sanjay Dutt, who is very funny in his little supporting role. Sharma has the good fortune of getting to play a heroine who is independent, clever and not defined by a love story. There's a spontaneity in Sharma, who has excellent comic timing, but particularly in emotional moments, Sharma's performance feels artificial. Fortunately for her, most of those intense scenes are with Khan, who redefines overacting in his performance as PK. Aside from his Bhojpuri accent, everything about Khan's PK is mannered and laboured. Whether it's him doing a comic run or looking bug-eyed, you don't forget for a moment that Khan is acting.
Almost everything about PK's story is either ridiculous or silly or both. Who on earth decides to get married within 24 hours just to prove a godman wrong? Who dumps or gets dumped like Jaggu and Sarfaraz do, without ever trying to call or email the other person? How on earth did PK deal with the dryness and chafing that would result from interplanetary travel in the state that is apparently natural to his alien race? Us humans can't manage a 16-hour flight without copious amounts of moisturiser, for crying out loud.
But none of this matters really, because the point of PK are the questions Khan raises as an alien and the world he sees. It's filled with people who lie, who have no generosity, who are blind to one another's suffering, brainwashed by orthodoxy and straitjacketed by fear. And all the while, they laugh and giggle and ignore this reality.
Using the fraudulent and fabulously wealthy godman Tapasviji (Saurabh Shukla), Hirani attacks all those who use religion to literally con their congregations. PK is scathingly critical of all brands of religious conservatism – priests who use false inducements to convert people to Christianity get as much flak as radical Islamists who threaten to kill girls who go to school — but there's a special, intense anger at Tapasviji who doesn't hesitate to fan communal flames and encourage his Hindu devotees to consider all Muslims suspiciously. All so that they don't notice how much of a conman Tapasviji himself is.
There's one scene in which PK sits on a train platform, with his legs splayed out before him, eyes unblinking. Everything about him is still. His face is covered with soot. He looks like a doll that was left behind in a dusty attic. He's actually a man who has just survived a bomb blast. There was an explosion in a train and chaos reigns in the station. People run, cry, trample each other. PK sits there, like a doll, unable to comprehend either the horror of what just happened or the scared, uncaring frenzy of the people around him.
Usually, when aliens have been made contact with Earth in films, it's been an opportunity for mankind to showcase its gifts and strengths. We show strength, ingenuity, determination, kindness — all the qualities that are supposed to make up humanity. InPK, under all the cute fun and silliness, you realise that in Hirani's world, there's nothing we can teach, give or showcase to our other-worldly visitor. Everything seems cheerful in PK, but there's very little real good here on earth and the only one who offers some hope is the one who isn't human.
On the face of it, PK is a simple, sweet family entertainer that has its heart in the right place and wants everyone to live happily ever after. It's also one of the braver films we've seen from commercial Bollywood because of Hirani doesn't shy away from pointing a steady finger at those who would inflame communal tensions for petty, personal gain. Somewhere under Hirani's seemingly sweet and harmless exterior, is an angry, disappointed and disillusioned man. He doesn't appear in the film promotions, but he's the one making the films in which people take on the ugliness of the real world and defeat it. Their weapon of choice: optimism that just won't give up, no matter how messed up everything may be. However, it's telling that the one who wields that weapon in PK is an alien who just wants to get off this planet.
Entertainment
Bhool Bhulaiyaa 2 feels like a step back especially four years after Stree, a film that used the same mould of horror-comedy to deliver a pointed commentary
Bollywood
Aamir Khan's daughter Ira Khan was trolled for posting bikini pictures from her birthday celebrations. Here's how she reacted.
Entertainment
Jayeshbhai Jordaar's good intentions are lost to a poor comprehension of gender politics, lack of focus, a saviour complex and above all, ineffective storytelling.