Pete's Dragon review: Another heartwarming, enjoyable film for kids, grown-ups from Disney
The only reason you shouldn't see Pete's Dragon is if you do not have a functional heart in your body.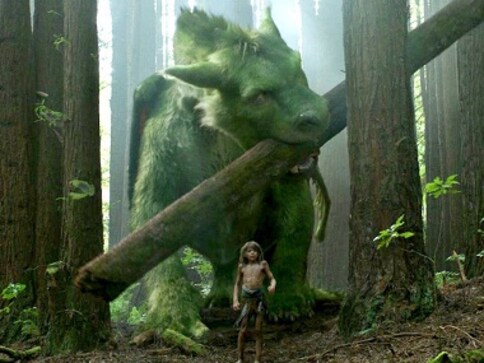 Disney has been on a roll lately. It seems they've pretty much figured out the precise formula to take an older property and garnish it with just the right coat for the modern audiences. Pete's Dragon, their newest entry is yet another heartwarming, consistently enjoyable and often mushy sweet film for both kids and their parents.
A live action remake of the 1977 animated film of the same name, Pete's Dragon chronicles Pete (Oakes Fegley), a kid who was orphaned in the jungle and was offered protection by a giant green dragon named Eliot. Pete and Eliot were happy to grow up away from civilisation, so it is quite a shock to forest ranger Grace (Bryce Dallas Howard) when she finds the boy alive and well. Things take a darker turn when Gavin (Karl Urban), a logger decides to use Pete to capture the fabled dragon.
If the above description is any indication, Pete's Dragon is a fairly simple story, but that is what works in its favor. Director David Lowery, who made the excellent Aint Them Bodies Saints a couple of years ago weaves some surprisingly thought provoking and often meditative visuals here. It's a far cry from the 'cartoonish' nature of the original film, especially in the sequences where there's danger at hand. Most entertaining is the buddy relationship between Pete and his dragon — their playful montage is neatly utilized as a means to be afraid when the story seems to drift them apart. And if you've ever had a pet you're in for giant laughs and also a bout of onions near your eyes during one particular sequence.
But the very best thing about the film is that the villain is not a baddie for the sake of being 'movie evil'. There's a certain humanist approach to why Gavin behaves the way he does and how he would profit from his unscrupulous deeds. So the finale is a nice learning lesson for kiddie audiences who are generally conditioned into watching a complete white or black version of characters in children's films. It's not often you see a grey zone in mainstream kids' cinema so Disney definitely deserves some praise for attempting something different.
Read on Firstpost — Tarzan and The Jungle Book's Mowgli: Why we're fascinated by the 'feral child' in fiction, and real-life
The performances from nearly everyone are stand out. No one in the film seems to look like they're in a kids' film. There are no exaggerated dialogues, and even in the kitschy moments Lowery's balance between sentimentality and suspension of disbelief is absolutely on point. It helps that the dragon in question is beautifully rendered, with a surprisingly human face. Fans of How to Train Your Dragon and the 90's film Dragonheart will be happy to see a new kind of dragon here, one with much more personality and charm than any previous iteration of the fabled beast. The lush New Zealand landscapes shot by cinematographer Bojan Bazelli will make you want to book the first flight out. The only reason you shouldn't see this film is if you do not have a functional heart in your body.
Find latest and upcoming tech gadgets online on Tech2 Gadgets. Get technology news, gadgets reviews & ratings. Popular gadgets including laptop, tablet and mobile specifications, features, prices, comparison.
science
Endeavour autonomously undocked from the ISS on Sunday, 2 August at 5:05 am IST and less than a day later, splashdown in Florida.
science
The successful trip opens doors to more people flying to space, what with companies announcing plans to use Crew Dragons to send wealthy tourists to orbit.
Entertainment
Honey Trehan's whodunnit, Raat Akeli Hai, which premiered on Netflix on 31 July, ticks all the right boxes.